Around this time each year, it's usually pretty hard to wipe the smile off my face. It's mid-March, the sun is shining, and baseball is back in full swing, with plenty of spring training exhibition games occurring each and every day. It's always a fun time of the MLB calendar, with anticipation and hopes high for most of MLB's 30 teams, all the while enjoying watching the young stars of tomorrow strut their stuff in big league camp.
Spring training brings with it so many stories – roster battles, comeback efforts, and usually a young star or two putting in the groundwork for a breakout MLB season ahead. It's a far more relaxed environment, where statistics and records don't count for much, and players are seen laughing and joking among themselves quite frequently.
Sadly, though, this week has brought with it an upsetting story that has wiped the smile from my face, and I'm certainly not the only one to feel this way. This story has upset many and remains a cause for concern among all who love baseball, especially fans of Trey Mancini and the Baltimore Orioles. For now, baseball has well and truly taken a back seat.
It's been four days since news broke at the Orioles' camp in Sarasota, that Mancini had recently been dealing with flu-like symptoms and that he would be leaving the team immediately to undergo a non-baseball medical procedure and further testing. He is expected to miss an indefinite period of baseball. Following that announcement, a series of vague and concerning quotes from his teammates and coaching staff ensued, raising serious concern among fans for Mancini's health.
While Orioles players and staff were quick to throw their support behind the extremely popular and well-liked Mancini, through a series of interviews and released statements, his privacy was given the utmost respect and no further details were provided of his condition. Four days later, there's still no update. What we do know, though, is that the ever-classy 27-year-old is grateful for the support he is being shown, taking to Twitter to thank family, friends and teammates for their support.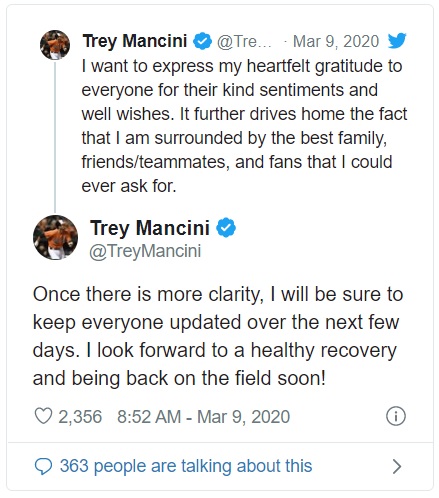 From a personal perspective, it was also nice to receive a message of thanks and well-wishes from Mancini, after I had earlier sent him a private message of support during this challenging time. Undoubtedly dealing with a busy schedule and a lot of emotions, to take the time to respond to everyday baseball enthusiasts like myself is yet another example of why he is so well-loved – you won't find another athlete in pro sports who is so humble and so engaged with fans.
Mancini is also, without doubt, one of the most popular players within the Orioles organization, not only among his teammates and coaching staff, but certainly among fans. Since bursting onto the scene late in 2016 and breaking out in 2017 with a monster rookie campaign, he has become one of the team's most consistent performers in what has been a challenging period of rebuilding for one of baseball's weakest teams. Through three full seasons, the versatile right-handed hitter owns a very respectable .819 OPS, with 86 home runs, 238 RBI, and a .5.9 bWAR. This success has seen him become one of the most familiar faces of the franchise.
While Mancini's health scare remains a mystery, the incredible show of support he's received from the baseball community this week highlights just how well equipped he is to beat whatever challenges await. Since being drafted as the 249th overall pick in 2013, he's had to battle his way through the minor leagues, proving numerous doubters wrong along the way. He's always risen to the challenge, whatever that may be, and there's no doubt in my mind that he's got this one covered too.
Hits: 98