As the turning of calendars to May imminently awaits us, the world continues to navigate its way through the horrors of the COVID-19 pandemic, with the United States being impacted more than any other country with almost 65,000 deaths.
Despite the horrendous toll this insidious disease continues to have from a health, social and economic perspective, significant sections of the community have recently shifted their focus to the recovery stage, including the return of pro sports.
Major League Baseball (MLB) ceased Spring Training exhibition games just over halfway through the annual campaign, with the last action occurring on March 12. Since then, fans have settled into lockdown and sought their baseball fix from replays, simulated seasons, and more recently the Chinese Professional Baseball League in Taiwan.
During the hiatus. various rumors have surfaced of ways in which MLB can resume play and get the 2020 regular season underway. While the talks of localized baseball hubs, most likely in Arizona and Florida, continue to gain traction, the make-up of the divisions is something a little more uncertain. With that, comes endless speculation and a plethora of opinions – some good, some bad, and others downright ridiculous.
Earlier this week, the latest rumor to surface around potential division make-up sees a three division, 10-team structure based on geographic location – see below.
---
MLB EAST:
Yankees, Mets, Red Sox, Nationals, Orioles, Phillies, Pirates, Blue Jays, Rays, Marlins
MLB CENTRAL:
Cubs, White Sox, Brewers, Cardinals, Royals, Reds, Indians, Twins, Braves, Tigers
MLB WEST:
Dodgers, Angels, Giants, Athletics, Padres, Diamondbacks, Rockies, Rangers, Astros, Mariners
---
After reading this I was immediately intrigued, and any feelings of uncertainty subsided very quickly. Instead, I saw the opportunity that presents itself to MLB – an opportunity for long overdue change.
Of course, this structure is radically different from what we're used to seeing and the traditionalists will point out the many differences that are present. It's a structure that won't please everyone (does change ever?), even if it was only implemented for the 2020 season.
I believe, however, there are many exciting positives and with that comes an opportunity to freshen baseball up and reconnect with an increasing number of disengaged fans. For example, the rumored structure addresses three big issues, as it:
Significantly improves geographical alignment and the benefits this brings are endless. Among others, there are considerable logistical benefits when scheduling games, resulting in lessened travel for players, lessened fatigue, more time spent with family, etc. Of course, the new local rivalries will be exciting too!
Removes the need for two-League structure, unifying and consolidating MLB. This also brings an opportunity to address, and finally resolve, the inconsistent approach to designated hitters – a debate which continues to polarize fans (personally, I don't care if it's kept or not, just make it consistent across all of baseball).
Removes, in my opinion, one of the biggest flaws still present in MLB, where the best two teams in baseball are unable to play off against each to determine the World Series champion.
Obviously the playoff format would also need to be overhauled and an exciting solution to this would be moving to a ranked seven team format, instead of the current 10 team format. While some fans would argue that the more teams in playoffs the better, I completely disagree. The playoffs need prestige and need to be contested by only the best of the best. To those teams finishing with the eighth, ninth, or tenth best records… tough luck, do better next season.
To obtain the seven playoff teams it would simply be the top two teams from each division, plus the team with the next best record (the best third place finisher). The teams would be ranked accordingly and the playoffs would last three rounds, with each round having a best-of-seven series – no sudden death and the opportunity for each team to showcase the strength and depth of their full roster.
Here's how it would work: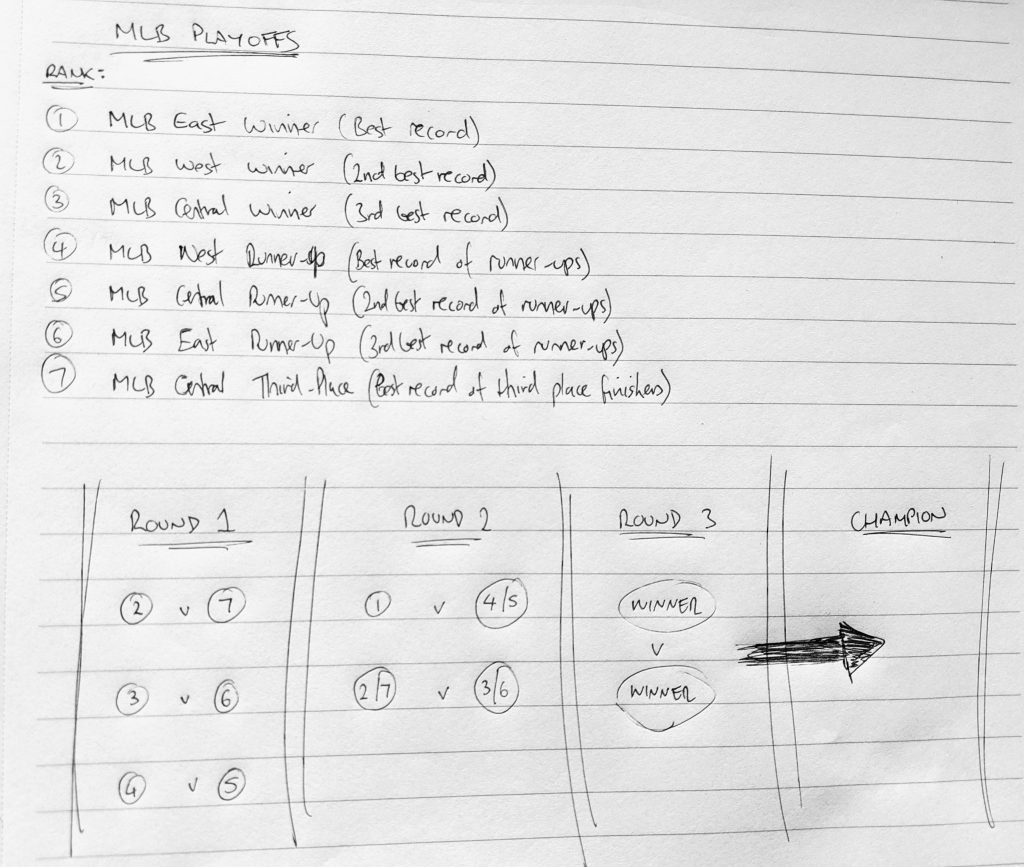 There are many benefits with this exciting new format and there's the potential to hold as many as 42 postseason games – only marginally less than the current format's maximum of 46, even with three less teams competing. Essentially, this format will see more baseball from more of the best teams, ensuring the television networks are kept happy.
Most importantly, there is the added incentive to finish the regular season with as good a record (and ranking) as possible, ensuring far fewer meaningless games occur down the stretch, which again will keep the television networks happy.
As for the negatives?
One of the few drawbacks of this new division alignment is the need to radically revamp the All-Star Game which has historically been played by the American and National Leagues. However, let's not kid ourselves, the All-Star Game is boring and desperately needs freshening up. Here's the opportunity to do so – it certainly can't get any worse. Perhaps a World v USA contest would be more fun to watch? I certainly think so.
While this radical revamp of divisions and playoff format will divide opinion, it will importantly stimulate discussion on the topic. There are significant flaws in MLB's current alignment and structure which are contributing to the increasing number of fans becoming disengaged year after year.
There's no doubting the COVID-19 pandemic has had a horrible impact on baseball, however in the desperate search to find a way in which the 2020 season proceeds, a dialogue has opened up which has raised eyebrows. Maybe, just maybe, there's a better way of doing things – not just for 2020, but beyond…
Hits: 53