Will Yanks' pitching hold up in October?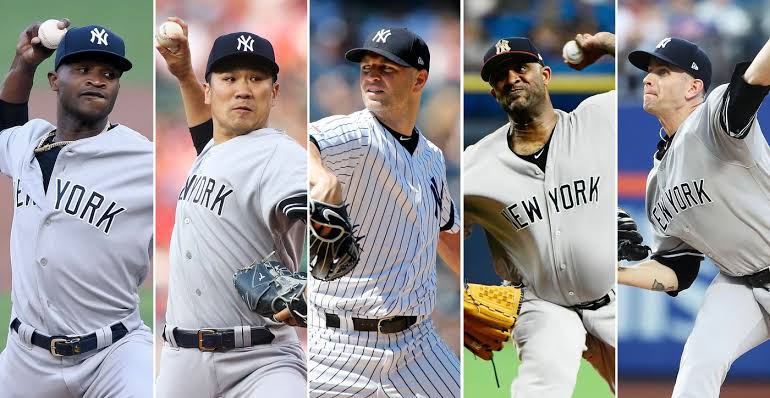 NEW YORK – All it takes is a quick search to see that the New York Yankees are having a special 2019 season.
They currently possess the best record in the American League, and are tied for the best record in all of baseball. But it takes even less time on Twitter to see that Yankee fans are not exactly jumping for joy.
In their minds, the success of this year's team has been in spite of – not because of – the starting pitching. As great as their season has been, it has been largely due to their immensely talented lineup of hitters and a very solid core of reliable relief pitchers. While the team's position as division winners is all but a sure thing at this point, the concern of many Yankee fans is how the starting pitching staff will perform when the games start to matter again. Below is a breakdown of what the Yankees are working with, and what may be the best approach when the postseason begins.
Masahiro Tanaka
While Masa has been struggling with his signature split-finger fastball all season, he has shown flashes of absolute brilliance including Sunday's 1-0 victory over Toronto. A recently-implemented grip adjustment has yielded strong results thus far, even if the sample size is small. The bottom line? Tanaka has the best track record on the team for strong postseason performances. A lot would have to change between now and October for Tanaka to not be chosen as a Game 1 starter.
Domingo German
German is another pitcher who seems to be a lock for a starting slot during the playoffs. He owns the best W-L record in the league, and has been a godsend in the absence of Luis Severino who has been down all season with shoulder inflammation. German's only slump this year occurred during what turned out to be a hip injury. With that behind him, he has looked good and should be a reliable pitcher in October, so long as his young arm can stay fresh.
James Paxton
The Big Maple has yielded mixed results this year, but his capability for dominance has been on display quite often this season. Like most of the team he has also struggled with minor injuries this year, but has been solid enough to be another lock for starting a playoff game. When Paxton is right, he's one of the most talented pitchers in baseball – and this year, he has shown just enough of that to give most fans, and the front office, enough confidence to pencil him in.
J.A. Happ
Happ's spot on a post season roster looks shaky at best, as he has had a very poor year for his standards. Is it the fact that he's a flyball pitcher and the balls this year seem to jump out of the park? Maybe. It could also be that he is an older player starting to see his stuff fall off. Or maybe he is just having one of those years. Whatever the case, putting in Happ in a big game seems almost silly at this point. That said, he has a month and a half to show his worth.
CC Sabathia
Currently on the IL, the big man is slotted to return for this weekend's series against Cleveland. While Sabathia has been solid overall this year, his knee injury in conjunction with his age may prevent him from a true, full start this postseason. We may see CC in more of an opener role, or even out of the bullpen. But knowing him, he'll come out hot and give the team more than they bargained for.
Luis Severino
Sevvy could prove to be the make or break piece if he can come back healthy. He has not played a game this season, spending his time on the IL with a shoulder issue. However, in recent days and weeks Severino has made big strides toward coming back to join the team. If he feels good and can return to form, he'll almost certainly be used by Boone in a playoff situation. As of now, it looks like his role may be similar to CC's, in that he may be more of a 3-4 inning guy. But depending on efficiency, he could eat even more innings and be a huge weapon for the Yanks.
Openers (Green, Cortes Jr., etc)
The Yankees have used the "opener" model this year with glowing success. Of the 12 games using an opener the team has gone 11-1, with all but one of those starts going to Chad Green. Nestor Cortes Jr. has been a solid innings-eater in these situations, and has performed well enough to probably earn a roster spot in October. With David Hale and Jonathan Holder returning from the IL, this model seems like it could very well work on the right night.
The Bottom Line
The Yankees are poised to make a powerful run for their 28th World Series title. The hitting is there, the bullpen is there, and if the pitching can rise to the occasion they will be a hard team to defeat.