Reassessing the Orioles Roster & Trading for Sonny Gray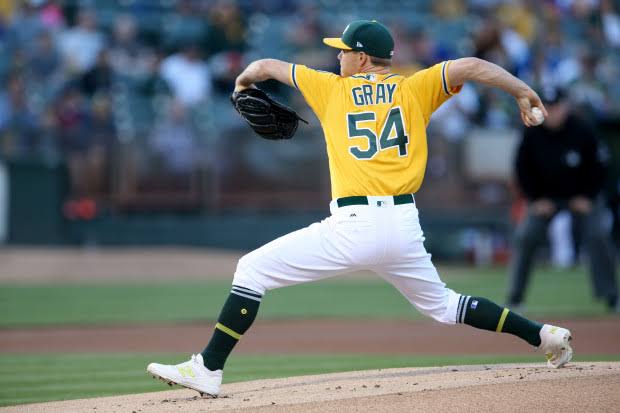 Just over two months ago, at the start of the 2016 season, I would have been very happy to see the Orioles occupying first place in the American League East division through 66 games – which they are, just.
However despite the strong 38-28 record, which is the second best in the American League, I do have some concerns which I'm sure all of Baltimore shares.
Although the Yankees and Rays aren't far below the .500 mark, I see the division being a three horse race. The Yankees are too old, too injury-prone, and too inconsistent to make a genuine push for the division title, while the Rays just don't appear to have the x-factor which the Orioles, Red Sox and Blue Jays all seem to possess. The Rays' offense has performed better than most people expected, and the pitching staff ranks sixth in the American League, however the team lacks consistency and struggles in close games.
The Red Sox and Blue Jays, much like the Orioles, have mashing offenses and must give nightmares to all pitchers within the division. Between the three teams combined they have 286 home runs, and are on pace to nudge 700 this season – that's a ridiculous amount of power. What we've seen through the first two months of the season is pretty much what we all expected – each of these three competing teams have a tonne of power, yet very inconsistent pitching staffs. Herein lies the biggest problem for the Orioles.
Mike Wright had yet another terrible outing last night, conceding eight earned runs through just 3 2/3 innings of work. With his ERA ballooning out to an ugly 6.12, Buck and his team had seen enough and he was promptly sent back to Triple-A Norfolk to work it out. Personally, I can't see him returning for some time – he needs to prove himself as being capable of consistent performances before earning another crack in the majors.
The ongoing saga with Ubaldo Jimenez continued last night as well, as he conceded five earned runs himself, coming in to relieve Wright for 2 1/3 innings. Having failed as a starter, the shift to the bullpen also seems to have failed, and although he will be given another opportunity or two to make things right, his form is so bad I can't see him turning things around. Jimenez appears to be a lovely guy and from all reports is very popular within the clubhouse. However, the two-and-a-half seasons he's been in Baltimore have, on the most part, been very poor, and the time has come for the Orioles to cut their losses and move on. Sure, it'll be a significant financial hit, however if this team seriously wants to content in 2016, they cannot be wasting a precious roster spot on a guy who keeps imploding on the mound.
T.J. McFarland had a solid outing last night, pitching two scoreless innings after the carnage of Wright and Jimenez, however he too is very inconsistent and in my opinion, not needed on this roster. Although another popular guy within the clubhouse, as I touched on earlier this week, McFarland's 5.14 ERA is somewhat misleading and his performances are actually a little bit worse than what this number indicates. In my opinion, it's time the Orioles issue him another ticket to the Baltimore-Norfolk express.
There are of course some other question marks still within the pitching staff, with neither Dylan Bundy, Odrisamer Despaigne nor Brian Duensing filling me with complete confidence at this point in time. However, they're the best options the O's have at the moment.
Offensively, skillful infielder Paul Janish and catcher Francisco Pena have had some nice moments with the O's since joining the team in recent weeks as a result of injuries to others, however upon their returns, it's highly likely this duo will be sent back down to Norfolk as well.
On the injury front, J.J. Hardy returns to the Orioles today after spending just over six weeks rehabbing from a left foot fracture. His classy glove at shortstop, combined with his reliable lower-order bat, will really help stabilize the offense ahead of Manny Machado's upcoming three-game suspension for belting Yordano 'Cheap Shot' Ventura.
Yovani Gallardo is also set to return today, after missing about seven weeks with right shoulder tendinitis. Despite some early season struggles, having the veteran right-hander back in the rotation is reassuring, and soon enough, I'm sure he can return to the reliable form his impressive career numbers indicate.
Although a timetable for his return hasn't yet been set, Darren O'Day will also return from rehab in the coming weeks, as he overcomes a right hamstring strain suffered two weeks ago. By all reports, O'Day was feeling better yesterday and is itching to get back out there. Caleb Joseph, who started his rehab assignment with High-A Frederick yesterday – he went 0-for-2 with a sac-fly – is also set to return within the next few weeks. Joseph, who is recovering from a testicular injury, is set to be cleared for catching duties later this month. Vance Worley is also progressing well as he looks to overcome a groin injury.
As you can see, a significant amount of roster moves are coming and hopefully, the Orioles can build some consistency within the clubhouse, which translates to more consistent results as we head towards the All-Star Break. Factoring in all of the above, assuming a fully fit staff and Machado's suspension coming to an end, where does this leave the roster? Here's my thoughts:
Infielders: Chris Davis, Jonathan Schoop, J.J. Hardy, Manny Machado, Pedro Alvarez & Ryan Flaherty
Outfielders: Adam Jones, Hyun Soo Kim, Mark Trumbo, Nolan Reimold & Joey Rickard
Catchers: Matt Wieters & Caleb Joseph
Rotation: Chris Tillman, Kevin Gausman, Yovani Gallardo, Tyler Wilson & Vance Worley
Bullpen: Odrisamer Despaigne, Dylan Bundy, Brian Duensing, Mychal Givens, Brad Brach, Darren O'Day & Zach Britton
I've given Worley the final spot in the rotation as a short-term measure. The Orioles need to make a trade before the deadline and the obvious target is 26-year-old Sonny Gray who is struggling in Oakland this season, and it's clear the last placed Athletics (29-38) will be sellers. Gray is a fantastic pitcher who is simply battling his way through an extended slump. There has however been some signs of improvement in his most recent few outings and a change of scenery, to a competing team, could do him wonders.
I've resisted the urge to tinker with the bullpen too much, keeping Despaigne and Duensing in the mix for the time being. Should the O's pick up Gray, or another starter from elsewhere, then Worley would be moved back to the bullpen and the worst performing of the two would be shipped back to Norfolk.
And before I finish…
No doubt you're wondering how on Earth the Orioles snag Gray, or more specifically, what they would need to give up in order to achieve this? Here's some names worth considering:
Chance Sisco – There's an excess supply of talented young catchers within the organization and although that's a nice luxury to have, the O's need to make addressing the struggling rotation their number one priority. As such, the 21-year-old who's hitting .324 in four minor league seasons could be appealing.
Hunter Harvey – As much as I hate doing it given the recent history of trading away pitchers, the injury-prone 21-year-old hasn't pitched since 2014 and although his numbers were very impressive up until that point, there is a very long way to go before we see him in an Orioles uniform. Perhaps a change is what he requires too?
Trey Mancini – With Chris Davis in Baltimore through until the end of the 2022 season, one must wonder what the future holds within the organization for 24-year-old first baseman Mancini? A career .309 hitter through four minor league seasons, who has the ability to go yard often, could also be very appealing to the A's.
Garabez Rosa – The versatile infielder has been with the organization for 10 seasons now and his opportunities with the big league team aren't exactly just around the corner. This is despite hitting an impressive .324/.339/.454 through 59 games combined with Norfolk and Bowie this season. Still just 26-years-old, a move to greener pastures could suit him.
That's a starting point, and it'll probably take at least one or two of those names in a package deal to make the trade become a reality. For the sake of the Orioles chances in pushing deep into October this season, it needs to.