Believe The Hype – Lamar Jackson Will Be MVP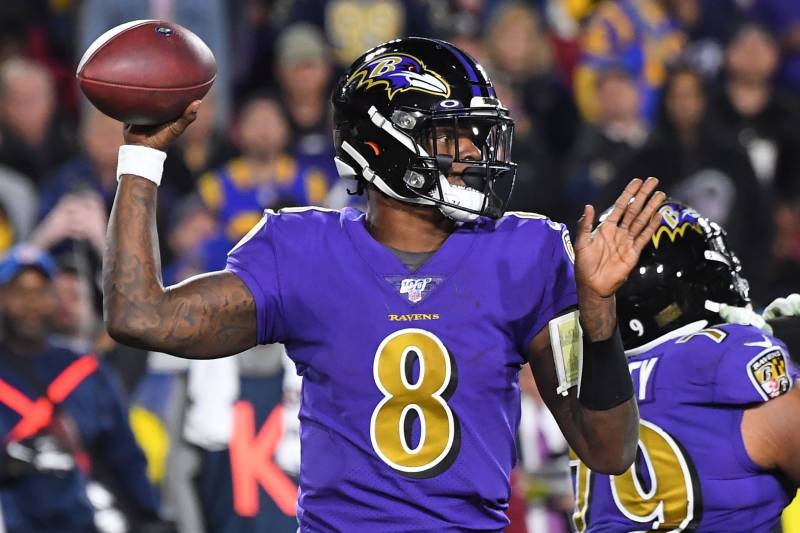 Step aside Patrick Mahomes – there's a new MVP in town.
Despite five games still remaining in the Baltimore Ravens' 2019 regular season, this is the phrase now being uttered by more football fans than not, and one which is increasingly being chanted around the nation wherever, and whenever the Ravens are playing.
It truly is quite amazing to think that these chants are in reference to young quarterback phenom, Lamar Jackson, who just 12 months ago was seen by many as a controversial choice to replace long-time Ravens quarterback, 2012-13 SuperBowl MVP – and fan favorite – Joe Flacco. His dazzling rise and his spirited ability to prove his countless doubters wrong is a testament to not only his level of skill, but his level of resilience and self-belief. It is also, I must add, a testament to Ravens head coach John Harbaugh who not only handled the switch with Flacco with class, but has since nurtured Jackson and continued to show faith in his young star throughout.
It's no secret that Jackson's style of play has captured the nation's collective attention and is changing the way football is played. At first, and somewhat understandably, experts and fans alike were cautious – some may even say they were filled with doubt. While full of praise for his running game, they picked apart his passing ability, throwing more barbs on social media than Jackson had thrown passes in his young NFL career. The masses were terribly quick to judge the fresh-faced 21-year-old. Unfair and unreasonable.
But look who's laughing now…
Through 11 games of this 2019 season, the Baltimore Ravens are sitting pretty at 9-2 and once again back in SuperBowl contention – a place they truly haven't been since that memorable day in New Orleans back in February 2013. For this incredibly proud organization, which has experienced the ultimate success twice since the turn of the millennium and reached the postseason a further nine times, they're back to where they belong – on top of the AFC North and ready for a deep postseason run. They're on collision course with Tom Brady and the New England Patriots, a team they accounted for with ease earlier this month.
The excitement in Baltimore is understandable and more than warranted. A new era has well and truly arrived and with it comes an abundance of hope.
This season hasn't been all smooth sailing though. Back-to-back losses to the Kansas City Chiefs and Cleveland Browns within the first month saw the angry mob come out with their pitchforks, ready to tear Jackson a new one. However as Jackson settled, those were quickly downed in silence. Since then, the Ravens have been unstoppable, winning seven straight and tying a franchise record.
It's not just the notches in the win column that have been of note though, it's the way in which they're doing it – with apparent ease. After sliding back into the win column in a tough encounter against the Pittsburgh Steelers in Week 5, they've hardly been troubled since. The scalps during this stretch have been significant too, including a convincing wins against the 9-2 Seattle Seahawks (30-16), the AFC East leading Patriots (37-20), and the AFC South leading Houston Texans (41-7). Even last night's match up on the road against the Los Angeles Rams was meant to be a challenge, however by halftime the writing was on the wall.
Supporting Jackson has been a solid defensive unit which ranks 11th in the NFL and a young offense eager to solidify their spots on an exciting roster. 22-year-old wide receiver Marquise Brown and 24-year-old tight end Mark Andrews each have six touchdowns on the season, while the more experienced duo of Willie Snead (four) and Mark Ingram (three) have also provided reliable options for Jackson's red hot arm. That arm, which up until just a few months ago had more doubters than an Indian street vendor selling a two-day old curry, has a passer rating of 111.4 on the season, marginally behind just the Minnesota Vikings' Kirk Cousins (114.8) and the Seahawks' Russell Wilson (112.1). Add in Jackson's unrivalled running game, and his 81.9 overall quarterback rating leads all others.
While the last seven weeks have seen Jackson and the Ravens move from a somewhat unknown plucky outsider to genuine contender, there are some significant challenges ahead. Next week they return home to face the 10-1 San Francisco 49ers, before another difficult game on the road against the 8-3 Buffalo Bills. After that, a significantly softer schedule of the New York Jets, the Browns, and the Steelers await as they head into what many expect to be a deep postseason run.