Let's Talk About Juan Soto…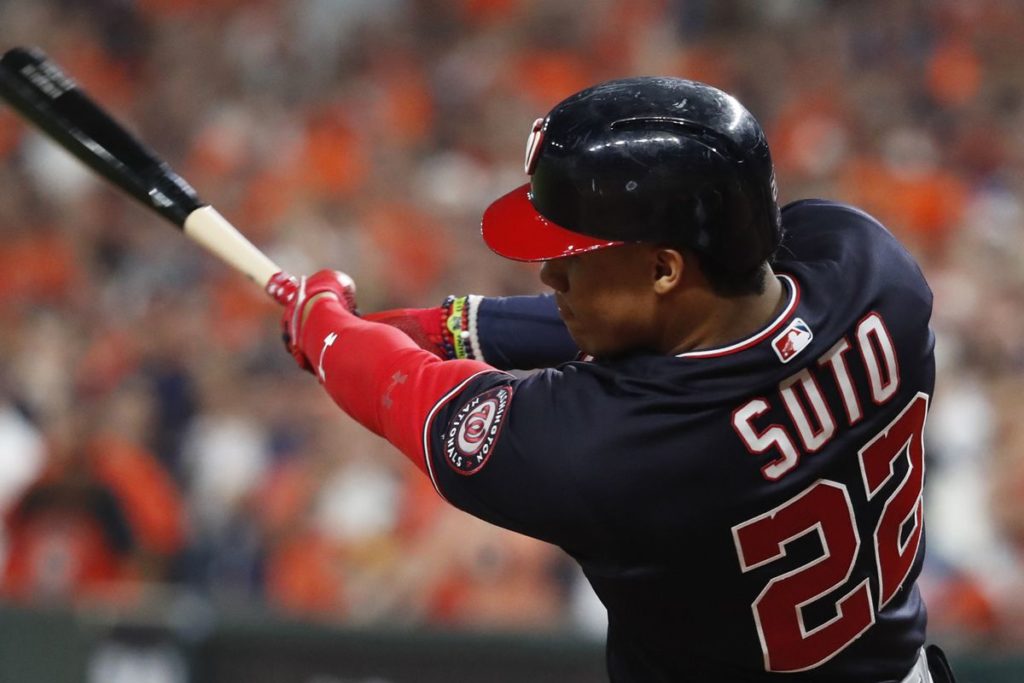 On the eve of one of the greatest spectacles in pro sports – Game 7 of the World Series – as I sit here with an ice cold beer by my side, catching my breath and taking in what a wonderful spectacle this postseason has been, one name more than any other keeps circling around my mind.
Regardless of what happens tomorrow night, the Washington Nationals have stolen the hearts of many neutral baseball fans all over the world, with a stunning fightback and never say die attitude that has seen them turn a 19-31 start into a winner-takes-all decider on the final day of the season. It really is quite incredible to think that just five short months ago they were languishing near the bottom of the National League East, with numerous jobs (perhaps even careers) on the line and a fan base so demoralized, many had completely written the season off.
While the team was full of stars on paper, there was simply no cohesion. Further, the bullpen was atrocious, and manager Dave Martinez was presented with some serious headaches on an almost nightly basis. Fangraphs, at the time, gave the team a 0.1% chance of winning the 2019 World Series, which has led to probably the biggest regret we have all had since – not dropping a wallet-full of cash on the.
Then, rather dramatically, everything changed. The rotation got hot, the bats got hot, and the bullpen… well, it improved enough to keep the Curly W's coming on a frequent basis. The rest, as they say, is history.
One young star who has blossomed during this Nationals' revival, and even further boosted his value during what's been a stunning postseason campaign, is the recently turned 21-year-old, Juan Soto – who in my opinion is the most exciting young player in baseball today.
IMO, this kid is more exciting than any other young player in baseball. pic.twitter.com/drexVmsoyD

— DC (@DanClarkSports) October 30, 2019
While that is a big call and one that will no doubt cause much debate, statistically speaking, no current player in the major leagues comes close to having achieved what Soto had before his 21st birthday, not even the big trio of Mike Trout, Bryce Harper and Manny Machado. This year's two leading National League MVP candidates, Christian Yelich and Cody Bellinger, hadn't even debuted by that age, while last year's National League Rookie of the Year and one of the widely acknowledged most exciting young players in baseball, Ronald Acuna Jr., is also a long way behind.
At age 20…

Juan Soto (56 HR, 180 RBI)

Ronald Acuna Jr (26 HR, 64 RBI)

Bryce Harper (22 HR, 59 RBI)

Manny Machado (7 HR, 26 RBI)

Mike Trout (5 HR, 16 RBI)

Christian Yelich (Yet to debut)

Cody Bellinger (Yet to debut)

— DC (@DanClarkSports) October 23, 2019
Can you name someone better at such a young age? If so, I'm listening…
After being selected by the Nationals as an international free agent in 2015, Soto quickly progressed through the Minor Leagues. Through his first three seasons – aged just 17 to 19 – the Dominican-born outfielder slashed .362/.434/1.043 in just over 500 plate appearances. Despite his young age, his incredible talent and raw power were on full display, and in late May last year the Nationals' number two overall prospect fully deserved his call up. Since then, nothing's changed, as his flair, passion, and love of the game has shone through brightly – much like his bulging numbers in the stats columns.
2018 – 116 games / 48 XBH / 22 HR / 70 RBI / .923 OPS
2019 – 150 games / 71 XBH / 34 HR / 110 RBI / .949 OPS
While this impressive production in the regular season ensured his name was etched near the top of today's best young talent list, what he's been able to achieve in the 2019 postseason has probably moved him right to the top.
Appearing in each of the Nationals' 16 games thus far, Soto has had a real sense for the dramatic. Sure, his strong .915 OPS ranks 4th of all players who have had at least 40 at bats, however it's also his ability to come up big in key moments that has sparked the Nationals into action on numerous occasions:
NL Wildcard Game vs Milwaukee Brewers
With the Nationals trailing 3-1 in the bottom of the 8th, Soto's line drive single to right field with bases loaded scored three to lead his team to victory.
Game 5 NL Division Series vs Los Angeles Dodgers
In yet another elimination game, Soto's RBI single in the top of the 6th put the Nationals on the board after falling behind 3-0. His solo home run in the 8th then tied the game at 3-3, before being one of the runs to score on Howie Kendrick's gland slam in the 10th.
Game 4 NL Championship Series vs St. Louis Cardinals
With a 3-0 series lead and looking to punch the Nationals' first ever World Series berth, Soto's RBI double in the bottom of the 1st sparked what ultimately became a 7-run inning. He would go on to record yet another multi-hit game.
Game 1 World Series @ Houston Astros
Keen to get off to a strong start in the series, Soto collected three hits including a home run and a double, and knocked in three of the Nationals' five runs in a narrow 5-4 win.
Game 6 World Series @ Houston Astros
Yet again Soto came up big in an elimination game, this time with a solo home run in the top of the 5th to put the Nationals ahead 3-2. They never looked back, going on to win 7-2 and force a Game 7.
It's hard to recall a time where someone so young has had such an appetite for the dramatic, and while the outcome of Game 7 remains to be seen, one guaranteed takeaway from the 2019 postseason has been the emergence of Juan Soto – baseball's brightest young star.