Opinion: Life Bans for Jerk Fans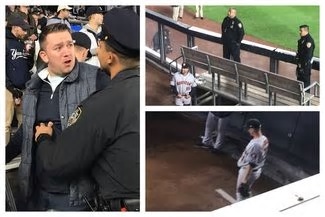 Last night the New York Yankees fell to a 3-1 ALCS deficit against an incredibly strong Houston Astros team, which in a few weeks' time may well win its second World Series in three years.
As expected in a contest between two teams stacked with immense talent, there were plenty of ups and downs, momentum swings, and great baseball being played in front of what truly was a raucous and involved crowd. It was entertaining, no doubt.
For me though, unfortunately the baseball came second to the other significant talking point of the night – poor fan behavior. This all-too-familiar occurrence once again reared its hideous head, as a select few jerks tried their best to ruin the reputation of Yankees fans all over the globe.
Don't get me wrong, as diehard fan of the Baltimore Orioles I would love to sink my boots into the Yankees fanbase in general. But I won't. That's just not fair. While the franchise certainly has its fair share of morons, all pro sports franchises do. In fact, Yankees fans are typically quite knowledgeable, passionate, and fairly easy to get along with. I have a large following of Yankees fans on Twitter and always enjoy some banter and debate – even when I go too far… aka #YankeesSuck.
You see, here's the thing. 'Banter', described by the Oxford Dictionary as being light and slightly contemptuous mockery, is harmless. It's something which has existed in pro sports since it was first established. It's somewhat harmonious hearing a home crowd stir, then get under the skin of an opposing player. It adds to the importance of 'home' games and makes 'road' games all the more daunting. It's a part of pro sports which we should never lose.
The difference between 'banter' and 'abuse' though is significant. Keeping with the Oxford Dictionary theme, it describes 'abuse' as a behavior which causes damage or harm to oneself. The difference in definitions between the two – banter and abuse – should never be underestimated.
On Thursday night in Game 4 of the ALCS, numerous Yankees fans were seen (and heard) abusing Astros' starter Zack Greinke while he was warming up in the Astros' bullpen. According to Police and witness' statements, the abuse focused on Greinke's battles with a social anxiety disorder and depression. It's also claimed that some fans allegedly made crude remarks about Greinke's mother. This, my friends, is totally uncalled for.
I have no problem with fans heckling rival players. It's happened for centuries and is part of the banter of sport. But heckling and flat out abuse is different. Some things are off limits – family, illness (physical and mental), race, etc. Fucking losers.

— Dan (@DanClarkSports) October 18, 2019
Thankfully, society nowadays understands the devastating impact anxiety and depression has on an individual. As brutal and as sad as it may be, these illnesses result in thousands of lives being lost every year – and nobody is immune, even pro athletes. Abuse and torment of an individual susceptible to these illnesses only compounds the issue and places added risk and extremities on the potential consequences.
While it is devastating to hear that Greinke was subjected to such targeted and hateful abuse, the silver lining from all of this was the stance from NYPD and Yankee Stadium security staff who immediately recognized the threat and ejected the culprits. What comes from this though, long term, is still to be determined. From my perspective, nothing less than a lifetime ban is acceptable. It's time MLB, its 30 franchises, law enforcement and society takes a significant stance to stamp out this appalling behavior.
If we, as society, truly want to eradicate such harmful abuse of a fellow human being, then we must enact the strongest and harshest of penalties possible. If 'fans' – and I use that term loosely – want to spend their nights at the ballpark negatively impacting the mental health of MLB's finest players, instead of enjoying the wonderful and ageless spectacle of appreciating a ballgame – let alone one which impacts the upcoming World Series – then they're simply not welcome. There's just no need to behave in such a way.
To eradicate this behavior once and for all, it's time MLB takes the toughest stance. Life bans for all offenders. No ifs, buts, or maybes.