What's Really Keeping MLB Fans Away?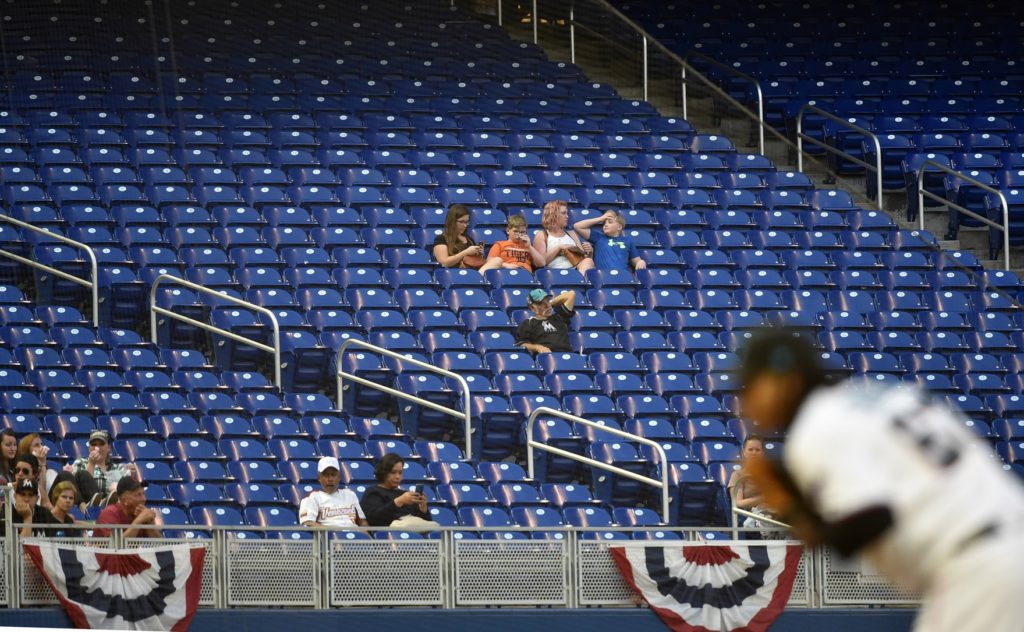 The state of baseball continues to be one of the hottest talking points of the summer and fans are continuing to vote with their feet, with half of MLB's 30 teams experiencing yet another a decline in attendances in 2019.
The 2019 season is also set to become the fourth consecutive season where overall attendance figures have declined, and just the second season since 2003 where the average game attendance figure dips below 30,000. The other? Last year.
Of even more concern for MLB is the nature of the teams experiencing a decline, with many of its small and mid sized market teams witnessing plummeting ticket sales – some by more than 20%. Notably, MLB's only non-US team, the Toronto Blue Jays, lead the pack.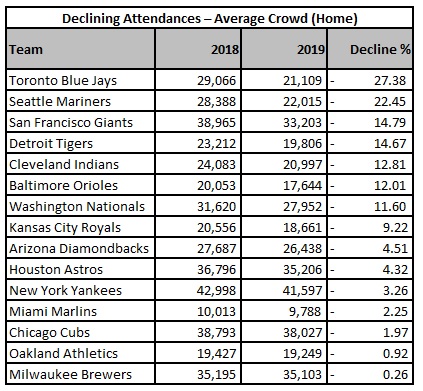 While television ratings are fluctuating, experiencing short periods of both decline and growth in recent times, there is absolutely no denying some of baseball's most important teams are struggling with revenue being lost through nosediving attendance figures. Sadly, the situation is so dire that relocation rumors are already being speculated in some cities.
Seemingly on a failed mission to buck the trend, Rob Manfred and his team of executives at MLB, in partnership with Independent Baseball's the Atlantic League, continue upon their so-called quest for 'innovation' through the introduction of obscure new rules that seek to attract new fans and keep existing ones engaged. This theory, leading to ridiculous experiments like being able to steal first base, has created a growing sense of resentment within the baseball community and one which indicates MLB's Executive has lost touch with the game and the common fan.
Despite what the national media will tell you, which I find is often terribly biased, written by puppets who fear their media passes being revoked, or even at times subject to clearance from those in higher places, baseball needs a dramatic shift in focus if it wants to bring fans back to the ballpark and turn around a four-year demise which seems increasingly likely to continue. Oh, and by "dramatic shift in focus", I don't mean gimmick new rules, TwitterHitter hashtags, or other comical approaches, I mean genuine and significant change.
Last month I wrote a piece responding to the latest round of rule changes being trialed in the Atlantic League. I was critical of these changes and questioned whether baseball was actually focusing on the real reasons fans were staying away. Is it the rules, which have largely remained untouched for well over a century, they want to see changed? Or is it the countless other elements associated with attending a game of baseball? Further to this, I question whether MLB has actually spent an adequate amount of time or resources delving deep into discussions with the common baseball fan to see what truly are the factors behind the decreasing levels of engagement.
In the weeks since, I've dipped my toes into the water with my large following on both Twitter and Facebook, seeking feedback through a series of polls and probing questions that aim to dispel the myths associated with (a) what fans want to see, and (b) why they're choosing not to attend as many games as they have done in years prior. The results are fascinating, and something which really needs to be considered carefully by MLB.
The poll below, while quite simple in nature and only active for 24 hours, received responses from almost 900 participants and clearly indicates that fans are almost just as interested in watching a low-scoring pitching duel, as they are watching a high scoring slugfest. This tends to sway from the commonly held belief nowadays that fans want to see more home runs being hit and scoring resembling that of a football game. Whether you're of the opinion #JuicedBalls is actually a legitimate happening or not (personally, I need to see some more proof before joining that parade), one cannot deny MLB has altered its rules, or is at least trialing them in other leagues (i.e. Atlantic League), to suit the batter and generate more offense.
Your ballgame preference is a…

— DC ✍🏼🎙 (@DanClarkSports) August 2, 2019
Meanwhile, the graph below collates responses from more than 2,000 fans on Twitter and Facebook to the following question:
What is the number one factor behind you not attending more MLB games?
The results are simply staggering and ought to cause alarm bells within Rob Manfred's office.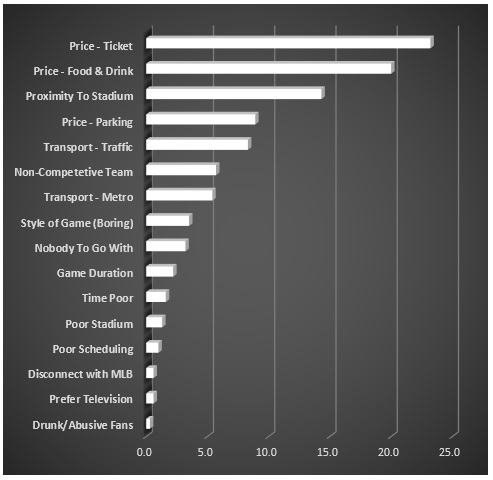 As demonstrated, price related factors account for 52.1% of all responses received, clearly indicating fans simply cannot afford the privileged of attending games anymore. Of respondents who expanded their comments, a common theme was the nature of purchasing a ticket online, typically via ticket exchange platforms which demand exorbitant prices. Another common theme was the inability to have a family outing at the ballpark, with a night out often costing well over $200 when tickets, concessions, parking, and transportation are considered. So much for baseball being 'America's Favorite Pastime'.
Poor transportation options, be it traffic congestion by car or a lack of adequate public transport, also accounted for a significant amount of responses – 13.7% in total. This confirms a theory I've mentioned on numerous podcast appearances this season, that the lack of adequate infrastructure surrounding ballparks is causing people to stay away. As many respondents noted, it's simply far easier to stay home and watch on television.
Of other interesting results, just 2.2% of fans indicted they're not attending games because of game duration. This is actually quite fascinating as once again it appears to be inconsistent with MLB's rhetoric of fans avoiding baseball because of the time it takes for games to be completed. I guess this confirms pitch clocks (among other things) are pointless, right?
So where to from here?
If MLB is serious in its so-called desire to bring fans back to the Nation's ballparks, it needs to become more fan friendly, with substantive changes put in place that help families and allow them to experience a fun night out together. Lowering ticket costs and working closely with stadiums to lower food, beverage, and parking costs will have a dramatic and almost instantaneous impact. Additionally, it needs to instruct its ballclubs to work more collaboratively and in partnership with city councils to improve supporting infrastructure around stadiums. This will lead to lessened commute times and enhancing convenience.
These are the substantive changes that will bring fans back to the game they once loved attending, not home run frenzies, social media gimmicks, or ridiculous rule changes.
Scroll down – there's a comment box below… I'd love to hear your thoughts!