Ravens Take Down Colts, Now 3-0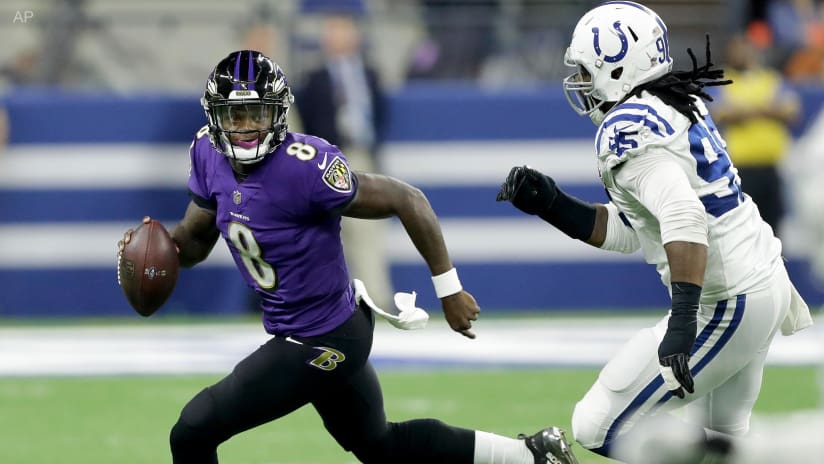 INDIANAPOLIS – The Baltimore Ravens traveled to Indianapolis on Monday night to take on the Colts in week two of the preseason.
Joe Flacco started the game for the Ravens but only played a few drives. In the time that he did play though, he played well completing seven of his nine pass attempts and racking up 80 yards. He also connected with all three of his new veteran receivers; once with Michael Crabtree for 29 yards, once with Willie Snead for eight yards, and once with John Brown which resulted in a nice seven yard touchdown in which Brown juggled the ball twice and still managed to gain possession with both feet in bounds.
Lamar Jackson was the second quarterback to enter the game once Flacco exited again. Jackson seemed to take a bit of a step back this game though. He never seemed to look comfortable in the pocket and it did not help that the Colts defense applied pressure over 50% of the times Jackson attempted a pass. However, the one bright spot for Jackson was a seven yard touchdown to Chris Moore. Jackson rolled out to his right on play action and threw the ball in a tight window to connect with Moore. Jackson's final stat line was seven completions on 15 attempts, 49 yards, and a touchdown. He also ran for 26 yards.
After Jackson left the game, Robert Griffin III entered and played well but did not account for any points on the scoreboard.
On the defensive side of the ball, the Ravens starters continued to play suffocating defense. The Ravens did not allow a passing touchdown until the last two minutes of the game. They also forced two interceptions, one of which was off of Andrew Luck in the redzone. All-in-all, the defense for Baltimore seems to bemaking very good strides, and not just the starters. The second and third team defenses are also playing at a very high level. They seem to have talented depth at every position.
With all of that being said, the Ravens played a sloppy game. Both Tim White and Janrion Grant fumbled during returns and it seems like no one really wants to take over the spot as the primary returner. There were missed blocking assignments as well as blown coverages. These mistakes are good teaching points for the Ravens coaching staff though. Mistakes are meant to be made in the preseason as long as they can grow and move on from them.
The Ravens squeaked by the Colts by a score of 20-19. They will travel to Miami to take on the Dolphins on Saturday.