Hall of Fame Game Recap – Ravens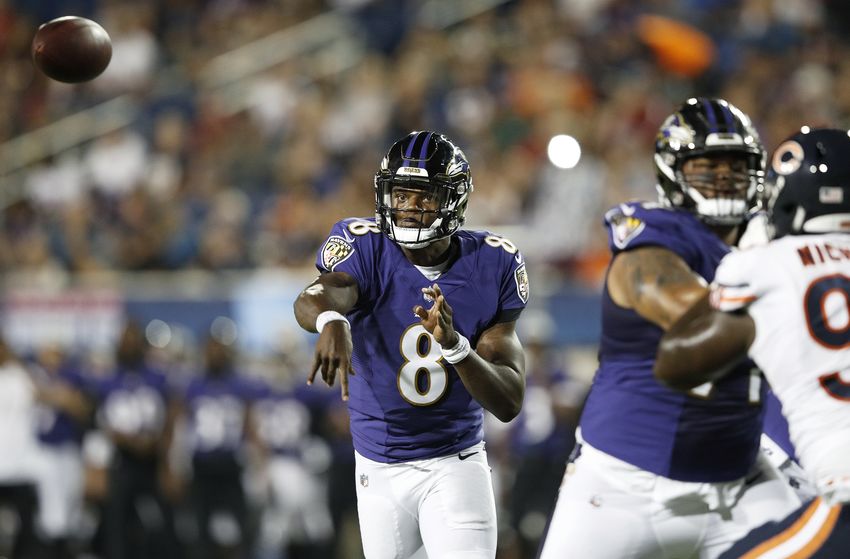 CANTON – The Baltimore Ravens played the Chicago Bears Thursday night in the Pro Football Hall of Fame Game.
While the NFL was celebrating the elite group of players being inducted this year, the Ravens were anxious to get back on the field and play a game for the first time since their heartbreaking loss against Cincinnati eight months ago. Fans were excited for football to be back too.
Everyone was looking forward to seeing the Ravens' newest addition at quarterback, Lamar Jackson. But before Jackson made his debut, they got to see Robert Griffin III make his return to football. Griffin played well, completing seven of his 11 passes and throwing for 58 yards. He also sprinkled in a touchdown to tight end Maxx Williams and an unlucky interception that went through the hands of wide receiver Breshad Perriman. In my opinion, Griffin showed that he can still play at a high level. He showed that he had firm control of the offense and leadership, especially on his touchdown drive. Even after the interception he did not seem to be phased.
Josh Woodrum finished out the first half after Griffin came out and completed all six of his passes, throwing for 37 yards. In the second half Lamar Jackson played the rest of the game at quarterback. He completed only four of his 10 passes and tallied up 33 yards. Like Griffin III, Jackson had a touchdown and an interception. The touchdown was to fellow first round draft pick, tight end Hayden Hurst. The interception came off of a poorly thrown ball intended for rookie wide receiver Jaleel Scott. Along with his passing numbers, Jackson finished with 25 yards rushing. In the end, the Ravens came out with the win 17-16.
There were a few things that really caught my eye while watching the game. The first thing that stood out was that Kamalei Correa came ready to play. Correa ended the game with six tackles, three sacks, one interception, and one forced fumble. It was a fantastic showing for a guy that was on the bubble coming into training camp. Correa showed a quick burst off the edge as a pass rusher to force the fumble and showed his solid coverage skills in order to force the interception. A great showing of versatility for the third year linebacker.
In addition to Correa, rookie tackle Orlando Brown Jr. had an impressive night too. In his first ever start as a right tackle, Brown Jr. only allowed one pressure on 48 pass blocking opportunities, according to Pro Football Focus. On top of being freakishly huge, Brown Jr. showed his ability to pull around the edge and make outside blocks as well as his strength against pass rushers.
The last player that stood out to me was, of course, Lamar Jackson. It seemed that everyone was expecting Jackson to light it up from the start, but that expectation is unrealistic. Jackson is a rookie quarterback learning a new system, playing behind an offensive line that he has never played with, and throwing to receivers that he has never thrown to. There are going to be some hiccups and miscues. The timing and chemistry are going to be a little off, and that is fine. At this point in his development, he is right where he should be. He is not going to get every call right. He is not going to make the right throw every time. That is OK. As long as he takes the experience of practice and preseason games well, Jackson will continue to grow and move in the right direction. However, the one thing that was a bit concerning and made me cringe every time it happened was whenever he would run. I am fine with him running but he needs to slide. He cannot be taking hits from professional football players this early in the season and this early in his career.
With those points being said, I will be looking forward to how Correa, Brown Jr., and Jackson play next week against the Los Angeles Rams. I would like to see Correa and Brown Jr. continue to play well and be contributors to their sides of the ball and I would like to see Jackson continue to grow and take that next step forward in his development. Other players that I will be keeping my eyes are rookies Hayden Hurst, DeShonElliot, and Jordan Lasley. Hurst and Lasley each had 14 yards receiving and should continue to get playing time in the preseason. Elliot had three tackles in the game against the Bears and a few pass deflections. I expect each of these rookies to continue to play well in the time that they get on the field.