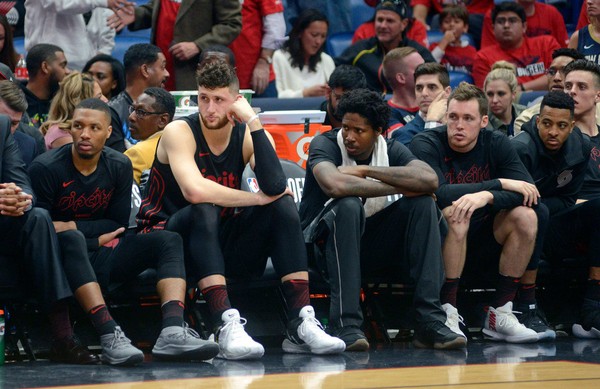 The Portland Trailblazers suffered a shock series loss to the underdog New Orleans Pelicans, granting the Pelicans their first series sweep in franchise history.
As it always does after a surprise defeat, let alone four of them in a row, the fingers start getting pointed at players, coaches, support staff and, basically, anyone within the organisation as to who is to blame and what happens now.
Reports are already circulating that head coach Terry Stotts could be on his way out the door, those same reports are saying that the Orlando Magic will pounce if this is the case. Was Stotts to blame though? Possibly. Could he have done anything differently in terms of rotations, strategies, motivational speeches? Most likely, everyone can improve in anything they do.
Stotts and the Blazers have lost ten postseason games in a row but really, who expected them to end the 82 game regular season with the #3 seed in the stacked Western Conference? They didn't go into the postseason with the best form line, losing seven of the last 12 or similar and yet they still held on to that third seed.
What about Damian Lillard, is he to blame? A superstar of the game, of the league, and he was well held by Pelicans guard Jrue Holiday. Below are Lillard's averages from the regular season and this series against the Pelicans –
Lillard (regular season): 26.9ppg (44% shooting), 4.5rpg, 6.6apg, 0.4bpg and 1.1spg
Lillard (postseason): 18.5ppg (35% shooting), 4.5rpg, 4.8apg, 0bpg and 1.3spg
There will be plenty of fingers pointing at Lillard with his scoring and shooting percentages down on his regular season performances. There will be many people saying he goes missing in the big games. If his stats from the 2016/2017 regular season compared to the 2017 postseason are anything to go by, this isn't true –
Lillard (2016/17 regular season): 27ppg (44% shooting), 4.9rpg, 5.9apg, 0.3bpg and 0.9spg
Lillard (2016/17 postseason): 27.8ppg (43% shooting), 4.5rpg, 3.3apg, 0.5bpg and 1.5spg
During this series he was just beaten fairly and squarely by Jrue Holiday on both ends of the court. Holiday played out of his skin on the defensive end to make life as difficult as possible for Lillard and he succeeded.
Do the Blazers need to bring in players? Have they got enough coming off the bench or enough alongside Lillard and McCollum in the starting lineup?
Al-Farouq Aminu, Ed Davis and Maurice Harkless are all serviceable players and good at playing their role but they are fairly limited in what they can provide. Davis is a pure inside player, he'll fight for a rebound and will be able to put the ball back up but he can't step out and shoot from the mid range or further. Aminu has improved his three point shooting over recent seasons but is still very inconsistent, shooting at just under 40% from the field. Harkless is also inconsistent on the offensive end but is looked at as a primary defender on this team.
The two players who have the most upside, besides McCollum and Lillard, are Jusuf Nurkic and Evan Turner and both should be in the starting lineup. Nurkic saw his numbers drop ever so slightly this season but he got through essentially the whole season and has shown steady improvement. He could be a 18ppg, 12rpg player and that's what the Blazers need – an inside threat to complement their All Star guards.
Turner, the former #2 overall pick, continues to show glimpses of what he can do on the court and he could be a constant 12ppg, 5rpg and 5apg player. He sees the court well, can play any position from the point to small forward and can take some of the decision making pressure off the two guards. It's on defense where he slips up but the Blazers could find a way to hide him on a weaker opponent with little trouble.
The starting lineup moving forward should look like –
PG: Lillard, SG: McCollum, SF: Turner, PF: Aminu, C: Nurkic
Coming off the bench is where they could look to make some changes – Zach Collins they are high on and being that he's a rookie, there's time to get more game time into him during the next season, Pat Connaughton looks as though he could be a solid player off the bench and Shabazz Napier is a good backup point guard. Outside of those three however, anyone else could be on the block and released or traded elsewhere.
Playing Collins alongside Nurkic could also be beneficial, once Collins has more confidence and ability to match up at this level, due to Aminu being of slighter build and that would also improve their defense and take some of the pressure off Nurkic, along with keeping him out of foul trouble by being the sole "big man" on the court defensively. Collins is also able to step out to the three point line, keeping that same spacing that Aminu would have provided when he was on the offensive end.
So with that change it would look like the below with five starters and the four key bench players –
PG: Lillard, SG: McCollum, SF: Turner, PF: Collins, C: Nurkick – Bench: Maurice Harkless, Al-Farouq Aminu, Pat Connaughton, Shabazz Napier.
That lineup clearly shows that they need to bring in another big man to provide back up off the bench – Robin Lopez who seems to be on his way out at Chicago could be a good back up here. Trevor Booker, although undersized, will get you rebounds and plays bigger than he actually is. Nerlens Noel, Tyler Zeller or Ekpe Udoh are also options that could be looked at for them.
There's no need to panic at the Blazers, they simply got outplayed by the Pelicans and their players didn't fire as much as they would have thought. A tidy up of the bench squad is all that's really required, the centre pieces should be staying and so to should the coach.