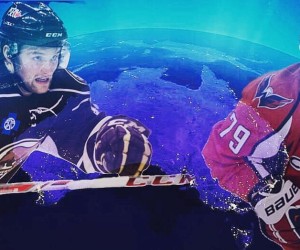 A goal to Australian Nathan Walker has helped the Hershey Bears clinch the American Hockey League Eastern Conference championship today in Toronto.
Walker's goal, his second of the 2015-16 Calder Cup playoffs, came 2:13 into the second period and gave the Bears a 3-0 lead over the Marlies. The Marlies would pull two back, one of which through young star William Nylander, however the Bears held on to secure the championship and head to the Calder Cup Finals where they'll face the Lake Erie Monsters.
The goal was Walker's fifth point of the playoff campaign, following on from a regular season which saw him collect 41 points (17 goals) from 73 games. The 22-year-old has turned heads this season as he continues to press his claims for an NHL debut during 2016-17.
---
Ever seen a giant duck on a skateboard, speeding down a hill at 60mph?