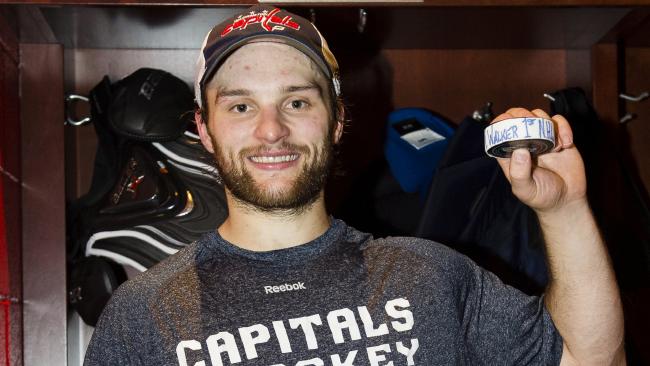 Just over half the Washington Capitals' 2017-18 season is now in the books, with the team owning a 27-13-3 record and occupying first place in the Metropolitan Division. Despite the slow start, the team has found some consistency in recent months, tallying 36 standings points (17-4-2) in its last 23 games since November 16.
While Alex Ovechkin, Evgeny Kuznetsov, and Nicklas Backstrom once again produce most of the team's offense, the lesser-likes of Jakub Vrana, Devante Smith-Pelly, and Chandler Stephenson – among others – have all played vital roles in the team's continued success.
The success and dependability of this next tier of stars has made life somewhat difficult for Australian trailblazer Nathan Walker, who unlike it was at the start of the season, is nowhere to be seen in the nation's capital. Instead, he closed out the first half of his rookie NHL season in regional Pennsylvania.
It's been a frustrating few months for the soon-to-be 24-year-old forward, albeit one full of learning and character building.
Breaking camp with a roster spot and scoring a somewhat fortuitous goal on NHL debut in the Capitals' second game of the season, Walker's name rose to prominence early and was the name on everyone's lips in both DC and back home in Australia. However, he has spent much of his time since watching from the sidelines – absorbing the atmosphere, observing the game's best skaters, learning more than he has ever done so before, and getting to know his more experienced, more accomplished teammates.
After just seven appearances in two months with the Capitals, in which he averaged just over nine minutes of ice time per game and failed to etch his name on the scoresheet a second time, Walker was placed on waivers in early December and claimed by the Edmonton Oilers. Here, he again watched more than he played, and in a tenure which lasted just 20 days with the team from Western Canada, skated only twice – failing to add to his single NHL point and averaging 10:20 on the ice per game. The short tenure was ended just prior to Christmas when he was deemed as non-essential goods, and with no other team putting in a claim the second time around, he was re-claimed by the Capitals. Shortly after in late-December, he was assigned to the AHL Hershey Bears with the intent to boost his workload.
In the weeks since joining the Bears, Walker has enjoyed far more ice time and has collected three assists in four games, boosting his AHL career tally to 93 (38 goals, 55 assists) in 238 games dating back to 2013-14. While he would be somewhat disappointed to be back with the Capitals' minor league affiliate, the greater ice time will help continue his development and ensure he's ready for a return when next called upon.
The time spent with the Capitals has been historic and immensely important for Walker's development, and while failing to produce the offensive returns which had been hoped, his tenacity, speed, and work ethic was evident – as has been the case his entire pro career. Throughout his limited appearances he laid some big hits, generated some excitement, and wasn't afraid to go into battle for his teammates. These appealing traits are what he's renowned for and exactly why he's progressed as far as he has done to date. He, quite literally, is a coaches favorite – sentiments echoed by Capitals Head Coach Barry Trotz on numerous occasions.
With the Capitals flying and in search of yet another division title – and hopefully improved playoff success – it appears Walker will need to bide his time in the AHL for the foreseeable future. More opportunities however should await the gutsy winger, with many eyes in DC checking scoresheets and highlight reels after every Bears game.