For three-and-a-half years now, no name has caused more frustration among Orioles fans than Ubaldo Jimenez's has, and somewhat miraculously, it continues to do so, leaving fans utterly bewildered.
After yet another terribly poor start to the season, Jimenez lost his spot in the rotation and found himself in the bullpen for the third time in four years. Sadly, despite an encouraging scoreless first relief outing against the Red Sox on May 3, it appears as though the move is set to fail much like it did in 2014 and 2016, leaving us all wondering what's next?
The Jimenez-Orioles saga has been incredibly painful and once which really, probably should have ended by now. As much as he's a lovable guy and still capable of producing an impressive outing from time to time, his inconsistency has been nothing short of mind-boggling and his returns since signing with the ball club for $50 million ahead of the 2014 season, have been extremely poor.
Arriving in Baltimore with 82 career wins and a respectable 3.92 ERA in 212 outings (211 starts) with the Rockies and Indians, it was hoped that Jimenez would stabilize an inconsistent rotation, which at the time consisted of Chris Tillman, Miguel Gonzalez, Wei-Yin Chen, and Bud Norris. However, quite the opposite occurred as he quickly proved to be the weakest link, even being surpassed by a young Kevin Gausman by season's end.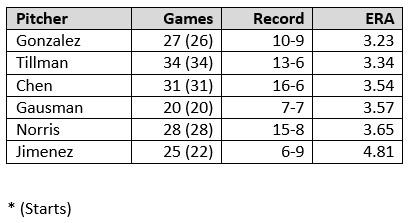 Three relief outings and more carnage followed (6.75 ERA), before he was left to watch his teammates progress through to the American League Championship Series from the sidelines.
While his rapid decline was unexpected, the signs were there for all to see early. His 2014 Spring Training campaign, where he allowed nine earned runs in just 15 1/3 innings of work, was poor – lacking velocity, control, and command. Traditionally a slow starter though, as seen by his 5.54 career ERA in 59 spring games, the warning signs were ignored.
Heading into 2015 looking for a fresh start, Jimenez started the season well, working to a 2.81 ERA and collecting seven wins prior to the All-star break. He was pitching like the Jimenez of old, hitting his spots with finesse, limiting the walks, and preventing the long ball. His struggles, however, quickly returned, going 5-6 with a 5.63 ERA in the second half of of the season and once again having fans calling for a trade. The problem though was the combined $26.5 million he was owed in the third and fourth years of his 4-year deal – nobody was coming to the table.
Alas with too much money tied up in him to go to waste, the 2016 season headed down a similar path to 2014 – only more painful. A 5-9 record with a horrendous 7.38 ERA pre All-star break saw him find his way back into the bullpen where things got worse still with a 8.71 ERA in four appearances. He was thrown a lifeline in late August following the injury and form concerns of others, and ultimately finished the year with a 8-12 record and 5.44 ERA, however his temporary improvement was all but forgotten when the Orioles' season came to a crushing end in the American League Wildcard Game. Here, as many of us so painfully remember, Edwin Encarnacion took him deep for a 3-run bomb in the 11th as the Blue Jays progressed through to the Division Series. For Jimenez, it was just another disappointment in an ever-growing list since arriving at Camden Yards.
With the first two months of the 2017 season playing out the way it has – Jimenez owning a 6.89 ERA across 11 outings (eight starts) and struggling as both a starter and reliever – it's time for a decision to be made. As we saw on Saturday night, where his pitching resulted in a salvageable 2-1 deficit quickly becoming an unlikely 4-1 deficit,  he simply cannot be trusted entering a game which is well and truly up for grabs. So, that leaves Buck Showalter and Dan Duquette with two options – either keep him in the bullpen in a mop-up role only, or move on entirely.
While some will argue that there's still almost $9 million worth tied up in Jimenez for the remainder of the season, one must keep in mind how valuable every last spot is on the roster. With Zach Britton set to return near the All-star break, there simply may not be any room left to carry Jimenez. Despite the recent poor run of results (7-16 since May 9), the Orioles are still in the hunt for either a division title or a wildcard berth this season, and unless this poor run continues, and Jimenez is allowed to see out his contract, I believe the time has come to consider parting ways.
And finally, a tweet you may remember from way back in April 2014…
A question we're all avoiding, but sooner or later may need to be asked…

How long do the O's persist with Jimenez like this? #masnOrioles

— Dan Clark (@DanClarkSports) April 26, 2014
… yes, it's been a very miserable and very long debate.