Time to Break Up the Band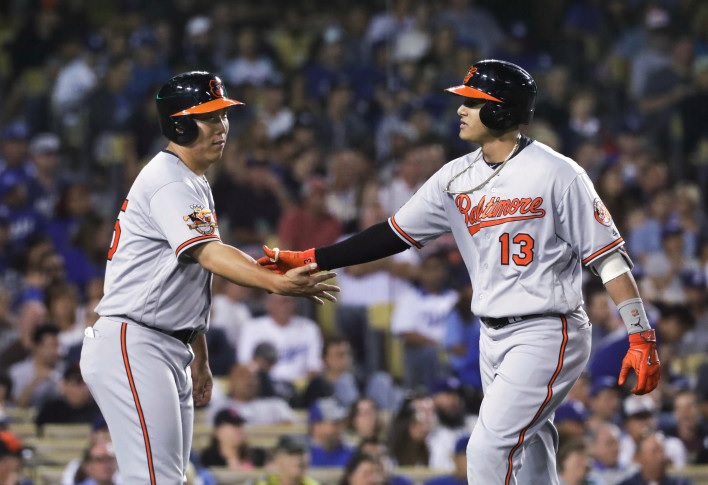 For five consecutive years between 2012 and 2016, the Orioles headed towards Major League Baseball's All-star break filled with hope and looking to bolster a roster pushing for a playoff berth.
Typically lead by a mashing offense, a brilliant defense, and a shut down bullpen, the flaws within the starting rotation were often masked by some timely bombs and 'shortened' games courtesy of Darren O'Day, Jim Johnson, Tommy Hunter, Zach Britton, and co. While some Orioles Magic was certainly at play when boosting the 2012 team to its 93-69 record, over the course of the other four years, the statistics very clearly indicated how the team was able to win so many more games than it lost.
In 2017 though, it's hard to fathom how the team owns its current 31-30 record. It's even harder now, after a disastrous 9-20 stretch, to see how it started the year 22-10. By all reports, we were fooled.
While pitching has long been the Achilles Heel of Buck Showalter's men, it has never been this bad. In fact, "bad" isn't a word to accurately describe the current situation – it's horrendous.
As America goes to sleep this Sunday night, the Orioles pitching staff owns some of the worst numbers in baseball.
4.76 earned run average – ranked 26th
1.50 walks/hits per inning – ranked 30th
.277 opponent average – ranked 30th
.351 opponent on base percentage – ranked 30th
.352 slugging percentage – ranked 28th
445 strikeouts – ranked 26th
84 home runs – ranked 23rd
228 walks – ranked 25th
160.4 pitches per game – ranked 30th
The sluggish rotation has been worse than the overworked bullpen, however both have performed poorly and can share the blame.
Kevin Gausman's appalling 2017 continued today, allowing seven earned runs in just 3 1/3 innings. His 6.49 ERA and hideous 1.990 WHIP highlight how far the team's former young stud has fallen. His off-speed pitches aren't effective and his radar is broken. He's falling behind in the count too often, before coming back with a fastball that's too often being mashed.
Chris Tillman's outing on Saturday night was even worse, allowing nine earned runs in just 1 1/3 innings. His 8.01 ERA and 2.08 WHIP are uglier than Gausman's, and he doesn't look 100% out on the mound. It's been seven outings now since he returned from a shoulder injury to start the season and in his own words, he's "Pitching Stupid". I suspect there's more at play here, but let's watch this space.
Other starters who haven't fared well include usual suspect Ubaldo Jimenez (7.71 ERA, 1.74 WHIP), and the increasingly inconsistent Alec Asher (6.20 ERA, 1.30 WHIP).
The number of relievers tried and failed through the first two months of the season is getting beyond a joke. Vidal Nuno (6.75 ERA), Mike Wright (6.75 ERA), Edwin Jackson (7.20 ERA), Oliver Drake (8.10 ERA), Stefan Crichton (8.49 ERA), Tyler Wilson (9.82 ERA), and Jayson Aquino (27.00 ERA) lead the pack, and Jimmy Yacabonis, after tearing it up at Triple-A Norfolk, also became a casualty today on debut, being tagged for four runs in the 7th. Logan Verrett (4.22 ERA) and Donnie Hart (4.32 ERA) have also had some rough moments, however are better of a bad bunch.
In addition to some lousy pitching, the team has also slipped significantly on defense. The team is on track to record 96 errors, the most it's recorded since 2012 (106), however that only tells part the story. Missed double-plays, outfield miscommunication, and un-reached pop-flys have plagued this team all season, often leading to tack on runs or lost leads. The major culprits here have been the rapidly declining J.J. Hardy and Jonathan Schoop, while Manny Machado, his brilliance aside, has also been guilty of some brain fades. The drop off in efficiency hasn't helped an already struggling pitching staff which needs all the help it can get right now.
With the bat, the inconsistencies seen within the lineup in recent years have remained, and the only thing keeping the team from losing more often than it has, has been an ability to hit well with runners in scoring position – they're leading the American League in this department, hitting .300. Chris Davis has slugged 14 home runs and Manny Machado 12, and both will probably finish with close to 40, however they're both hitting close to .220 (.228 and .213 respectively). J.J. Hardy has been terrible, slashing just .208/.241/.300, while Mark Trumbo, Adam Jones, Seth Smith, and Hyun Soo Kim are all hitting too close to .250. Against a Yankees lineup which has four guys hitting .317 or above and many more close to .280, this simply isn't good enough to compete. The Red Sox too have multiple guys hitting close to .320 or above and most hovering around .270. Again, the difference in consistency among the Division's best teams is significant.
So what does all this mean?
While many of you reading this may not want to agree, the brutal reality of the situation is that the team has too many flaws to challenge again this season. As painful as it is to say, the Yankees and Red Sox – maybe even the resurgent Blue Jays – are simply better teams. They're more consistent, more damaging, more relentless, and have been constructed in a way far superior to that of the current Orioles roster which is riddled with holes.
The faithful will point at the 31-30 record in a weak American League and claim it's too early to head down that path, however most key statistical measures and certainly the trends of the past five weeks indicate that more pain is in store. Sure, the team could make a move for an upgrade at shortstop in the mold of Zack Cozart (Reds), however the farm is bare and while he would certainly be an upgrade on Hardy, what would it cost, and more importantly, what is then left in the system to trade for superior pitching down the track? Not much. There's just too many flaws to address this season and not enough talent in the system to make the required trades. Evidently, it's highly likely we'll see the Orioles post their first sub .500 season since 2011 and as such, heading into the trade deadline I think it's time the Orioles consider breaking up the band. The journey's been a shitload of fun, with many great gigs along the way, however it's time to look at the future and potentially restock while they have a chance.
Manny Machado's future divides opinion and although it's not the popular view, I'm in the #TradeMachado camp. Despite his struggles this season, the kid is one of the game's most exciting young players and when he hits the free market after the 2018 season, I fully expected him to be paid more than $300M over a long-term deal. Will Orioles owner Peter Angelos pony up that kind of money? Absolutely not, and nor should he. As good as the kid is and as much as I love watching him play, that magnitude of money could be far better spent elsewhere, filling a number of voids currently preventing this team from winning a pennant. For me, trade discussions must at least be considered. If the Orioles are ultimately going to lose him regardless, they may as well get something for him now, right?
With Chris Davis, Mark Trumbo, and Trey Mancini around, there's probably an over-supply of first basemen in Baltimore. But with Mancini being a hot young commodity and well-liked within the organization, is anyone instead likely to go after Davis or Trumbo with the monies they're owed? Unlikely. Mancini has also shown he can be somewhat serviceable in the outfield, which has seen Hyun Soo Kim's playing time diminish markedly. With plenty of outfield depth on the roster and even more down at Triple-A Norfolk, is Kim's name one worth floating out there? Granted, the trade market isn't jumping over hot coals to secure a platoon outfielder, however the 29-year-old Korean could certainly add some depth and is a proven hitter when given the opportunity – something he and his adoring fans back in Asia want to see more of.
Relievers are always highly sought after as the trade deadline nears, and with Zach Britton still injured, the two most reliable and experienced arms currently in the Orioles bullpen are Darren O'Day and Brad Brach. Despite the occasional rough outing, the late-innings duo get the job done more often than not and Brach in particular may garner some interest. O'Day is signed through until the end of the 2019 season, and being owed $9M per season in each of 2018 and 2019, will scare away most suitors. Brach however, with a far smaller price tag, may not and could be looked at more closely.
If the Orioles do write-off the playoff push this season and make some trades before the July 31 deadline, they'd also benefit from cutting loose some aging wood and giving some young prospects a taste of the big show down the stretch.
The Ubaldo Jimenez saga has dragged on long enough and I'd much rather see his bullpen innings instead afforded to a young arm. While 24-year-old Chris Lee (No. 6 prospect) has struggled for consistency at Triple-A Norfolk, I'd like to see the left-hander given a chance. Another left-hander who may be ready for some big league experience in the not-too-distant future is 22-year-old Tanner Scott (No. 10 prospect) who has been pitching superbly at Double-A Bowie, currently owning a 1.50 ERA through his 12 starts, striking out 46 in 36 innings.
J.J. Hardy's decline has been dramatic and it's time the Orioles look to the future here too – the concern though is the freshness of 20-year-old shortstop  Ryan Mountcastle, despite his continuing success at High-A Frederick (slashing .320/.349/.563 with 12 home runs and 40 RBI). Mountcastle's below-average arm has also been discussed as an area of concern. Is he ready? Doubtful. As such, perhaps the impressive Drew Dosch, who is slashing .300/.363/.465 this season having spent time at both Double-A Bowie and Triple-A Norfolk, gets a call-up? The 24-year-old third baseman could play the hot corner, with plenty of options with or without Machado to take the reins at shortstop.
Some of you reading this may see the logic, while others may not – that's the beauty of baseball. One thing which is overwhelmingly clear though, and something I think we can all agree on, is the rapid and concerning demise of the Orioles 2017 season, which just over a month ago looked headed for another postseason berth. Be it early-season luck or simply taking advantage of some opportunities at key moments, the flaws we are now seeing within this team were not being exposed then, as greatly as they are now. And having been figured out by each and every rival, i.e. attack Gausman's fastball early, it is unlikely things are going to change so much to see them return to their winning ways. With that in mind, breaking up the band seems like a plausible option, however I'm not Dan Duquette (nor would I want to be right now).
Remember folks, if nothing changes, nothing changes…