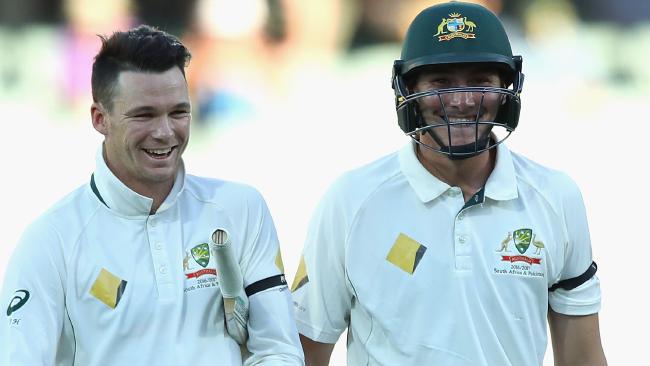 On a warm summer's morning, the last day of July 1977, American musician Meat Loaf released one of his signature songs, power ballad Two Out of Three Ain't Bad. From that day on, the song, penned by brilliant lyricist Jim Steinman, would forever be recalled when two-thirds of any given situation came to fruition. As Steinman simply, yet precisely put, "Now don't be sad, 'cause two out of three ain't bad."
Almost 40 years later, as stumps were drawn in Sydney to complete the opening day of the third Test Match against Pakistan, Australian cricket fans watched Matt Renshaw and Peter Handscomb triumphantly walk off a sun-drenched Sydney Cricket Ground, and for many, immediately recalled that phrase, knowing full-well that Australian cricket selectors had made two very good decisions just six weeks ago.
Following a humiliating loss to South Africa at Hobart, the opportunity had arrived to swing the axe. The Australian Test team hadn't won since February, losing five consecutive matches against Sri Lanka (three) and South Africa (two), and the One-Day team had just been swept in a five-match South African series. The cricketing public demanded changes and the selectors agreed, dropping Joe Burns, Adam Voges, Callum Ferguson, Peter Nevill, and Joe Mennie. Replacing the quintet were the recalled Matthew Wade and Jackson Bird, as well as three young debutantes – 20-year-old Matt Renshaw, then 24-year-old Nic Maddinson, and 25-year-old Peter Handscomb. The batting trio represented a new era for Australian cricket, and it was hoped they would perform well enough to reverse the continuing, and alarming trend of embarrassing losses.
In the six weeks which have since passed, Nic Maddinson has failed in his bid to secure the number six batting position. Scores of 0, 1, and 4 during his first two Tests, were only bettered by a shaky 22 in his last. Lucky to receive as many chances as he did, he was dumped last week in favour of another youngster, 24-year-old Hilton Cartwright. While Maddinson's continued failures were, at times, horrific to watch, the other two young debutantes have returned the faith shown by selectors and fall asleep tonight knowing their future, at least in the foreseeable future, is secure.
Handscomb's 54 on debut against South Africa in Adelaide was an assured knock and one which didn't fit that of a nervous young man representing his country for the first time. Almost immediately he looked settled, possessing the temperament of a man who knows his game inside out. His approach, which often sees him resting back in the crease and cutting late behind point, was unusual and unorthodox, however it worked. His innings' since have included a maiden century against Pakistan in Brisbane, and another score of 54 against the same opposition in Melbourne. Today he added an unbeaten 40, boosting his tally to 289 runs at an average of 96.33. Importantly, each of his big scores have come in the first innings of a match, ensuring he is capable of performing when the match is there to be won.
While Handscomb showed his ability to succeed at the highest level from the moment he first walked out to bat, Renshaw took a little longer to have us convinced. A slower, more watchful batsman, he ground out an unbeaten 34 in the second innings on debut against South Africa to see Australia home, before making a patient 71 against Pakistan in Brisbane as the home side's 429 first inning runs ultimately proved crucial to winning the match. Successive scores of 6 and 10 followed, with both innings being ended by poor shot selection, and in the harsh reality of professional cricket, some critics were already watching with a closer eye. However, while David Warner's 95-ball 113 stole the show early on the opening day in Sydney, it was Renshaw who finished the day as the main talking point. In just his fourth match, the young Queenslander had batted through the day, ending it unbeaten on 167. His innings https://www.viagrasansordonnancefr.com/viagra-cialis/ was one straight from the opening batsman's textbook; making a steady start before capitalising after Tea, where he feasted on a weary Pakistani attack and helped himself to 84 runs. His tally now exceeds Handscomb's, with 298 runs at an average of 74.50.
The success of the duo has contributed, significantly, to the resurgence being seen in Australian cricket. Three consecutive wins, and a fourth now looking likely, has given fans hope of a competitive showing in India next month, where the tourists commence their four-match series in Pune on 23 February. Following that, three further grueling challenges await in Bangalore, Ranchi, and Dharmasala, as the revamped Australian side battles to overcome extreme heat and crumbling wickets. For Handscomb and Renshaw, they'll head to India full of confidence after strong showings at home, and hopeful of helping their team to a series win which just over a month ago seemed almost impossible.
---
Image Credit: News.com.au/Getty