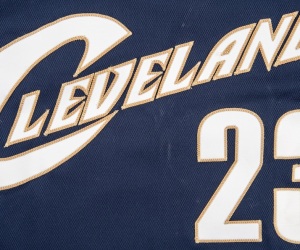 The Cleveland Cavaliers have run over the top of the Golden State Warriors to win the 2015/2016 NBA Championship! The first time in 52 years that a sporting team from Cleveland has won a Championship.
Here's how the players went –
Matthew Dellavedova:
Played very few minutes the longer the Finals series went but when he's on the court he'll give 110% the whole time. A pesty defender who gets under the skin of his opponents. With Irving playing this time around we didn't get to see him reach the same heights as last season.
Finals averages: 2.7ppg, 0.5rpg and 1apg
Grade: 3/10
Channing Frye:
Used half as much in the Finals series compared to the Eastern Conference Finals (8.3mpg compared to 16.3mpg). Didn't set foot on the court in any of the final three games of the series.
Finals averages: 0.5ppg, 0.8rpg and 0.5bpg
Grade: 1/10
Kyrie Irving:
If LeBron James wasn't in the team then Irving would have been the NBA Finals MVP, he had a phenomenal series. This now begs the question, if Irving played last year would the Cavaliers now be back-to-back Champions? However, that's not getting answered here. Had less than 20pts in only one of the seven games, played tight defense on Steph Curry and had his shooting stroke going strong (46.8% from the field and 40.5% from deep). Displayed his awesome ball handling ability as well, would be challenging Chris Paul and Jamal Crawford for best handles.
Finals averages: 27.1ppg, 3.9rpg, 3.9apg, 2.1spg and 0.7bpg
Grade: 9/10
LeBron James:
What can be said here? I'm not necessarily a LeBron James fan but his display throughout the Finals was absolutely amazing! There was no doubt he was going to be named Finals MVP. Flirted with a triple-double in almost every game, passing was on point, rebounding vicious and he was even hitting a number of his jump shots. Simply a great performance over seven games.
Finals averages: 28.7ppg, 11.3rpg, 8.9apg, 2.6spg and 2.3bpg
Grade: 10/10
Richard Jefferson:
Given more court time during the Finals series after Kevin Loves concussion, made the most of it. Used primarily as a floor spacer on the offensive end he was able to hit his shots when he needed to. On the defensive end he showed that he could still do a job when required. Has now retired and what a perfect way to end a very good career in the NBA.
Finals averages: 5.7ppg, 5.3rpg, 0.4apg, 1.3spg and 0.1bpg
Grade: 7/10
Dahntay Jones:
Signed with the Cavs very, very late in the season and picks up a ring. Not bad for a 35 year old journeyman. Played only 19 minutes throughout the series.
Finals averages: 1.3ppg, 0.3rpg and 0.2bpg
Grade: 2/10
James Jones:
Got 20 minutes to run around the court during the Finals, put up one shot only and missed it. Did make one free throw though so I guess that counts. Has followed LeBron James around the last few seasons and has picked up a couple of rings because of it.
Finals averages: 0.2ppg, 0.4rpg and 0.4apg
Grade: 1/10
Sasha Kaun:
Nope.
Kevin Love:
Didn't have quite the impact people would have hoped but his presence on the floor is enough to worry defences with his shooting range and rebounding ability. Only scored in double figures twice and only pulled down double figure rebounds twice. Missed the third game with concussion and then came off the bench behind Richard Jefferson for a couple.
Finals averages: 7.3ppg, 5.9rpg, 1.1apg, 0.6spg and 0.3bpg
Grade: 5/10
Jordan McRae:
Played three minutes in game three, hit his two shot attempts and pulled in a rebound.
Finals averages: 0.6ppg and 0.1rpg
Grade: 1/10
Timofey Mozgov:
The little court time he did have throughout the Finals he managed to foul a whole lot. With Tristan Thompson and Kevin Love, then also Richard Jefferson jumping ahead of him, he didn't have much to do.
Finals averages: 1.6ppg, 1.6rpg, 0.6spg and 0.2bpg
Grade: 2/10
Iman Shumpert:
Was brought into the team as a defender and floor spacer, unfortunately he failed at both of those tasks during the Finals. Made questionable decisions on defense that often led to a Warriors bucket or a silly foul. Shooting was also missing from his game (30.4% from the field, 26.7% from three).
Finals averages: 3ppg, 1.6rpg, 0.1apg, 0.1spg and 0.3bpg
Grade: 3/10
J.R. Smith:
What a turnaround it has been for Smith! He has turned himself into a very good two way player when before there was only one way (shoot). Played good defense, hustled back a number of times, hit long range bombs and even had some great assists. Tyronn Lue has truly done something amazing with Smith.
Finals averages: 10.6ppg, 2.7rpg, 1.6apg, 1.4spg and 0.3bpg
Grade: 7/10
Tristan Thompson:
The man is an absolute beast on the boards and he knows that's his role on this team; rebound, rebound, rebound and rebound some more. Even provided some good offense in a few of the games; Game 3 and Game 6 in particular with 14pts and 15pts respectively.
Finals averages: 10.3ppg, 10.1rpg, 0.7apg, 0.3spg and 0.9bpg
Grade: 7/10
Mo Williams:
Played sparingly but when he came on he did what he does, shoot the ball. Offered a little defense on occasion as well.
Finals averages: 1.5ppg, 0.5rpg, 0.2apg and 0.5spg
Grade: 2/10
Coach, Tyronn Lue:
Outcoached Steve Kerr, something that probably wouldn't have been said before the Finals series. Played the well organised pick offenses that the Warriors couldn't seem to work out and kept James and Irving as the focus of the offense. Even his substitutions seemed to be the right calls and the right time.
Grade: 8/10