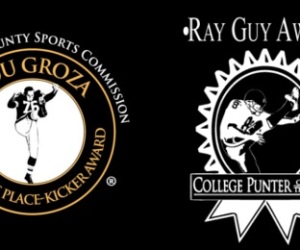 The Australian duo of Brad Craddock (Maryland) and Tom Hackett (Utah) yesterday swept college football's special teams awards, after the pair were named as the best kicker and punter in the game.
Craddock, a junior in his third year with the Terps, won the Lou Groza Award after a breakout season where he converted 18 of 19 field goal attempts and all 41 extra-point attempts. His season-long 57-yard field goal against Ohio State brought the Byrd Stadium crowd to its feat in October…
Craddock's achievement comes on the back of being named the Big Ten Kicker of the Year, as well as securing a spot on the All-American Second Team.
Hackett, who later in the evening won the Ray Guy Award, became the first ever Utes punter to win the prestigious prize after an outstanding junior year where he recorded 3619 total punting yards from the 77 punts he made. His season-long of 70 yards came in the Utes' final game of the season against Colorado two weeks ago, where he punted four times for an incredible total of 223 yards.
His season average of 47 yards per punt was the second best in the country, and he led all other punters with 35 punts inside the 20.
Craddock and Hackett are next in action later this month, in their teams' respective Bowl games;
Another young Australian doing big things in the United States is Bailey Kenter, the number one ranked High School football punter in the game. Here's his amazing story.