Rebounding Joseph Seizing Opportunity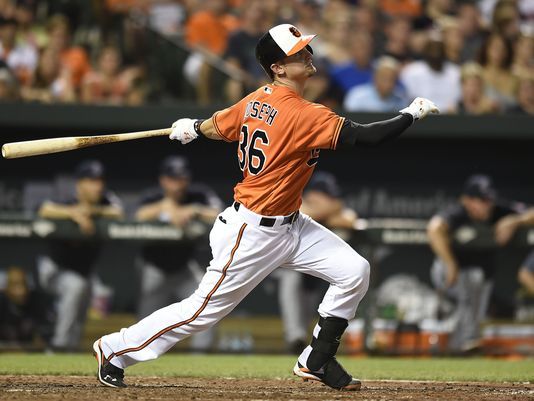 After a 2016 season which can only be described as disastrous, Caleb Joseph has silenced his critics throughout the Orioles' first six weeks of the season, culminating with one of the hottest stretches of his career these past few weeks.
So much was made of Joseph's poor 2016 season, where he hit just .174/.216/.197 and failed to knock in a run, that heading into this year's spring training campaign, there was a genuine belief among fans and some sections of the media that Francisco Pena could upstage Joseph and secure the back-up catcher roster spot.
Despite the threat of losing out on being Welington Castillo's back-up, Joseph turned in a solid spring, hitting .261/.370/.435 with two home runs and two RBI, comfortably out-performing Pena who recorded just one hit from his limited 12 at bats. With a roster spot secured, Joseph entered his fourth MLB season looking to repay the faith shown in him by Buck Showalter and Dan Duquette.
After a slow start, where he went 0-for-12 and failed to welche verhütungsmethoden sind sicher und zuverlässig? | ohnerezeptfreikauf reach base in his first three games, the 30-year-old has rebounded strongly, hitting .345 with five doubles, a triple, and two home runs from his following 55 at bats. While on this extended tear, he's also knocked in nine runs, proving to be a valuable lower order contributor in what's become a somewhat inconsistent Orioles line up. More recently, Joseph has enjoyed an even better run at the plate, going 11-for-21 (.524) with three doubles, a triple, and a home run in his last five games. There's no doubt that the consistent playing time in recent weeks has helped, with Castillo spending time on the disabled list, recovering from a shoulder injury suffered at the end of April. However Joseph has also appeared to be enjoying himself once again – smiling more frequently and seemingly more relaxed now that the RBI hoodoo has well and truly been snapped. It's a fantastic sight, seeing one of MLB's lesser-heralded players and former minor league journeyman, achieving feats he's always believed himself capable of.
With Castillo expected to return to the team today for the series-opener in Detroit, MLB.com's Britt Ghiroli notes that Showalter hinted in Washington DC that Joseph would still get a fair amount of playing time. She believes it's unlikely he will be relegated to playing just once a week – a view I tend to agree with, especially while Joseph stays hot at the plate and Castillo builds back up to the strenuous demands of the number one catcher. While his workload will understandably lessen upon Castillo's return, the Orioles will be hoping Joseph can continue to produce these numbers far superior to his 2016 campaign. In what is almost certain to be a nail-biting fight for the AL East division title, a big game here and there from number 36 may well just give the Orioles a boost to win a few extra games than expected…