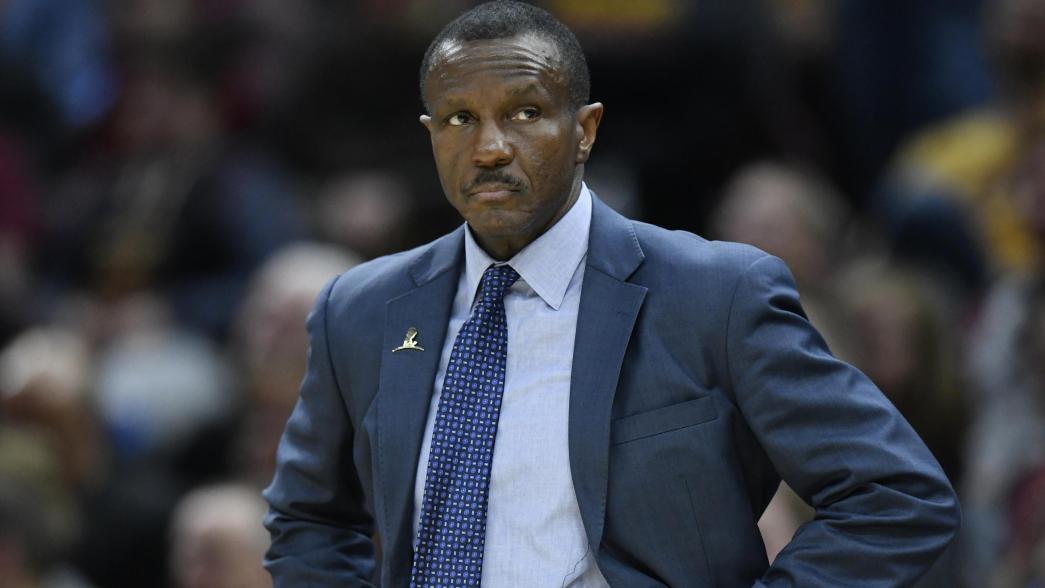 The Toronto Raptors have done something that most people would never have thought would happen – they have fired their Head Coach who was recently named the Coaches Association Coach of the Year (and is a favourite to win the NBA Coach of the Year award), Dwane Casey.
The Raptors, under Casey's tutelage, finished the 2017/18 regular season as the #1 seed in the Eastern Conference due to a franchise record 59 wins. However, looking back on Casey's coaching career with the Raptors, this season wasn't simply a flash-in-the-pan, it was something of the norm recently –
2011/12 Season: 23 wins, 43 losses (66 games) – missed playoffs
2012/13 Season: 34 wins, 48 losses (82 games) – missed playoffs
2013/14 Season: 48 wins, 34 losses (82 games) – lost in first round of playoffs
2014/15 Season: 49 wins, 33 losses (82 games) – lost in first round of playoffs
2015/16 Season: 56 wins, 26 losses (82 games) – lost in conference finals
2016/17 Season: 51 wins, 31 losses (82 games) – lost in conference semi-finals
2017/18 Season: 59 wins, 23 losses (82 games) – lost in conference semi-finals
Many people are saying that LeBron James is the cause of this crazy sacking – the Cleveland Cavaliers, led by James, bundled the Raptors out of the postseason in a cleansweep for the second consecutive year. In fact, the Cavaliers have been the reason the Toronto Raptors haven't progressed to the NBA Finals in the last three seasons; knocking them out in each of those postseasons.
So is it Casey's fault that they haven't progressed? Is it LeBron James? Is it Raptors players going missing when they're needed the most? The answer, a bit of everything from column A, B and C.
To kick things off, the Raptors had no direct match-up for James, no one that could contain him or restrict his movements on the court, his touches of the ball. You look at the Boston Celtics for example, they've got Marcus Smart and Marcus Morris who have both played on James throughout the season and have bodied him up well enough to throw him off his game slightly (slightly is enough of a difference-maker). The Raptors tried Serge Ibaka – too slow – they tried OG Anunoby – not strong enough – and they even had CJ Miles at times – too slow and not strong enough.
This is where Casey's coaching could come into question – if no one player could hamper James, then what strategies could be put in place to make up for that? It didn't look like there were too many in game changes or tactical surprises by the Raptors. Reports over the years and even recently have all said that Casey is a great coach, a great player developer and training coach but his in-game coaching shows little imagination – without being involved with the team, I can't necessarily comment on that but if it's true, could it have played a part? Absolutely.
What about players going missing?
Let's compare the statistics for DeMar DeRozan from the series against the Washington Wizards to the series against the Cleveland Cavaliers –
Washington Series (4-2): 26.7ppg, 3.3rpg, 4.8apg – 10/26 from three, 34/42 free throws.
Cleveland Series (0-4): 16.8ppg, 4.0rpg, 2.8apg – 0/9 from three, 9/11 free throws.
The Cavaliers were able to stop DeRozan from getting to the free throw line and also restricted his number of shot attempts with their suffocating defense. As the lead scorer and main offensive threat for the Raptors, DeRozan not scoring certainly makes putting a winning score on the board that much harder.
That's not to say that DeRozan is the main culprit – Serge Ibaka, CJ Miles, Jonas Valanciunas and others all had a down series – he is just the focal point being the leader and main threat on this team. Kyle Lowry had a good series against the Cavaliers but even he was in foul trouble early in a number of games, making things a little more difficult.
It's clear, I think, that Casey has been made the scapegoat when the finger could be pointed in a number of different ways but what's done is done, the Raptors have parted ways with their franchise leader in coaching wins.
What makes it even more crazy is the good words said by all within the Raptors – including President Masai Ujiri, Lowry and DeRozan – about how great Casey has been for the franchise, how he did nothing wrong as a coach and how great he was as a coach.
Even other coaches like the Boston Celtics Brad Stevens and Cleveland Cavaliers Ty Lue had nothing but praise for Casey. I think it's safe to say that even though the Toronto Raptors aren't in Dwane Casey's future, there will be another team that signs him on before too long.