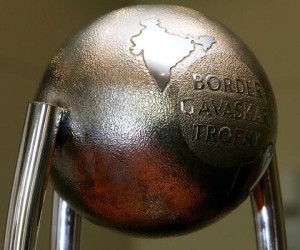 The Border-Gavaskar Trophy Test Series is over and for the hosts, who won the series 2-0, it was quite a memorable series.
From the first few days of the series, the Australians stamped their authority – in particular with the bat. Their first innings total of 7/517 (dec) in Adelaide became the first of four consecutive first innings scores greater than 500 and as history has shown, it's highly unlikely a team will lose once this feat has been achieved. This impressive display with the bat was lead by stand-in Captain Steve Smith – who broke numerous records over the four match series – and he was well supported by all of his teammates at various stages throughout.
The bowling was varied – sometimes impressive and other times not – and at times it lacked potency on batting-friendly wickets. On all four occasions, the Indians reached 400+ in their first innings and really, it was largely due to indisciplined batting in the second innings' of both Adelaide and Brisbane that the Indians lost the two matches.
Here's a review of how each of the 15 Australians to appear during the series performed:
Steve Smith (10 out of 10) – in a word, brilliant. For a period of time a few years ago, Steve Smith had a lot of critics – myself included. His unorthodox technique seemed to raise more questions than answers and one wondered if he was simply a player more suited to short-format cricket. After some impressive returns on recent Tours, Smith had began silencing these critics however it was this series where Smith truly proved himself as the next best thing in Australian cricket. The baby-faced 25-year-old scored a staggering 769 runs at 128.16 and in each of the four matches scored a century in the all-important first innings. In addition, he captained the team well and much like Michael Clarke, remained aggressive as much as he could. Unfortunately, his fielding in the Sydney Test was ordinary and his 17 overs of leg-spin didn't fetch a wicket, however as they say, nobody is perfect. A truly memorable series for the young New South Welshman.
David Warner (8) – hit hard by the death of his close mate Phil Hughes, Warner signalled his intentions from the get-go in Adelaide with a stunning opening day knock of 145. This impressive form continued on throughout the series and he ultimately finished with 427 runs at 53.37 – including three centuries. With 12 Test centuries now under his belt and having just turned 28 years of age, he is well on the way to becoming one of Australia's best ever opening batsman.
Michael Clarke (8) – the bravest face of the Phil Hughes tragedy and entering the series under an injury cloud, nothing was going to keep Clarke out of the first match and it was always likely he would go on to score a century. He did just that, with an injury-ridden, determined innings of 128 to help set-up an Australian victory. He missed the remainder of the series and his future remains uncertain, however his 28th Test century was a fitting tribute to his close mate Phil Hughes.
Chris Rogers (7.5) – due to his age more so than anything, questions about Rogers' spot in the team never seem too far away, however as he has done for some 18 months now, he keeps finding ways to silence his critics. Despite not making a century during the series, 417 runs at 52.12 was an impressive return and his consistency, combined with his experience on the County Cricket circuit, is surely enough to see him win a trip to England for the upcoming Ashes series.
Ryan Harris (7) – despite bowling on batsman-friendly wickets and at times, bowling without much luck, Harris yet again proved how valuable he is to the side with some impressive, economical performances. His 10 wickets at 33.40 apiece may not look outstanding on paper, however the constant pressure he places on opposition batsmen frequently leads to wickets at the other end. Harris bowled 126 overs in the three matches he appeared in and worked to an economy rate of just 2.65. In addition to his tireless efforts with the ball, Harris also whacked 120 runs at 40.00, involving himself in some crucial late-innings partnerships.
Mitchell Johnson (7) – despite missing the final match through injury, it was a reasonably impressive series for Australia's premier fast bowler who also proved damaging with the bat. In all, he took 13 wickets at 35.53 and made 133 runs at 44.33, with his most impressive performance coming in the second innings in Brisbane when he took 4/61 to lead his team to a victory. Earlier in the same match he blasted 88 off just 93 balls and together with Steve Smith, took the game away from Indian when it was seemingly in the balance. He is still, without doubt, one of the world's most devastating cricketers.
Shaun Marsh (7) – so desperately looking to secure his spot in the side with a big innings, there were a number of positive signs for Marsh during the series despite him not being able to reach triple-figures. The West-Australian made 254 runs at a solid average of 42.33 and his 99 in Melbourne – despite its horrific ending – was probably enough to see him secure a place in The Ashes squad later this year. Having now played 12 Tests, Marsh is close to securing his spot in the side long-term, especially with the concerns surrounding Michael Clarke's fitness, however he really does need to produce a few big innings to keep the vultures at bay.
Nathan Lyon (7) – another player who has his fair share of critics, Lyon yet again proved his doubters wrong as he spun his way to 12 wickets and an Australian victory in the first match of the series. From then on, his bowling was somewhat inconsistent against a nation which has always played spin bowling well, however he still finished the leading wicket taker of the series, with 23 at 34.82 apiece. A handy number 11 batsman, he also squeezed out 38 runs at 12.66.
Josh Hazelwood (7) – young, confident, eager and fast, Hazelwood worked his way back into the team and performed quiet well, taking 12 wickets at 29.33. His 5/68 in Brisbane proved crucial in helping the Australians build a first innings lead and he followed that up with consistent performances during the remainder of the series. Like most of his fellow tail-end batsmen, Hazelwood also proved he's no bunny with the bat, making an impressive 32 not out, including seven boundaries in Brisbane.
Mitchell Marsh (6.5) – the younger brother of Shaun played in two matches, making 98 runs at 32.66 and taking his first Test wicket, conceding 54 runs in the process. The 23-year-old oozes talent, both with the bat and ball, and there is no doubt he will play a significant role in this team in future years. His 40 off 26 balls in the second innings of the Adelaide Test was explosive and helped set up an Australian lead, in which most of the runs were ultimately required in order to win. A huge future awaits.
Joe Burns (6.5) – called in to make his debut in Melbourne, Burns looked comfortable at the crease however failed to push on to make a significant contribution – with scores of 13 and nine. He changed that in Sydney though and made a composed 58 in the first innings to prove that he has the potential to succeed at the highest level, before following that up with a quick-fire 66 as Australia pushed hard to increase their lead. Still just 25-years-old and a proven match-winner at domestic level, the Queenslander appears to have a bright future.
Brad Haddin (6) – like Rogers, due to Haddin's age his future in the side often comes under scrutiny whenever he fails. His series started slowly and despite an impressive 55 in Melbourne, he finished the series with just 129 runs at 25.80. Whilst this tally isn't significant, his 22 dismissals behind the stumps and valuable leadership on-field still is and needs to remain in the side for a while longer yet.
Mitchell Starc (5) – appearing in the Brisbane and Sydney matches, Starc took seven wickets at 36.00 and at times, appeared to lack the pace in which he was brought into the team to deliver. Having now played 15 Tests, accumulating 50 wickets at 35.44 apiece, Starc still lacks the consistency required to secure his spot in the side – a side in which many other young fast bowlers are pushing to enter into. His 52 off 59 balls with the bat in Brisbane was impressive and his ability adds even more value to a strong Australian tail-end.
Shane Watson (4.5) – no doubt a frustrating series for the Australian all-rounder, who made 238 runs at 29.75 and took just five wickets at 48.80. In addition, his fielding – typically at slip – was poor at times and this only adds to the frustration being experienced by many Australian cricket fans of which he often divies opinion. Now a veteran of 56 Tests, Watson has just four centuries in 105 innings and to put that into perspective, 80s and 90s off-spinner Greg Matthews made the same amount in just 53 innings.
Peter Siddle (3) – dropped after the first match, having taken just two wickets at 54.50 apiece, Siddle will have a fight on his hands to work his way back into a side which is filled with younger, quicker arms. The 30-year-old veteran of 56 Tests is however a fighter and just eight wickets shy of 200, the motivation will be higher than ever to re-gain his spot.