Postseason baseball, where in recent years pitching prowess has been at the forefront of the nation's attention, has taken a dramatic turn in 2017. No longer are aces suffocating lineups and fans being treated to pitching duels, instead, we've seen starters chased from the mound early and mashing lineups cashing in in front of stunned audiences.
Throughout the first 16 games of the 2017 postseason an average of 9.44 runs have been scored per game – by far the most in recent years and 24% higher than the collective average of the previous five years.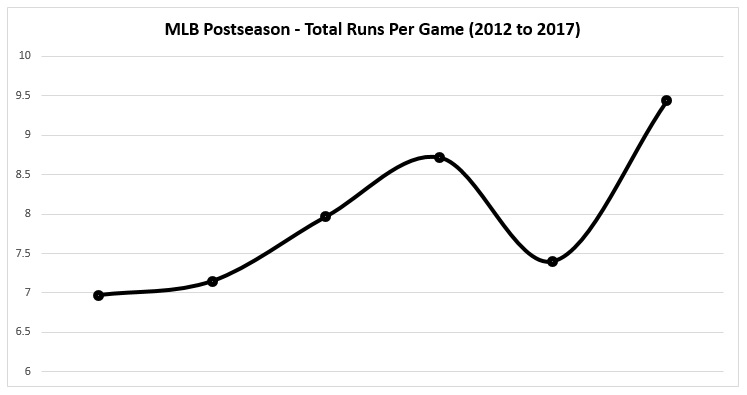 Leading the charge at the plate have been seasoned performers such as Hanley Ramirez, Jose Altuve, Yasiel Puig, Justin Turner, and Logan Forsythe, while viagra pas cher being well supported by the likes of Ketel Marte, George Springer, and Yuli Gurriel.
All of the above-mentioned postseason stars are hitting above .400, with Altuve particular of note, slashing .533/.632/1.133 with three home runs and four RBI.
On the mound, some of baseball's biggest names have struggled, most notably Ervin Santana, Chris Sale, and Zack Greinke. Even Clayton Kershaw allowed four earned runs in his only outing thus far, last week against the Dbacks.
Continuing on from a record-breaking regular season, the long ball has been a regular occurrence this fall, with no less than 37 players going deep throughout the first 16 games. In total, 47 home runs have been blasted at a rate of almost three per game.
Likewise, strikeout records which broke all-time marks during the regular season have also continued, with almost 300 (298) being recorded at a rate of almost 19 per game. Baseball continues to be infatuated with the long ball and the displeasure historically associated with strikeouts continues to lessen and be accepted by managers across the major leagues.
The Astros led the American League in runs scored this season with 896, while the 770 posted by the Dodgers was good enough for sixth in the National League. Both teams have powerful offenses and their high-scoring ways are set to continue in the championship series'. Meanwhile, despite their respective opponents currently being unknown, the Yankees (858, 2nd in AL) and Indians (818, 3rd in AL) both score heavily, as do the Cubs (822, 2nd in NL) and Nationals (819, 3rd in NL).
For lovers of high-scoring affairs, strap yourself in and expect much of the same over the final few weeks of what's been a truly incredible season.