The death of young Australian cricketer Phil Hughes this week has challenged emotions, united the global cricket community and moved a nation.
In sport, the word tragedy is thrown around a lot – at times, somewhat carelessly. The events of this week however, where someone so young, so talented, so modest and so innocent passed away playing the game he loved so dearly, are truly tragic in every sense of the word.
On Tuesday afternoon, upon hearing of the incident unfolding at the SCG, I posted this on Facebook – still clinging to hope that one of Australia's most respected young sporting icons would pull through the ordeal, with the courage shown countless times on the field of play…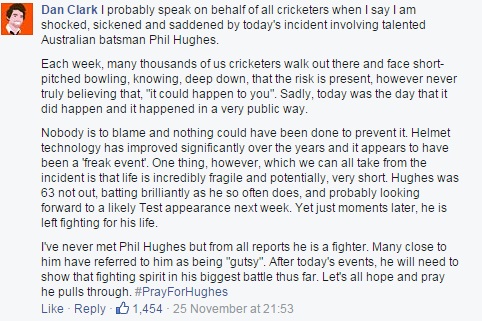 Sadly, less than 48 hours later, the injury sustained by Hughes had claimed his life – a life lived to the fullest and one filled with incredible highs which most people could only dream of achieving.
Hughes played 52 games for his country, scoring 2,367 runs. On five occasions he passed 100, raising his bat each time to an adoring public. Hughes, just 25 years of age, was never given the opportunity to continue this impressive career and fulfil his seemingly endless potential.
His memory however will live on and Phil Hughes' name will never, ever, be forgotten. Never has a single moment on a sporting field ever moved a nation like this has and the outpouring of grief is enormous.
The nation is proud of you young man and your courage will never be forgotten. We miss you and feel for your family, friends and team-mates. We also feel for, and promise to provide endless support for your former New South Wales and Australian team-mate Sean Abbott.
Rest in peace Hughesy, and may you make many more runs beyond those pearly gates. #PutOutYourBats