O's Return Home After Tough Road Trip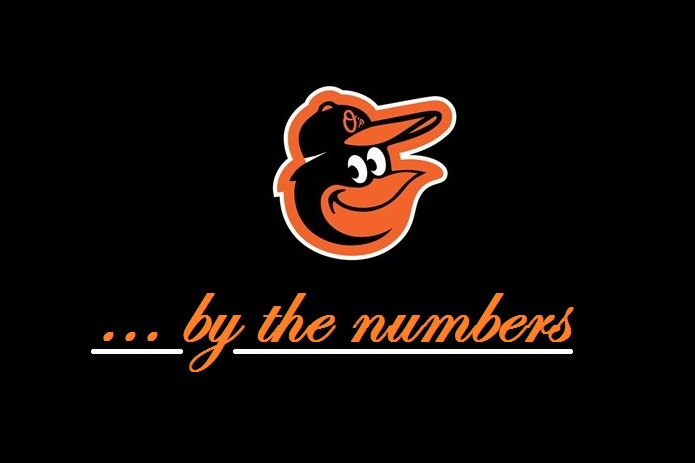 Ten days ago the Orioles departed Baltimore, heading west for their longest road trip of the season to date. Comfortably perched on top of the division standings, the birds had high hopes of putting some distance between themselves and chasing pack – most notably the Red Sox.
Who can remember the first two at bats of the trip? I bet you forgot that Joey Rickard and Manny Machado hit back-to-back home runs to start things off. Yes, that's how well it started and the O's actually won the first two games in Los Angeles – it seems so long ago now. After Matt Wieters' heroics in Game 2 against the Angels, it looked like a winning trip was a mere formality.
Unfortunately though, it wasn't to be, and as the O's return home today, they find themselves trailing the Red Sox in what's quickly becoming a very tight American League East division. The final seven games of the trip yielded just two wins – both against the mediocre Indians – as the lowly Astros had their way with the slumping Orioles offense and shaky pitching staff.
The worst performer of the trip was undoubtedly Ubaldo Jimenez, who allowed 12 runs (nine earned) in two outings which combined lasted just 7 1/3 innings. During the debacle, he conceded 13 hits and walked six. The inconsistent Dominican now owns a 2-6 record, with a 6.36 ERA on the season. The fans have seen enough, many of the critics have seen enough, and surely it's only a matter of time before Buck Showalter has seen enough? His form is terrible and he is hurting the team every fifth game.
Unfortunately Jimenez's implosions on the mound can be attributed to just two of the losses, which clearly means he had some friends slumping right alongside of him. Those of which included:
Caleb Joseph, 0-for-9 (.000), 1 strikeout

Ryan Flaherty, 2-for-17 (.118), 6 strikeouts

Paul Janish, 1-for-7 (.143), 2 strikeouts 

Joey Rickard, 4-for-26 (.154), 8 strikeouts

Pedro Alvarez, 3-for-18 (.167), 8 strikeouts

Chris Davis, 7-for-37 (.189), 18 strikeouts

Adam Jones, 7-for-37 (.189), 10 strikeouts

Dylan Bundy, 2 2/3 innings, 5 runs (all earned)
As you can see, most of the blame rests with the offense, who on the whole, struggled as a unit.
To the naked eye, the numbers suggest the O's weren't even close in many of the games, however that's just not the case. They had countless opportunities to bounce back into contests or even push further ahead, however almost every single time an opportunity presented itself, it was squandered.
Through the nine games, the O's were unable to bring a runner in from third with less than two out, on six separate occasions. This, and the numbers indicated below, highlight just how many scoring opportunities the O's wasted:
They hit just .217 with RISP (15-for-69)

They left 71 runners stranded on base

They struck out 108 times
The lack of ability to capitalize on scoring opportunities saw the O's kept scoreless in 63 of the 85 innings on the trip – that's 74%.
Moving away from the offensive woes, another issue which plagued the O's throughout the trip was poor defense, which in total saw nine unearned runs cross the plate via the 12 errors committed. Things weren't much better behind the dish either, with Wieters and Joseph combined allowing six of eight runners to successfully steal a base (75%). 
All in all, the road trip highlighted a whole range of concerns for Showalter and his coaching team, and in my opinion, it's time to make some moves.
Ryan Flaherty's continual lack of production cannot go unnoticed any longer. While I accept that the loss of J.J. Hardy has destabilized the infield, I don't believe Flaherty is the answer. Is it time to take a look at Garabez Rosa who's putting together another fine season in the minor leagues. This would allow Machado being shifted back to third base.
Ubaldo Jimenez's horrendous performances also cannot go unnoticed and I think it's time the O's parted ways with the struggling veteran. Until such time Yovani Gallardo is ready to return, perhaps Nick Additon or Andy Oliver deserve a crack – even if it's just for an outing or two. They couldn't possibly produce worse results than Jimenez has of late.
In addition to this, Scott Coolbaugh needs to log some hours of overtime and do whatever it takes to turn these offensive woes around. Strikeouts are expected with such a powerful lineup, however not to this degree. If the whiffs continue, Showalter needs to reevaluate the way he structures the lineup. He's already experienced some moderate success with Adam Jones at the top of the lineup and it may be time to permanently promote the more consistent Jonathan Schoop. Nolan Reimold and Hyun Soo Kim also need to see more playing time, as the duo continually make the most of their limited opportunities thus far.
Will any of these moves happen? Probably not… and that's why the fans and I are frustrated.
---
Want to stream music, data free? Here's how…