Heading into the 2016 season, every man and his dog was aware of the key weakness within the Baltimore Orioles roster.
The power-packed offense was the most dangerous in the Major Leagues, the defense was filled with gold glovers, and the bullpen was as reliable as any other, including that of the much-hyped Yankees relievers. The starting rotation however was a huge cause for concern and that lead many national writers to write-off the Orioles chances at pushing for a postseason berth – their third in five years.
Despite the warnings, the rotation made a pretty impressive start to the season, with four of the five – Kevin Gausman, Chris Tillman, Tyler Wilson and Ubaldo Jimenez – each finishing the month of April with ERAs well below the 4.00 mark. This success, combined with a surging offense during the months of May and June, ensured the Orioles entered July in first place, a handful of games clear of the Red Sox and Blue Jays.
While the team kept on winning these past two months, an inconsistent rotation was being somewhat masked by a mashing offense. The team was averaging almost seven runs per game, and with that, anything but a complete capitulation on the mound would ensure enough runs were on the board to send their fans home happy. The fear remained though – what would happen when the offense 'cools off' to more regular levels?
These past five days we've seen the results of that, and it sure ain't pretty.
Edging across the halfway mark of the season, the Orioles have dropped their past five, resulting in their division lead being slashed to just two games. Poor outings from Tillman, Wilson, Jimenez and Gallardo have been the catalysts, while an overworked bullpen is showing increasing signs of fatigue. The inability of the rotation, as a collective unit, to progress deep into games is hurting the entire pitching staff, and one can't help but fear what awaits for the remainder of the season if something doesn't change soon.
The performances of late have been so bad that the overall numbers being put up by Orioles starters this season are now absolutely horrendous. Their collective ERA sits at 5.18, which is second worst in the American League to the lowly Twins, while their 1.47 WHIP is worsened by just the underwhelming Athletics. Furthermore, the average outing for a starter this season is less than 5 2/3 innings, which is the lowest mark since 2009. 
While starting pitching has never been a strong point of this team in recent years, the table below highlights just how much worse it has been this season: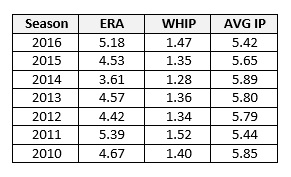 The sheer volume of hits, walks and home runs being allowed is obviously a worry, so much so that even a blind man reading box scores can see this. The way in which it is occurring though, is far more concerning. The rotation, as a collective, falls behind in counts far too often, which is simply a recipe for disaster in this day and age, while their inability to finish a batter off when they do get ahead is just as noticeable. Take for example Jimenez, where opposing hitters are averaging .450 on an 0-1 count, and .273 on an 0-2 count. Think it's just him? Of course not, opponents are hitting .300 off Gallardo on an 0-2 count, while off Tillman they're hitting .407. Curiously and frustratingly, this Orioles team defies logic.
While the problems could be spoken about for many hours, the key is now finding a solution – and that may be hard.
Despite being increasingly inconsistent, Tillman (3.71 ERA)and Gausman (3.97 ERA) will remain the two leaders of the rotation and hopefully each can find some consistency going forward. Gallardo (6.10 ERA) has battled with injury this first half of the season and he will be given many more opportunities to find a rhythm in hope of turning it around. Should he fail to do so though, the Orioles may have an interesting decision to make.
The final two spots though are well and truly up for debate.
The decline in effectiveness from Wilson (5.67 ERA) is a major cause for concern, and increasingly, it seems as though he doesn't yet have the stuff required to solidify a rotation spot. As seen with Mike Wright (6.22 ERA), who due to his struggles is now battling his way back via Triple-A Norfolk, there appears to be a lack of belief when things get tough and the inability to minimize the damage, and avoid a blowout inning, is hurting the team dearly. Then of course there is Jimenez (6.58 ERA), which unfortunately I can't find anything positive to say about. While all reports suggest he is a stand up guy, the cold hard fact remains he has been a major disappointment for two of the two-and-a-half seasons he's been in Baltimore, since signing a $50m four-year deal prior to the 2014 season starting. I've said it countless times now, it's time to cut the losses and part way with the big friendly Dominican.
Within the organization, there doesn't appear to be any obvious solutions. Vance Worley has been more impressive than most predicted, however much of this success has been in relief. In his two starts, he allowed eight runs (six earned) in just 10 2/3 innings, so despite calls for him to be elevated into a rotation spot, I don't believe this would be a wise move. Dylan Bundy has shown considerable signs of improvement working out of the bullpen, however the oft injured youngster needs to be managed carefully, strengthening his body in hope of building a future Major League ace. Down on the farm, the stock is pretty bare. Ariel Miranda and Odrisamer Despaigne are already filling bullpen roles with the big league team, while Nick Additon and Joe Gunkel probably don't have the form to warrant a call-up just yet. Andy Oliver has also struggled in the past month.
All of this points to some wheeling and dealing prior to the MLB trade deadline, which is quickly approaching. The Orioles have already been linked to Drew Pomeranz (Padres) and Francisco Liriano (Pirates), while MLB Daily Dish notes that someone like Rich Hill (Athletics) may also be a nice fit. The fans of course are also talking about a different Oakland arm, that being Sonny Gray. From my perspective, Pomeranz is the most likely target, however the Orioles must remain cautious. The big lefty has never thrown more than 96 2/3 innings during a Major League season, and he's already nudging that number now, currently sitting at 95. He is however having a stellar season and adding a left-arm pitcher to the rotation is desperately needed. As we've said all along, this team doesn't need an ace, it simply needs a handful of arms which can compete – the offense, defense, and bullpen will do the rest.
Securing Pomeranz will take some work though and unfortunately, the Orioles farm isn't exactly full of exciting prospects. Some names I've previously put up for discussion are the likes of Chance Sisco, Trey Mancini and Garabez Rosa, all of which may find it difficult to break into this Orioles team in the near future given the strength of the those currently filling their respective positions on the Major League team. Young arm Hunter Harvey is another name which may be thrown around, however with doubts still lingering over Gausman and Bundy's future ceilings, are the Orioles ready to trade another young arm away? Furthermore, would the Padres be willing to take a risk on Harvey given his concerning list of trips to the disabled list?
The next four weeks will be an interesting period for the Orioles and no doubt, they'll prove to be season-defining. Many questions need to be answered. Will the rotation be able to bounce back from a rough few months? Will Dan Duquette be able to make a trade to improve the situation? Whatever transpires over the next 26 days, it's abundantly clear that something needs to change. If the status quo remains, I struggle to see how this team can push deep into October, if reaching it at all.