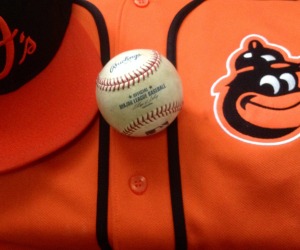 Answering all of your Orioles questions ahead of Spring Training 2015!
The O's usually carry 13 position players. Right now it's Jones, De Aza, Lough, Pearce, Davis, Schoop, Hardy, Flaherty, Machado, Young, Wieters and a back-up catcher. That's 12, who gets your 13th spot? (Dillon Atkinson)
Another good question and to be honest, I think it's too early to call – let's see how Spring Training goes. There's a number of possibilities though – the likes of Jimmy Paredes, Henry Urrutia or even Steve Lombardozzi who spent time in the outfield with Norfolk last year. Of course then there's youngsters such as Christian Walker and Dariel Alvarez, however are they ready? Also, don't be surprised if the Orioles still manage to secure another outfielder in the coming weeks.
What are the chances the Orioles sign Ichiro? (Matt Duckworth)
I think it's unlikely – I suspect it may have happened by now if they were that way inclined. To be honest, it's time for the O's to move forward and signing a 41-year-old probably isn't the right approach, in my opinion.
Would trading Davis, Wieters or both of them be beneficial or detrimental to the Orioles? (Matt Duckworth)
As always, it depends what you can get in return. However I wouldn't consider it. Davis had a poor 2014 and Wieters is coming back from the biggest injury of his career – how would the market respond to that? I have some concerns. Personally, I expect each to bounce back strong in 2015 and hopefully help push the O's into the playoffs again.
What's your opinion on the Orioles offseason so far? (Matt Duckworth)
In a word – frustrating. In my opinion, re-signing Cruz and Miller always seemed unlikely so that wasn't a shock, however I was sure Markakis would have stayed. While his numbers had dropped in recent years, he was still a solid performer with both the bat and glove and will be missed. The Dan Duquette/Blue Jays saga hasn't been great and needs to be ended ASAP. It's creating far too much speculation and rumour – which at this time of the year, is rarely a good thing.
Who do you think the O's can pry away from the Blue Jays for Dan Duquette? (Mr Natty Boh)
Good question. There's been some talk today about 22-year-old pitching prospect Jeff Hoffman, however as noted by Roch Kubatko in a piece for MASN today, the Blue Jays can't trade him now as per MLB rules. That's because a full year hasn't passed since he was drafted. However, he could be a "player to be named later". I asked MASN's Steve Melewski whether he thought a big name bat was possible and he noted that he'd be surprised if that happened. Personally, I'm not even going to hazard a guess because quite simply, I just don't know.
Who will yourself and the Orioles miss more next season, Nick Markakis or Nelson Cruz? (Cole Outos)
Given his great 2014 season, definitely Cruz, however I don't think he'll put up those numbers again. The loss of Markakis is significant too, because at this stage, I don't think the Orioles have sufficiently replaced him. De Aza was impressive in 2014, however can he sustain that form over a full season as a lead-off? Let's hope so!
Out of the players who missed the end of last season (Davis, Wieters, Machado), whose return should make the biggest impact? (Anna Mattson)
Personally, I think Machado. There's no doubt the Orioles missed Davis' lack of power last year, however the impressive numbers put up by Cruz and Pearce probably covered that loss to a fair degree. As for Wieters, Caleb Joseph was great behind the dish last season and towards the end of the season, both him and Nick Hundley were hitting consistently. Effectively, his loss was somewhat well covered too. The loss of Machado however really hurt – both in the hot-corner at 3B and also at the plate. His freakish ability with the glove and his ability to produce clutch extra-base hits will really help the Orioles in their quest to remain the benchmark of the AL East.