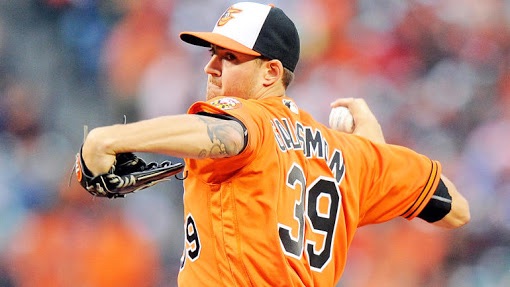 With a solid Spring Training campaign behind them and few injury concerns, the Orioles head into Opening Day and the 2017 season full of confidence and holding lofty expectations. While Chris Tillman will spend the first few weeks of the season on the disabled list, Buck Showalter has an otherwise full artillery to choose from as he seeks to compile http://www.achaten-suisse.com/ yet another competitive roster.
Continuing the theme of recent seasons, the biggest weakness within the team is its starting rotation, and the loss of Tillman early certainly amplifies that. Blessed however with three off days in the first eight days of the season, the O's will hope young arms Kevin Gausman and Dylan Bundy can start the season strong and set the tone for veterans Ubaldo Jimenez and Wade Miley who'll serve as the number three and four starters respectively. Recent history of the experienced duo will ensure fans remain nervous, and if either return to their struggles of 2016, back-up options within the club include Jayson Aquino, Gabriel Ynoa, and Tyler WIlson. Vidal Nuno and Chris Lee are also lurking. Unlike previous years, there appears to be some viable alternatives if things head south early so it's hoped Showalter maintains a short leash – like most fans, I've lost patience with Jimenez and Miley isn't far behind. Of course, let's also hope these guys aren't called on to cover the injury-prone Bundy.
The bullpen is set to be a major strength of the team again in 2017 with the assured trio of Zach Britton, Darren O'Day, and Brad Brach leading the way. Donnie Hart's impressive spring follows his good performances down the stretch last year, while Mychal Givens will hope to replicate his strong 2016. The rest of the bullpen on Opening Day is set to include some of the back-up starting options noted above, presenting Showalter with plenty of flexibility to manage his 'pen – something he does as well as any other manager in the Major Leagues. Like the rotation, there's plenty of relief depth to call upon should injury or poor form strike – something the O's haven't been fortunate enough to possess in recent years.
Offensively, the lineup looks strong and there appears to be more depth than there was last year. Chris Davis, Mark Trumbo, and Manny Machado are likely to combine for 120 home runs, while the likes of Adam Jones, Jonathan Schoop,and Welington Castillo will help nudge that figure beyond 200 for the sixth consecutive season. Hyun Soo Kim will see more game time than last year and together with Joey Rickard, Seth Smith, and Craig Gentry, will importantly help boost the O's on base percentage. There's also set to be more speed on show on the base paths, so don't expect just 19 stolen bases in 2017 – they'll double that and more. Ryan Flaherty is set to remain Showalter's favorite utility guy and Caleb Joseph will be hoping to improve on a disastrous 2016 when called upon to chop out Castillo. I'm hoping to see Trey Mancini rewarded for his efforts down the stretch last year and during spring, by claiming the final roster spot. The kid looks great and while he would certainly benefit from the additional plate appearances down in Triple-A, like many fans, I want to see him turned loose and sending the ball deep. The lineup is so strong, there doesn't appear to be room for Pedro Alvarez who crushed 22 home runs in 337 at bats last season. Others set to battle away in Triple-A in hope of a call up include Paul Janish, Robert Andino, and Chris Dickerson.
Compared to last season, the composition of the team is pretty similar however notably, there's certainly more depth. I like the addition of Smith and if Rickard can remain healthy, he'll have a breakout season. Continued development from Bundy and Gausman is crucial to success and Tillman, upon return, will need to replicate his impressive performances of 2016. The offence needs to cut down on its strikeouts and if this plague rears its ugly head early in the season, Showalter needs to split the culprits up when setting the lineup. I felt he persisted with this too long last year and the extensive slumps hurt the team. They're all versatile hitters and he has lineup flexibility and an abundance of talent at his disposable. There's no reason why this team can't score enough runs to win far more games than they lose.
As far as predictions go? I'm feeling pretty confident. They're stronger than both the rebuilding Yankees and uninspiring Rays, and without the damaging Edwin Encarnacion, probably stronger than the Canadian team with loud-mouthed, beer-throwing fans. It's no surprise the Red Sox will be their biggest threat in 2017 however if the O's can continue the head-to-head dominance seen in recent years, there's no reason they can't snatch a division title. At worst, I expect they'll win enough games to grab a wildcard. I'm predicting a 90-72 season and a return to the playoffs for the fourth time in six years.
*NOTE: After writing this it became clear Wade Miley will start the season on the disabled list, but only briefly. He is recovering from illness and requires one more start before joining the rotation. Who does this open the door for?