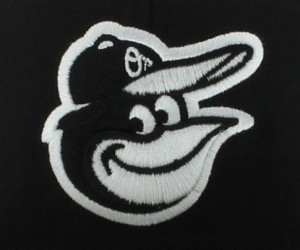 This week's edition looks right across the organization, highlighting some interesting facts you may not have previously been aware of!

Baltimore Orioles
Through 55 games, the Orioles have just nine stolen bases – the least of all teams in the major leagues. They're on pace to steal just 27 this season, which is 17 less than 2015.

The Orioles are making a habit of comeback wins and this is why their bullpen has 17 wins on the season already – five more than any other team in the major leagues (Royals, 12). The Orioles bullpen has been great thus far, working to a 2.76 ERA, which is second only to the Royals at 2.64.

The Orioles bullpen has been very busy through the first 55 games, pitching 185 2/3 innings. That's significantly more than their divisional rivals – Red Sox (176 1/3), Yankees (166 2/3), Rays (166) and Blue Jays (145 1/3).

So often one of the best defensive units in the major leagues, the Orioles are performing far worse this season.  The 33 errors they've committed is the fourth worst in the American League, with just the Twins (34), Rays (36) and Athletics (40) committing more. Nine of the errors have come from pitchers.

 The Orioles have slugged 80 home runs through 55 games, putting them on pace for 236 this season – 19 more than they hit in 2015. Just the Mariners (82) and Rays (83) have more than the Orioles' 80.

Orioles pitchers have struck out just 410 hitters this season, which is the third least in the American League. Only the Tigers (409) and Rangers (384) pitching staffs have struck out less.
Minor League Watch
Mike Yastrzemski is still producing good numbers with Triple-A Norfolk, hitting .284/.365/.514 through 74 at bats. With this has come 11 extra-base hits – two home runs, two triples and seven doubles. Prior to being promoted, he hit .268/.361/.449 with Double-A Bowie in 127 at bats.

Trey Mancini continues to impress, with the 24-year-old launching 13 home runs already this season across Triple-A and Double-A combined. Through 215 at bats, Mancini's .284/.374/.540 continues to attract attention within the organization.

Garabez Rosa is hitting an impressive .328/.343/.464 across Double-A and Triple-A combined. The 26-year-old has six home runs, one triple and six doubles, proving he has both the power and consistency to turn heads.

Christian Walker has 54 hits this season and 22 have been for extra bases, as he continues to show his impressive power. The 25-year-old has nine home runs, one triple and 12 doubles. He is however lacking consistency, hitting just .243 on the season through 222 at bats.

Pedro Beato and Richard Rodriguez are each having great seasons thus far working out of Norfolk's bullpen. Through 28 1/3 innings, Beato has allowed just four earned runs and is working to a 1.09 WHIP. Meanwhile, Rodriguez's 31 1/3 innings of work have costed just six earned runs, while working to a 1.02 WHIP.

Aderlin Rodriguez, the 24-year-old formerly of the Mets organization, is building an impressive campaign at High-A Frederick. Through 202 at bats, he owns a .282/.341/.500 slash, with 10 home runs, two triples and 10 doubles. He's already knocked in 37 runs this season.

Matthew Grimes is having a wonderful season with High-A Frederick, working to a 1.08 ERA through 11 starts. Averaging more than six innings per outing, his impressive performances have helped him secure a 7-2 record. 

John Means is also having a great season with High-A Frederick, owning a 5-0 record through nine starts and working to a 1.80 ERA. He has struck out 54 and walked just 10 through 50 innings of work.