Orioles contributing to entertaining WBC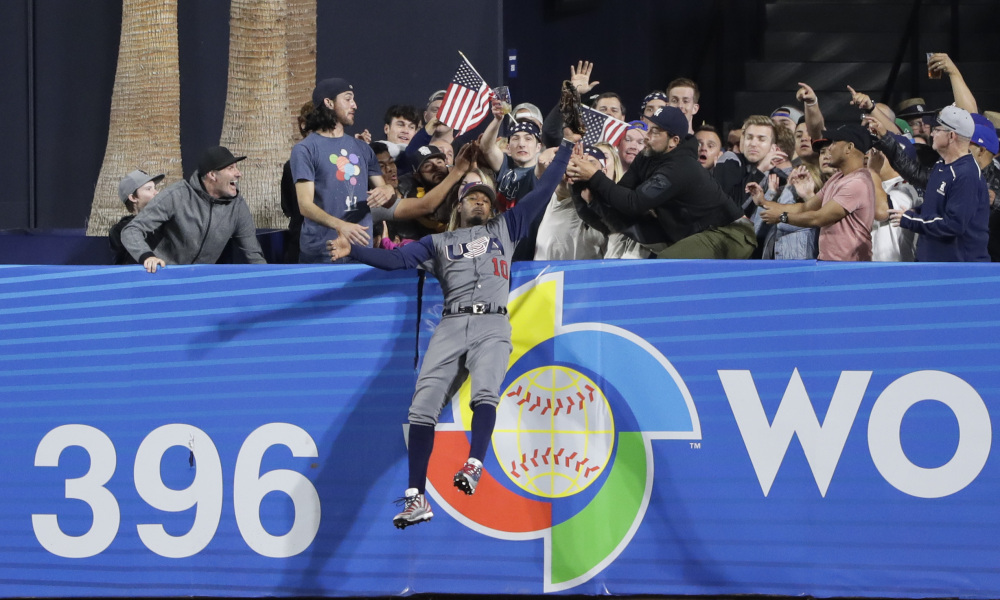 High scoring, nail-biting, and absurdly unpredictable – the 2017 World Baseball Classic has been full of entertainment since the first pitch was thrown on March 6.
For the Orioles, who have five players participating in the 17-day long tournament, much of the excitement is stemming from them.
Adam Jones started the tournament with a bang, leading the USA to a thrilling 3-2 win over Colombia. Jones' RBI double in the 6th brought his country to within one run, before his walk-off RBI single in the 10th sealed the win. He went hitless (0-for-4) in the nail-biter against the Dominican Republic, however did hustle out Starling Marte's error in the 3rd and ultimately wound up at third base. In a must-win game gainst Canada, Jones collected another two hits hitting in the number two spot.
Also representing the USA, Mychal Givens allowed three hits and two runs in his inning of work against Colombia, however bounced back in his next outing, working through a scoreless 5th against Canada, striking out Jamie Romak and Jonathan Malo.
Manny Machado went 2-for-5 in the Dominican's big 9-2 win over Canada, before going 2-for-4 against the USA, which included a monster solo home run off Tanner Roark to left center. In his third game, against Colombia, he picked up an RBI double to put the Dominicans up 2-1 – which they ultimately went on to win courtesy of a big 7-run 11th. Defensively, he has also excelled, in particular against cialisfrance24.com Colombia.
Playing alongside Machado, Welington Castillo has also been wielding a hot bat. A 2-run home run off Ryan Dempster against Canada was followed by an RBI double against the USA which narrowed the margin to two runs. Against Colombia, the reliable backstop scored two when he singled to left in the 11th, giving the Dominicans a 5-3 lead. He has also made some good plays defensively, behind the dish.
Jonathan Schoop, representing the Netherlands, started the tournament going 0-for-4 against Korea, however collected a hit against both Chinese Taipei and Israel, going 1-for-4 in each. In the second round match up against Japan, he went 3-for-5 with a solo home run off Ayumu Ishikawa. Like Machado and Castillo, he too has impressed in the field, turning six double plays thus far.
In addition to the five Orioles above, a number of minor leaguers within the organization are also participating, including:
Vidal Nuno (Mexico), scoreless inning against Italy
Sharlon Schoop (Netherlands), 0-for-1 against Israel
Richard Bleier (Israel), yet to play
Alex Wells (Australia), did not play