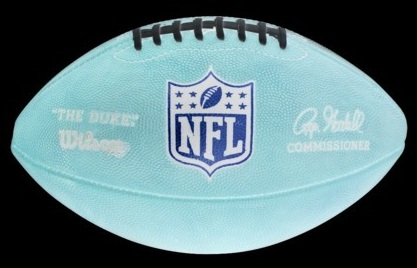 Week 5 of the NFL had some great games and close contests, read about them all below!
Green Bay Packers d Minnesota Vikings 42-10
Rookie QB Teddy Bridgewater was out with a sprained ankle for the Vikings, Christian Ponder had the start. Eddie Lacy ran for a season high 105 yards and 2 TDs for the Packers. Aaron Rodgers threw for 156 yards and 3 TDs.
Carolina Panthers d Chicago Bears 31-24
The Panthers overcame a 14pt deficit to beat the Bears in this one. Jay Cutler finished with 289 yards and 2 TDs for the Bears while Cam Newton threw 2 TDs and 255 yards for the Panthers.
Dallas Cowboys d Houston Texans 20-17
The Cowboys needed OT to get it done against the Texans. DeMarco Murray carried the ball 31 times for 136 yards for the Cowboys. Tony Romo finished with 324 yards and 2 TDs.
Buffalo Bills d Detroit Lions 17-14
The Bills came from behind to defeat the Lions in this one, a 58 yard field goal with less than 5secs remaining by Dan Carpenter got the Bills home. Kyle Orton made his debut as starter for the Bills at QB and finished 30/43 for 308 yards and 1 TD.
Indianapolis Colts d Baltimore Ravens 20-13
Andrew Luck completely outplayed Joe Flacco in this one. He threw 1 TD pass and ran for another as the Colts held on for the win. After being sacked only three times in the season up to this game, Flacco was sacked four times in this game. Luck finished with 312 yards and 1 TDs (pass).
Pittsburgh Steelers d Jacksonville Jaguars 17-9
Jaguars rookie Blake Bortles made his first start at home in this one, he completed 22/36 for 191 yards. Ben Roethlisberger went 26/36 for 273 yards and 1 TD. The Jaguars are still winless so far this season but this game was a better showing from them.
New Orleans Saints d Tampa Bay Buccaneers 37-31
Another game that went into OT this week with the Saints getting it done on the back of a Khiry Robinson 18 yard TD run. Drew Brees went 35/57 for 371 yards and 2 TDs however he also threw three interceptions, two of which led to Buccaneer TDs.
New York Giants d Atlanta Falcons 30-20
The Giants came from 20-10 down to win this game with first round draft pick Odell Beckham Jnr making his NFL debut. He finished with four receptions for 44 yards and 1 TD. The win is the Giants third straight, the loss is the second in a row for the Falcons.
Philadelphia Eagles d St Louis Rams 34-28
The Eagles almost stuffed this one up! Facing a 34-7 deficit, Rams QB Austin Davis went bananas with three straight scores. He finished with 375 yards and 3 TDs but his team ultimately fell short of the Eagles who's defense managed to hold on in the final couple of minutes.
Cleveland Browns d Tennessee Titans 29-28
This was an unbelievable comeback by the Browns, they trailed 28-7 at halftime and it wasn't until the final minute and a half that they clinched the game. Brian Hoyer finished with 292 yards and 3 TDs as the Browns went off for 26 unanswered points to steal this one from the Titans.
Denver Broncos d Arizona Cardinals 41-20
It was a great day for the Broncos; Peyton Manning joined Brett Favre with his 500th TD and Demaryius Thomas had eight catches for a team record 226 yards (and 2 TDs). Manning ended with 479 yards and 4 TDs as the Cardinals suffered their first loss of the season.
San Diego Chargers d New York Jets 31-0
Things go from bad to worse for the Jets with this shutout loss to the Chargers. Jets fans finally got Michael Vick in the second half but he was unable to do anything to change the course of this game. Philip Rivers finished with 288 yards and 3 TDs while rookie RB Branden Oliver got his first 2 TDs of his NFL career.
San Francisco 49ers d Kansas City Chiefs 22-17
The 49ers had to hold off the charging Chiefs a couple of times in the closing moments of this game. Alex Smith (Chiefs) threw for 175 yards and 2 TDs but an interception from Perrish Cox put an end to any of the Chiefs comeback plans. Colin Kaepernick threw for 201 yards and 1 TD, as the 49ers moved to a 3-2 record.
New England Patriots d Cincinnati Bengals 43-17
Tom Brady became the sixth NFL QB to pass for 50,000 yards during this game. He finished with 292 yards and 2 TDs as the Patriots bounced back from their shocking loss last week to the Chiefs.
Seattle Seahawks d Washington Redskins 27-17
This game was all Russell Wilson, as the Seahawks star passed and ran the ball for Seahawk scores. He rushed for a career high 122 yards on 11 carriers for 1 TD and threw for 201 yards and 2 TDs as they sent the Redskins to a 1-4 record.