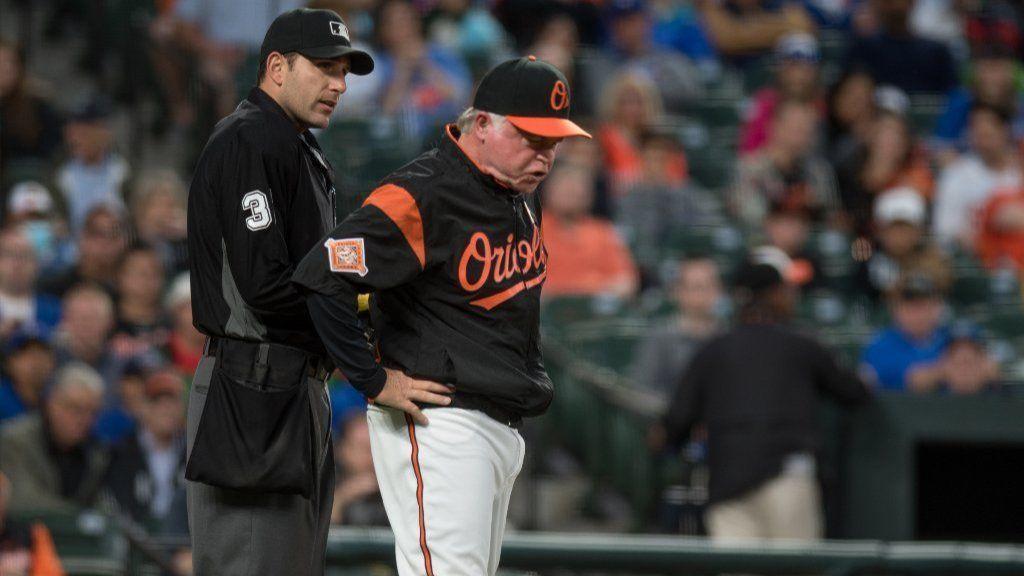 BALTIMORE – Armed with bright blue skys, warm weather, and ice cold beers, the Mid-Summer Classic has arrived! With that, baseball fans all over America can pause for a moment to reflect on a chaotic three months of action in the major leagues.
While fans of most teams have enjoyed the highs and lows that 95-100 games typically brings, for fans of the Baltimore Orioles, this time to look back will only bring with it a whole heap of negative emotions – hurt, anger, frustration, and sadly, at times a sense of helplessness.
Of course, these feelings are always going to be reflective of a team possessing a horrendous 28-69 record, however for #Birdland, they go far beyond that. They're deeper. Much deeper. So deep in fact that the scars of 'The Dark Years' between 1998 and 2011 have already returned. A period of abysmal performances which seemed so far in the past just earlier this year, is suddenly back to haunt and it's come back with vengeance.
There's no two ways about it, baseball in Baltimore is at the crossroads and to be frank, it's only the strength of the baseball community in the city, and it's love for the home town team regardless of results, which will probably keep the team in town.
The term itself, 'at the crossroads', suggests change is needed, however for the Orioles in 2018, there's been absolutely none of that. Quite the opposite in fact. Despite the team owning one of MLB's worst records, and the fact that it is statistically one of the worst performing teams offensively, defensively, and pitching – yes all three – nothing has changed. Nobody has lost their job, nobody from the front office has articulated to the loyal fan base what the plan moving forward is, and the local media don't appear to be pushing hard enough for answers. This is not a dig at the hard-working beat team and local journalists, who almost unfairly have to sit through the debacle unfolding right before their eyes every damn night. They work hard – harder than any others in baseball probably – however there is an uncomfortable feeling in all things Orioles, where if you press too hard, you'll ruffle the wrong feathers and quite possibly find yourself with restricted access or without a job. This is a genuine fear which I've had confirmed to me multiple times these past few weeks.
It lacks transparency, it lacks honesty, and it lacks integrity. Above all else, it is beyond concerning.
Dating back to September last year, the Orioles have lost 89 of their last 120 games. No professional baseball team in the country has achieved such a poor record – not one of the 286 major and minor league teams combined.
So what's the cause? Well, where do I start?
The offense is horrendous, hitting .227 collectively with an average of just 3.56 runs being scored per game. On 59 (61%) occasions the team has scored three runs or less, which isn't going to win many games in the powerfully stacked American League. The major culprits are Chris Davis, who is having the worst season ever by a hitter (literally) and Jonathan Schoop who despite some better returns in recent weeks, has plummeted back to Earth following his MVP caliber season in 2017. Tim Beckham, Trey Mancini, and Caleb Joseph are others who have been unable to match their career-best years last season, while guys like Jace Peterson, Joey Rickard, and Pedro Alvarez wouldn't be close to playing in the Major Leagues elsewhere. Let's not even explore the failings of Colby Rasmus, who for a second straight years walked away from a ball club and left his teammates fighting one short. Disgusting.
The pitching has been solid at times, however overall inconsistent. The team is working to a 4.87 ERA collectively and opponents are hitting .279 against the pitching staff. Kevin Gausman and Dylan Bundy continue to tease, showing what they're each capable of on any given night against any opposition, however it simply goes vanishing every third or fourth start. They're not youngsters finding their way any more, they're meant to have developed into rotation leaders and this simply has not occurred. They have all the arsenal required, yet have not developed as expected of such high caliber prospects. Yet still, the coaching staff responsible for this remain. Bewildering, huh? It really is quite incredible. Offseason additions Andrew Cashner and Alex Cobb have also experienced bouts of inconsistency, with the Cobb signing especially looking like Ubaldo version 2.0. His record in fact is worse, however we're still hoping it improves – he's here for three more seasons remember. Chris Tillman is a disaster, yet may still get further opportunities – say no more right? While youngsters David Hess and Yefry Ramirez have shown some spark, yet they too have lacked consistency. The bullpen has been shaky at best. Brad Brach doesn't seem to have the testicular fortitude to close out games, or even pitch in tight situations anymore. Multiple implosions there. Zach Britton has struggled for consistency since returning from injury and this has seen his trade value drop, while Mychal Givens' struggles are baffling. He's seemingly lost all confidence and I truly wonder if anyone is looking beyond the mechanics. After all, he is not a natural pitcher having only converted to this in 2013. He's never really lacked success since then, so one must wonder if he's being adequately supported through these first struggles of his pitching career. The young duo of Paul Fry and Ryan Meisinger have looked ok, while Mike Wright Jr. Has put behind a terrible start to the season and lowered his ERA from 9.15 in mid-May to 4.85 now. He's looked great, to be honest.
Defensively, the team flat out stinks. Fangraphs lists them with a minus 33.5 defensive rating which is more than 10 points worse than the Mets who are second-worst in all of baseball. Manny Machado's shift to shortstop was a terrible idea and was actually quite selfish. Entering his free agent year, he put his needs ahead of the team's to prove himself capable, and the Orioles – Buck Showalter especially – sat by and let him do it. It's failed and all parties have suffered from it. Adam Jones, as much as I love the guy, is probably no longer suited to centre field, while the adventures in the corner outfield spots are always, err, entertaining let's say! Others who haven't been named here are lucky, because it's a collective effort to be this bad.
Are you still reading? Happy days, huh?
While all of this is unfolding in Baltimore, Orioles heroes of the past are excelling elsewhere. Nick Markakis is hitting .323 in Atlanta and was named an All-Star for the first time in his career, Nelson Cruz continues to mash in Seattle having knocked in 55, Gerardo Parra is contributing solidly in Colorado rocking an average either side of .300 all season, and Nick Hundley is continuing to make his mark in San Fransisco. Add to this the success of those traded away, like Josh Hader who has struck out 89 in 48 innings in Milwaukee, and it's compounding the frustrations being experienced by the despairing fans.
These are the same fans who have voted with their feet, with the average crowd number at OPACY games dropping by more than 16% from 25,042 in 2017 to just 20,991 this season. While not yet revealed, anecdotal evidence suggests ratings would also have dropped considerably for MASN. All in all, it's a pretty miserable state of affairs.
With such a poor record, the season was over very early, as the Orioles fell more than ten games behind within the first few weeks of the new season. The success of the Red Sox and Yankees saw them shoot ahead, while the Orioles were stuck in reverse. The biggest highlight of the first few months of the season was probably the Opening Day walk-off win in extra innings over the Minnesota Twins, who are also struggling this season. Since then, they've never been in contention and all that's been left to do is wait and wonder, as to if/when they'll trade away pending free agents Manny Machado, Adam Jones, Brad Brach, and Zach Britton.
With 65 games still remaining in this write-off of a season, it'll be fascinating to see how the organisation approaches these last few months. They need to look ahead – a full rebuild is required. No longer can they settle for a competitive roster filled with bits and pieces, and old parts which are no longer capable of producing what they were once capable of.
Priority #1 need to be securing as much talent as they can from these pending trades, and this will largely be dependant on dropping the arrogance and high asking prices which in the past, have seen them left with nothing when other teams won't come to the party. No team is likely to part with their number one or two prospects for essentially a two month rental, baseball doesn't work like that any more (Aroldis Chapman trade excluded), however they are likely to offer up some other Top 10 prospects. The Orioles talent scouts need to be busy and need to be sharp. The decisions made in these coming weeks will affect just how long this rebuild takes, and if they want to avoid 14 consecutive losing seasons again, they better get it right.
Priority #2 is to see what actual talent they have in the system. Who can cut in the major leagues and who cannot. Preferably, they need to have an idea of this before next Spring Training and the meaningless games ahead, coupled with the expanded rosters of September can help them evaluate this properly. We've seen in the past, from the likes of Jonathan Schoop (2013), Donnie Hart (2016), Trey Mancini (2016), and Chance Sisco (2017), some late season success can help identify talent and help settle roster spots for the following season. Any head start which can be gained this season can help close the gigantic gap between the organisation and its rivals.
Priority #3 needs to be cleaning out the coaching staff which needs fresh ideas and fresh approaches. That means manager Buck Showalter is moved on, possibly to a front office role, hitting coach Scott Coolbaugh is moved on, and pitching coach Roger McDowell is moved on. McDowell especially has a lot to answer for in my opinion, after years of failed development from a pitching staff which has been horrendous for four straight years. The front office needs change too, and Dan Duquette's time in Baltimore is over. Sadly, all of this change may still lead to nothing as we all know one of the biggest concerns is finding staff who are able to both work closely with the Angelos family, and most importantly, be able to convince them at the times when tough decisions need to be made.
While the 2017 season has been a complete debacle to date, it can be salvaged to some extent if the Orioles can do the right things over the coming months. The three priorities above need to be implemented hastily, however should they not be, then the damage of this season will linger for many years to come. The team is at the crossroads… It's time to take the right path.