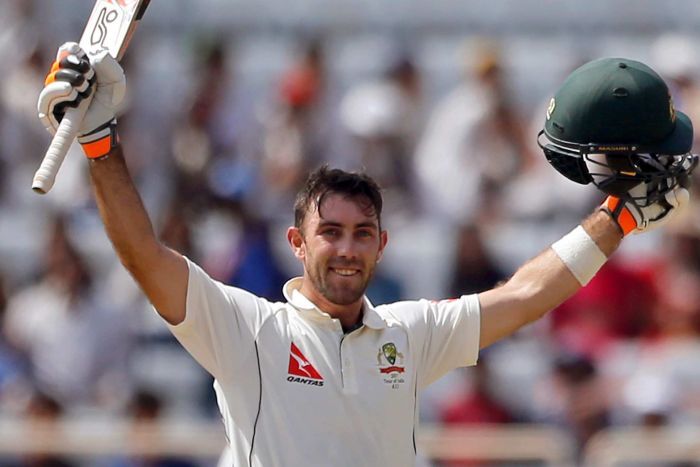 On one of the most grueling road trips in world sport, against the world's best, and most fanatical, cricketing nation, the oft criticized Glenn Maxwell has over the past two days – undoubtedly – come of age.
Very few players in world cricket divide opinion as much as Maxwell does, and it's been that way ever since he burst onto the professional scene back in 2010. From the outset, his freakish ability with the bat, ball, and in the field, has lead his fans to believe anything is possible. This, coupled with a somewhat charismatic self-confidence, also lead to his nickname, 'The Big Show'.
"He could be the best cricketer in the world", one said, as I recently sat and spoke with numerous local cricketers who knew Maxwell growing up in Melbourne's south-east. Another, however, quickly quipped back, "That's garbage – he's overrated!"
These polarizing views among friends highlight just how varied opinions can be about this immensely talented young man.
The proud Victorian, who spent his early years playing for his beloved South Belgrave Cricket Club in the Ferntree Gully & District Cricket Association, has never truly had it as easy as he often makes it seem. Speaking in the past with Stuart Alford, a friend and junior cricket coach of Maxwell's in his SBCC days, I was told a story of a hard-working, passionate young kid, who loved the sport and dreamed about representing his country.
Maxwell's passion for cricket, and his willingness to appreciate the journey he's been on, still to this day sees him reconnect with grassroots cricket as often as his busy playing schedule allows. It's not uncommon for him to venture down to South Belgrave and watch his mates of years gone by battle it out in 'The Gully Comps' DeCoite Shield. In addition to this, in recent years he's teamed up with the FTGDCA to create Club 433 – a program seeking to help under privileged junior cricketers remain in the sport, and to aid registered players or officials within the Competition who are in dire need due to illness, accident, or hardship.
This willingness to give back says a lot about the man and simply cannot be ignored.
It was through no fault of his own that Maxwell was catapulted to international stardom in 2013, after being purchased by the Mumbai Indians for one million dollars (US) in the IPL auction. This price tag, for a young player yet to establish himself on the international scene, angered many. His detractors, many of which Australian, bernd argued he'd been overpaid. However his fans, those who knew the real Maxwell, appreciated that his all-round ability warranted the incredible payday.
Whether or not Maxwell ultimately produced a return on investment for the Indians, or in subsequent IPL seasons for that matter, is irrelevant. Many believe he did, while many believe he didn't. At the end of the day, his exciting, risk-taking style of play ensured grandstands were full and tv screens were switched on – anything else in the glamorous world of IPL cricket is a bonus.
On the international stage, Maxwell has experienced periods of both feast and famine. There's been absurd Twenty20 innings, like the unbeaten 145 he scored against Sri Lanka last September, and incredible tournaments like the 2015 ICC World Cup, where he blasted 324 runs at 64.80, with a 182.02 strike rate. Yet on the flip-side, there's been extended periods of drought, like the nine runs in four innings back in 2014/15, and the nine runs in five innings between February and June last year.
To truly understand and appreciate Maxwell, one must accept the good with the bad. While his failures can be tremendously frustrating, the successes are breathtaking, and like most things in life, true success often comes with an element of risk involved. Maxwell, arguably the biggest risk-taker in world cricket, epitomizes that. The sheer style of play he produces means it's quite likely he'll never achieve consistent results.
This inconsistency has seen him play just three Test Matches since 2013. His talent was, in the eyes of many, more suited to the shorter versions of the game and as such, that's where he stayed. This must have bugged Maxwell to no end, as he would have known, deep down, that he has the ability to succeed in the sport's toughest format. A tour of India on spinning wickets however presented Maxwell with an opportunity to add to that tally, and with injury and form resulting in changes being made to the Australian's losing 2nd Test Match side, Maxwell was finally able to don the Baggy Green again in Ranchi.
The result? A magnificent hundred after striding out to the wicket with his team in a shaky position at 4/140. Failure would have given the Indians ascendancy, and quite likely would have exposed the visitors up to a potential collapse. Instead however, against the odds, Maxwell shared a potentially match-winning partnership of 191 with Australian captain Steve Smith. The innings, 104 off 185 deliveries, was a mix between patience and determination, and typical Maxwell flair, blasting nine boundaries and two sixes. Above all else, it proved he can succeed at the game's highest level and contribute towards Australian Test Match success.
If this innings does prove to be match-winning, which would result in Australia retaining the Border/Gavaskar Trophy, then it's hard to believe anyone can truly doubt his value ever again.
---
Image: Aijaz Rahi