It's Time To Recognise Manny Machado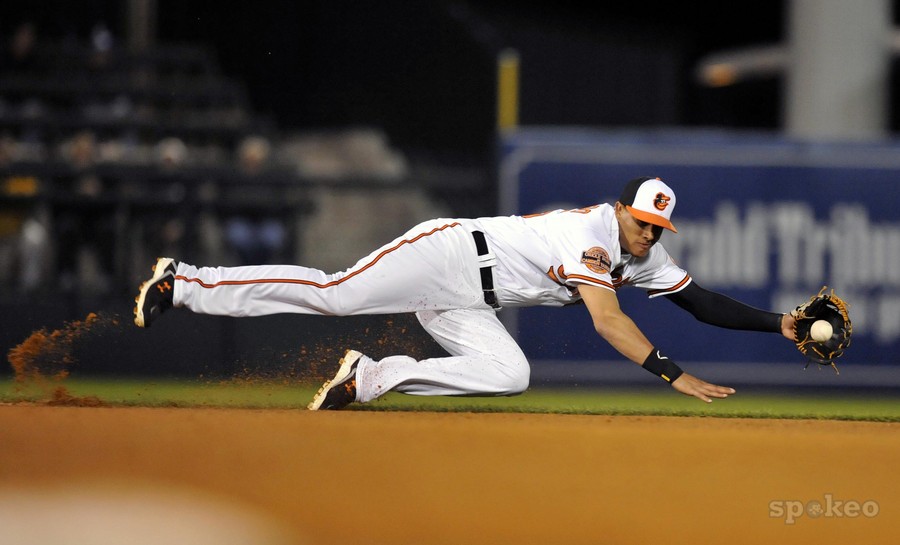 Don't forward this article on to the major sports networks – they wouldn't want to add a third name to their list of favorite sons…
As an Orioles fan who has tracked Manny Machado's rise to MLB stardom since he first entered professional baseball as a tender 17-year-old in 2010, hearing Mike Trout and Bryce Harper compared to as the best two of their era, is somewhat painful.
Don't get me wrong, each of Trout and Harper deserve that recognition and status in the game – they are without doubt the standout young players in the Major Leagues today. However, there is a third – of similar age and similar ability – and that is Machado.
Why hasn't Machado's name been mentioned alongside these two in recent years? That's probably because of the injuries and suspensions he's had to overcome and the affect this has had on his overall numbers (which are admittedly slightly down on both Harper's and Trout's). However in my eyes, this makes Machado all the more special. For a 23-year-old, he's had to overcome more setbacks than most his age, yet still, he's taken them in his stride, matured, and come out the other end a better player.
Defensively, I've heard all the arguments before – "Harper has a better arm!", "Trout plays the more important position!" etc, etc etc. To that I call bullshit. Machado continually wins games for the Orioles on the back of his stunning defense at third base. Every night he robs hitters of doubles down the line, or starts a fine inning-ending double-play. People venture out to the ballpark just to see him in action.
Yeah, Trout might climb the wall and rob a hitter of a home run once in a while, or Harper might hose a runner from right field, however it just doesn't have the same magic as a full length dive from Machado, before he composes himself and guns the ball across the diamond to catch the runner by half-a-step. The apparent ease in which he does it too, makes it all the more enjoyable for fans.
Offensively, Machado's .286/.389/.502 season in 2015 was the breakout year Orioles fans had been waiting for since his debut in 2012. 35 home runs and 86 RBI – mostly from the lead-off spot – set the tone for the Orioles offense which needs to score big to cover for it's suspect rotation. While his season was impressive, it appears as though the young Florida native is set to step it up another notch in 2016.
Through the first 14 games of the season, Machado has helped the Orioles surge to a 10-4 record. During which, he's hit .407 with five home runs, seven doubles and nine RBI. He's hit safely in all 14 games, had seven multi-hit games and twice had three or more hits – his 4-for-4 outing against the Rays and his 3-for-5 outing against the Red Sox. All of which has occurred in the number two hole, following the red hot Joey Rickard and setting the plate for the powerful trio of Adam Jones, Chris Davis and Mark Trumbo.
Like it or not, the evidence is clear – Manny Machado has established himself as one of the best players in the Major Leagues and through my eyes, moved himself into the upper echelon of Trout and Harper.
Of course, feel free to argue…
Image: Spokeo