Jones Up Top Sparks Orioles Resurgence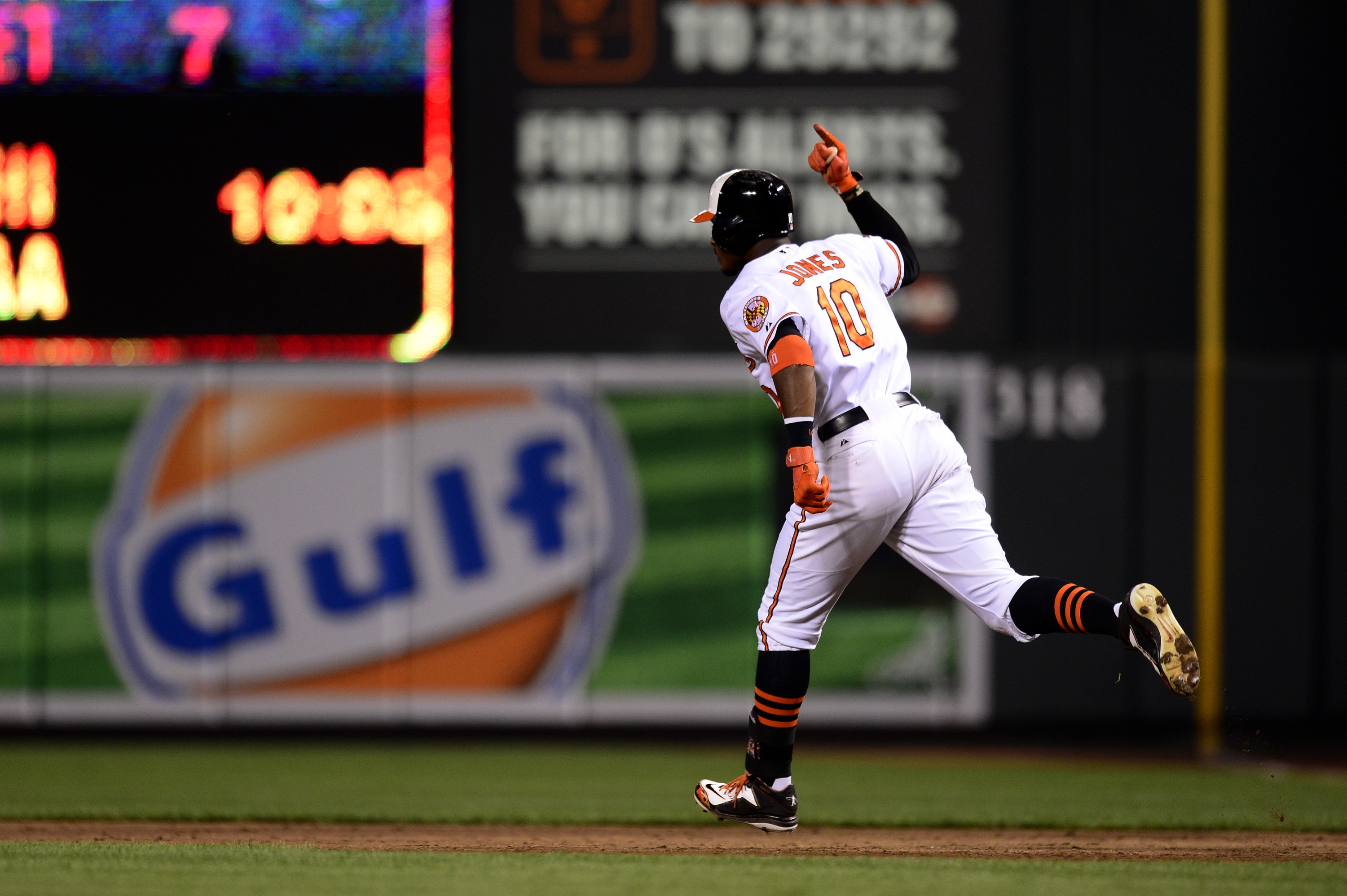 It was exactly one month ago today, on May 26th, when the Orioles fell to the Houston Astros 4-2, completing a series sweep and bumping their losing skid up to four games. The team owned a 26-19 (.578) record and were two games behind the Boston Red Sox. Needless to say, a sense of frustration was hovering over Birdland like a dark cloud.
At this point in the season, the offense was in the middle of a slump and its spiritual leader, Adam Jones, was hitting just .223/.282/.357. He'd hit just five home runs, knocked in just 19, and was striking out at a rate of once every 4.62 at bats. Clearly, Jones' struggles were mirroring that of the team, and knowing the role that Jones plays – he is the tempo setter on and off the field – it's really no surprise.
The very next day, as the team traveled to Cleveland, the genius that is Buck Showalter obviously decided that a move to the top of the order for Jones could work. I'm not sure how this discussion played out, and what Jones' level of involvement was, however the move certainly came as a shock to most Orioles fans as Jones doesn't fit the mold of your traditional lead-off hitter. His aggressive nature at the plate sees him strikeout far more often than he draws a walk, and he also doesn't stick around long and produce drawn-out at bats. That's his style – he swings at the pitch he likes – and it's worked for him since debuting in 2006.
That night at Progressive Field, Jones went 3-for-5 as the Orioles snapped the losing skid with a much-needed 6-4 win. While Jones' success was noted, there was still a lack of belief within the fan base that the move would work for a prolonged period of time, or, whether in fact that was even Showalter's intention. The far more likely scenario was Jones moving back down the order upon finding his groove.
As we now know though, that was a month ago and Jones is still out there looking to get things going at the top of the lineup. In the 30 games batting in the number one spot, Jones has produced a very impressive .317/.350/.603 slash, belting 10 home runs and knocking in 29 along the way. In those 30 games, the Orioles have gone 19-11 (.633) and the team currently sits four games clear of Boston in first place.
While all of Jones' key statistical indicators have risen markedly, and are being well reported on, one which hasn't been reported on with a great level of detail has been his decreasing rate of strikeouts. Since the move to the top of the lineup, Jones has struck out 23 times at a rate of one strikeout every 5.48 at bats – a significant improvement on both his career number (one strikeout every 4.86 at bats) and that seen earlier this season when batting between two and five in the lineup.
While somewhat unconventional in the methodology, the move has worked incredibly well and has arguably been the most important move made by Showalter this season to date. While baseball coaching manuals may not recommend it, Jones needs to remain in the lead-off spot for the foreseeable future, and hopefully his success there can continue to provide the spark required that fuels this mashing Orioles offense.