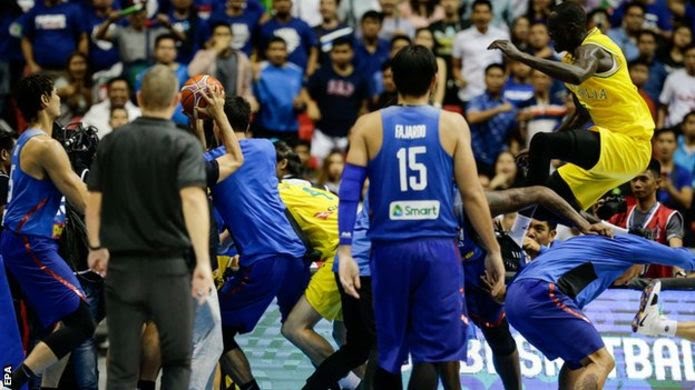 MIES – FIBA has handed out their findings and sanctions to Basketball Australia and Samahang Basketbol ng Pilipinas. This follows their disgusting brawl last month during a World Cup Qualifier recently. The sanctions, in short, are absolute rubbish.
Here's a list of penalties that FIBA has handed out to players, coaches, officials and the national bodies –
Australia:
Basketball Australia to pay fine of CHF 100,000 (this is in Swiss Francs, converted to AUD it works out to about $136,000) for the unsportsmanlike behaviour of its players and for abusing and/or tampering of equipment (this is in relation to the removal of the court decals during a training session).
Chris Goulding – one game for inciting, aiding or abetting unsportsmanlike behaviour
Thon Maker – three games for unsportsmanlike behaviour
Daniel Kickert – five games for unsportsmanlike behaviour
Philippines:
The Phillipines national body will pay a fine of CHF 250,000 (again from Swiss Francs converted to AUD, it works out to around $340,000)
Calvin Abueva – six games 

for unsportsmanlike behaviour and also due to prior unsportsmanlike behavior in a FIBA competition

Roger Pogoy, Carl Cruz and Jio Jalalon – five games for unsportsmanlike behaviour
Terence Romeo, Jayson Castro William, Andray Blatche and Jeth Rosario – three games for unsportsmanlike behaviour
Japeth Aguilar, Matthew Wright – one game for unsportsmanlike behaviour
Assistant Coach Joseph Uichico – three games for unsportsmanlike behaviour
Head Coach Vincent Reyes – one game and 

disciplinary fine of CHF 10,000 (from Swiss Francs to AUD, around $13,500) for inciting unsportsmanlike behaviour

Phillipines will play the next two home games with an empty stadium with FIBA determining that there will be no spectators allowed. They went a step further by then adding that two more home games will be run under a three year probationary period.
So there we have it, a total of 13 players and two coaches have been suspended from games and about $490,000AUD of fines handed out by FIBA. Seriously, that's it?
Chris Goulding gets a one game suspension for being beaten up by a crowd of people, lying helpless at the bottom of the pile and trying his hardest not to be killed; and he gets a one game suspension?! The findings of the FIBA Disciplinary Panel said that there was some "provoking" between Goulding and Phillipines players throughout the game and that maybe that played a role in the the brawl – so let's suspend a guy who was set upon by not one, not two but a heap of people because he may have provoked them throughout the game and tried to take a charge….
Next, how about Jio Jalalon who was the player who connected with a punch to Nathan Sobey while he was being held by another person and he only gets five games?! For kinghitting a defenseless player, for which if it happened outside of a basketball court he would be arrested (as Chris Anstey said), he gets the same suspension as Daniel Kickerts elbow (which no one is arguing Kickerts suspension, if anything it too is light on).
Many people expected players, officials and coaches to receive bans for months, or even years, so that FIBA was seen as sending a real message to the basketball community that this sort of thing is not on in their games. Instead we get players missing a few games and a couple of blacked out games.
Players should have received the month(s) and year(s) ban from international play, the Phillipines should have been stripped of their right to host (alongside Japan and Indonesia) the 2023 World Cup and then FIBA would have been sending a real message, a message heard loud and clear by everybody in the basketball community.
In terms of throwing the book at people, FIBA have thrown a Mr Men book instead of the Yellow Pages.