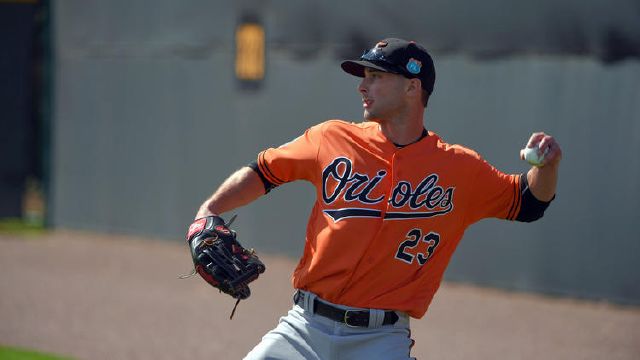 A lot has changed in the world since the Orioles' 2016 season cruelly ended at the hands of the Blue Jays last October – most notably, seeing a new POTUS elected which has filled our Twitter feeds day, after day, after day. Thankfully though, baseball is nearing a return, so we can all look forward to analyzing and discussing that instead of debating which side of the political spectrum one chooses to position themselves.
The offseason has been a reasonably solid one for the O's, who pulled off three important moves which are likely to see the team push for a sixth straight .500 or better season, and hopefully, a fourth postseason appearance in six years.
Mark Trumbo, with his original $80 million asking price, was widely tipped to be heading elsewhere, however Dan Duquette – to his credit – remained patient and moved after the market continued to drop, ultimately signing last year's home run king for a team-friendly 3-year, $37.5 million deal. Also added were catcher Welington Castillo (1-year / $6 million), who is set to fill the void left by free agent Matt Wieters, and outfielder Seth Smith (traded for Yovani Gallardo) who importantly adds another left-handed bat to the lineup. Also of note were two young outfielders picked up in December's Rule 5 Draft – Anthony Santander and Aneury Tavarez. 
The Orioles also had some success on the arbitration front, avoiding hearings with all but three players, as well as coming out on top of Caleb Joseph this past week for the organization's ninth straight win. Kevin Gausman and Brad Brach remain scheduled for their respective hearings later this month.
So how could the O's roster look come Opening Day on 3 April against the Blue Jays?
The Rotation
Barring injury or an unexpected turn of events during spring, the rotation appears set with Chris Tillman, Kevin Guasman, Dylan Bundy, Ubaldo Jimenez, and Wade Miley occupying the five spots. Fans will be hoping Tillman can repeat the performances of his bounce-back season in 2016, while looking for further improvement and consistency from young arms Gausman and Bundy. The major concern with this rotation, as it was last year, is the veteran duo of Jimenez and Miley who are each capable of lock-down performances, yet also far too often guilty of early implosions on the mound. The success of the O's season largely hinges on how these two will perform – if they can keep more games than not close, the powerful offense and lights-out bullpen will typically ensure the team gets the job done.
The Bullpen
The bullpen has a number of spots still undecided as spring nears, with five of the seven likely to be filled by Donnie Hart, Mychal Givens, Darren O'Day, Brad Brach, and Zach Britton. The remaining two could be claimed by either Logan Verrett or Logan Ondrusek, and depending on what the team wants to do with Tyler Wilson, potentially him. The temptation here is seeing whether Wilson can find some consistency as a starter with Triple-A Norfolk and challenge for a rotation spot, however on the flip-side, the 27-year-old owns a very respectable career 3.09 ERA in relief. For mine, I'd take the more versatile duo of Verrett and Wilson who can each chew up innings in long relief roles, or make spot starts as required.
The Catchers
New addition Welington Castillo will be the team's number one choice, with Caleb Joseph and Francisco Pena fighting it out for back-up duties. Here, Joseph probably has the lead however after a disappointing 2016 season, he won't want to slump his way through spring training.
The Position Players
This is where some of the debate still rests, with a few options yet to be determined. The infield is set, with the regulars being Chris Davis at first, Jonathan Schoop at second, J.J. Hardy at shortstop, and Manny Machado at third. Ryan Flaherty will also continue to provide the team with some reliable infield depth. As recently reported by ESPN's Buster Olney, Mark Trumbo is set to spend more time in the DH role this season than last, however we will still see him in right field from time to time. Splitting the right field duties with him will be Seth Smith, while Joey Rickard is also expected to make the team, adding versatility in being able to play all three outfield positions. He's also a lead-off candidate after performing well leading off an innings last season (.286 AVG and .341 OBP in 84 at bats) . Adam Jones will continue to patrol center field, while fan favorite Hyun Soo Kim is expected to spend more time in left field this season than last. With all of that considered, there's one spot remaining and that is likely to be filled by either Trey https://www.acheterviagrafr24.com/viagra-definition/ Mancini or Rule 5 pick Tavarez. Mancini excelled after debuting late last September, hitting .357/.400/1.071 in his five games, however Trumbo's return to Baltimore hampers his chances of making the team. Still just 24, some more regular playing time at Norfolk certainly won't hurt his development. That of course leaves the door ajar for the O's to continue their tradition of picking a Rule 5 guy, in Tavarez. The 24-year-old is an exciting young prospect from the Dominican Republic who hit .330/.374/.495 in 400 minor league at bats last season, most of which at Double-A Portland.
Predicted Orioles Roster: Chris Davis, Jonathan Schoop, J.J. Hardy, Manny Machado, Ryan Flaherty, Mark Trumbo, Seth Smith, Adam Jones, Hyun Soo Kim, Joey Rickard, Aneury Tavarez, Welington Castillo, Caleb Joseph, Donnie Hart, Mychal Givens, Darren O'Day, Brad Brach, Zach Britton, Tyler Wilson, Logan Verrett, Chris Tillman, Kevin Gausman, Dylan Bundy, Ubaldo Jimenez, and Wade Miley.