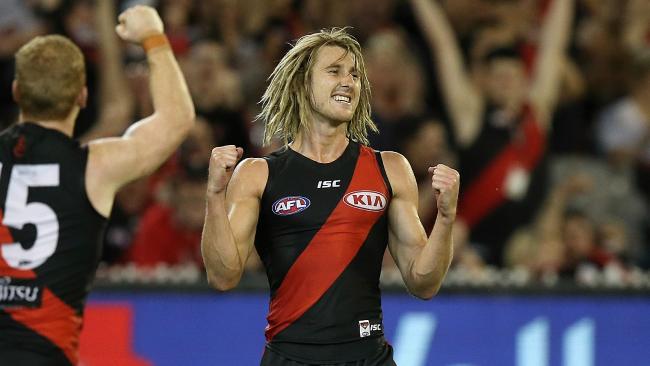 Four seasons ruined, millions of dollars lost, and a once proud reputation shattered to pieces. A lesser club – one not possessing either the financial or supporter base strength – probably wouldn't have survived.
That's the unprecedented reality Essendon Football Club faced throughout the 'Supplements Saga', which started in 2012 and finally came to a close prior to the 2017 AFL season commencing.
Heading into the new season, while it was accepted by all that a significant level of uncertainty surrounded the Bombers, rival fans and so-called experts alike were still prepared to write the team off. Very few expected the team to seriously challenge for a finals berth and some even predicted a season with less than seven wins.
Despite the doomsayers and the challenges they've been forced to overcome though, the players will wake up tomorrow morning with their finals fate well and truly in their own hands, simply requiring a win over lowly Fremantle in the final game of the Home & Away season next week. Should that occur, and a finals berth be secured, one must pause and reflect for a moment on what a significant achievement that is.
Much like the 'Supplements Saga', which was appallingly handled by all concerned, the 2017 season has been a rollercoaster of emotions within Bomberland. Stirring victories over strong Geelong and Port Adelaide outfits, have been scattered amongst disappointing losses to the likes of Carlton, Fremantle, and Brisbane. While frustrating no doubt, given the many youngsters within the team and when factoring in their inexperience playing as a collective, it's hardly surprising.
Zach Merrett has continued his impressive development and solidified himself as one of the best young players in the League. Missing just one game all season, the 22-year-old has averaged 30.4 disposals per game and chipped in with five goals.
Despite missing tonight's win due to injury, Michael Hurley has had a brilliant season down back, averaging 25.4 disposals per game and further enhancing his reputation as one of the League's best defenders. He should be rewarded with All-Australian honours.
Veteran Brendan Goddard has defied his age and continues to provide great influence. He hasn't missed a game and is averaging 26.5 disposals each outing. The ever-classy Captain Dyson Heppell has averaged 26.3 and kicked 11 goals, while David Zaharakis has bounced back from a mixed 2016 season, averaging 25.9 disposals and chipping in with 11 goals.
Up forward, Joe Daniher appears likely to miss out on winning the Coleman Medal however took the big leap forward all Essendon fans had been hoping for. The 23-year-old enters the final game with 60 goals next to his name, having made the most of his chances after some early-season goal-kicking yips. Providing strong support for Daniher in attack have been the increasingly-versatile Cale Hooker who has kicked a career-high 41 goals, Orazio Fantasia who has 38 in 19 games, and excitement machine Anthony McDonald-Tipungwuti with 33.
Unheralded ruckman Tom Bellchambers has also had a solid second half of the season, averaging 31.5 hitouts per game and kicking eight goals when venturing up forward, while soon-to-be retired veteran James Kelly has also been impressive, continually providing a calming influence down back. Youngsters Darcy Parish and Andrew McGrath have also been noteworthy, providing even further hope for the future.
As a team, the Bombers have prided themselves on their fast-paced game style and disposal efficiency, working at 74% which is good enough for third best in the League. Their efficiency inside 50, currently sitting at 57%, is better than all other 17 teams. John Worsfold's classy influence is certainly shining through.
While a win next Sunday at home over 14th placed Fremantle seems likely, this young group won't be celebrating prematurely. As it currently stands, they've outlasted fellow finals aspirants West Coast, Western Bulldogs, and St Kilda, however only a fool would suggest a win is a formality in a season which has produced so many unexpected results. If they do manage to get over Fremantle though, a celebration is fully deserved. It could be argued that no team in history has overcome such adversity and for the players and fans alike – of which there's almost 70,000 members – a return to finals football is just reward for the hardships they've had to endure.