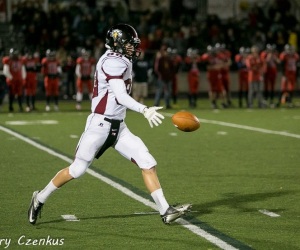 Update – 27 July 2015
After two successful seasons playing high school football with Layton Christian Academy in Utah, Bailey Kenter has returned home to play football in Australia for Frankston YCW.
Despite recently being the No. 1 ranked high school punter in the United States, as reported in the Frankston Leader last week he received no firm offers from colleges and this has lead to his move back home.
Several colleges did offer Kenter walk on sports for his first year, however this meant payment of his own tuition fees which often cost more than $50,000 USD.
After speaking with his dad Barry late last week, he noted that Bailey continues to love the sport and hasn't given up hope just yet…
Having followed his progress closely for the last 12 months, the team at TBLDaily.com wish Bailey well back on Australian soil, yet still hope to see him return to the gridiron field in the future…
Update – 13 April 2015
The good news continues for Bailey Kenter as today he was named in the Australian U19's team to play against New Zealand this coming July, in the World Cup qualifier.
2015 is a big year for the youngster as he looks to commence his college football career. As yet, his college of choice hasn't been decided.
Update – 29 January 2015
As reported by Blue-Turf.com's Content Manager and Recruiting Analyst for Rivals, Nate Peters, Kenter has been offered a walk-on opportunity at Boise State.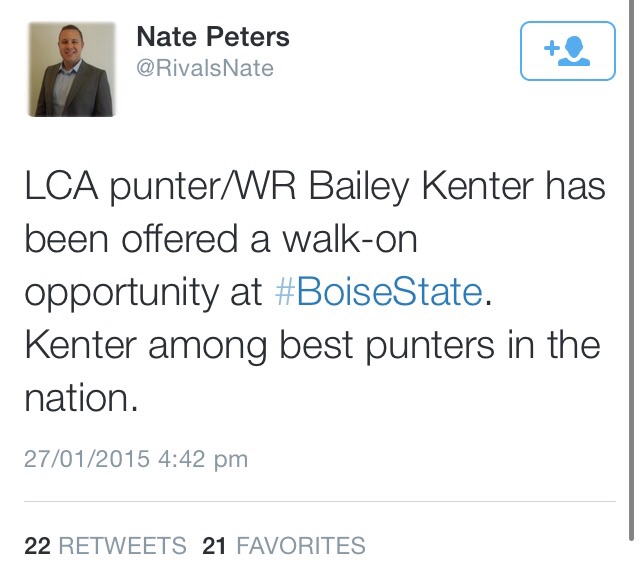 ---
Update – 26 November 2014
Bailey's season has come to an end and 247 Recruiting have ranked him as a 3-Star punter, holding an 84 rating. This once again makes him the #1 ranked High School punter in the nation and the #16 ranked athlete overall in Utah.
Last week Bailey ventured north-west and visited both the University of Oregon and Oregon State. Here he watched each team play and familiarized himself with the surroundings.
With the HS football season coming to an end, he has started baseball practice as he'll be on the varsity team.
---
Update – 9 November 2014
Here are some photos of Bailey from the American Australian Association dinner and awards night.
The evening was a great success for Bailey and he thoroughly enjoyed meeting – and speaking to – a number of great Australian athletes. In particular, he enjoyed speaking with fellow Victorian Josh Spence, who in 2011 and 2012 appeared 51 times for the San Diego Padres.
Since the recent hype and added exposure, two other Division 1 coaches have now taken an interest in Bailey's progress – making that six in total. Furthermore, he has visits scheduled later this month at both the University of Oregon and Oregon State.
---
Update – 4 November 2014
Kenter this week won The Flag Flyers AAA Scholarship, which sees him awarded $20,000 towards helping him achieve his dream of playing College, then professional football.
AUDIO – http://soundcloud.com/sen1116/the-flag-flyers-0411
---
Update – 22 October 2014
Kenter has now played seven games during the 2014 HS Football season and while we're still waiting on the release of offical stats after his seventh game, after six his performances were as follows:
• 24 punts, 1082 yards (45 yard avg) – ranked #1 in Utah and #3 in the nation
• 42 tackles at safety – ranked #8 in Utah
• 9 receptions for 129 yards
Kenter is known as a versatile player and he even played QB last week in the second half. He is by far the most versatile player on LCA's varsity team.
This season he has played punter, receiver, safety, corner back, quarter back, punt returner and kick returner.
Kenter has also been nominated for the US Army All-American Bowl (East v West high school all-star game in Texas in January) and it will be a great opportunity for him to showcase his variety of skills. He is one of the very few punters that can roll out and punt on the run and about the only one that can do it off both feet. He would offer the West team a number of options and imagine the fake punts they could run with his athletic ability!
Kenter's stats show he is one of the best there is and he deserves to be rewarded with a spot in the game, despite not having attended a Chris Sailer kicking camp that is linked to the event.
Kenter still has a lot of D1 interest as a punter and in the last couple of weeks the interest from D2 and NAIA programs has really kicked in to gear. Many of these programs recognise that he is more than a punter and want to recruit him as an athlete. Thus far, three universities have indicated they will be making offers in the next couple of weeks and have talked about playing him in multiple positions including punter, kicker, safety and slot receiver. Kenter also has an upcoming visit to Oregon State.
The link below contains some recent footage of LCA's game against North Summit:
http://www.hudl.com/athlete/3244221/highlights/187413316
---
Update – 16 September 2014
The 2014 High School Football season is now four games in and Australian Bailey Kenter is continuing to dominate…
Punting: Kenter has punted 13 times for a total of 585 yards – ensuring a 45 yard average. Has a season longest of 68 yards and has landed three inside the 20. These stats make him the #1 ranked punter in the nation after four rounds.
Safety
Kenter has laid 27 tackles, forced two fumbles and also broken up three passes. Combined, this makes him the #78 ranked safety in the nation.
---
Update – 3 September 2014
Two games into the 2014 High School Football season, Australian punter Bailey Kenter – now in his senior year – has continued to impress as he looks to build on a great junior year in 2013. Kenter, who was the #1 ranked punter in all High School Football last year, has his sights set on landing a role with a Division 1 College team. Highlighted below is the latest on Kenter's progress, which is proudly supported by the entire team at TBL Daily.
Punting 
Kenter has punted six times for 259 yards with a 43.1 yard per punt average. Five of those six punts have been for 46 yards or more and two of which have landed inside the 20.is currently ranked #3 of all High School Punters across America, whilst easily being the top ranked punter in the state of Utah.
Safety
Kenter has laid 16 tackles in the two games thus far and has also forced a fumble, this is enough to see him ranked #7 in the nation.
---
Original Article – 26 July 2014
Like most teenagers with a passion for sport, Bailey Kenter dreams big. The 18-year-old punter, who is currently studying at Layton Christian Academy in Utah, dreams of one day joining an exclusive list of just eight Australians to feature in the NFL.
Of those eight Australians – seven of which were punters – the most significant careers to date belong to Darren Bennett (159 games), Mat McBriar (138), Sav Rocca (112) and Ben Graham (99). The remaining four, David Lonie (8), Colin Scotts (7), Chris Bryan (4) and Colin Ridgeway (3), didn't see as much time in the League however will carry with them memories to last a lifetime, which also help to inspire young players such as Kenter to pursue their own career in America's favorite sporting League.
Kenter, a former Australian Rules Footballer who hails from Langwarrin in Australia's South-Eastern state of Victoria, travelled to America on a family vacation in 2011 and it was here that he became instantly hooked on the sport. He had always enjoyed watching the NFL on television in Australia, however the dream to play American Football certainly developed on this trip. Immediately upon returning home to Australia, he ditched the Sherrin and replaced it with the Duke.
He had a solid rookie season in 2011, playing multiple positions with the Monash Warriors club, however it was as a wide receiver and punter where he really excelled. After this first season he joined the Australian Future Stars Program and in July 2012, he played on the USA Wolfpack team in the Down Under Bowl in Queensland. Here, his athleticism, ability to play multiple positions both sides of the ball and his punting caught the interest of coaches from the US teams who encouraged him to consider high school football in the States. Buoyed by the positive feedback received, several opportunities were made available and it was Layton Christian Academy in Utah that really caught Kenter's attention – this was due to LCA having previously hosted a number of international students. With a decision made, Kenter headed to Utah in June 2013 at the tender age of just 16, ready to chase his dream.
Upon arrival, his first goal was to have a successful pre-season and junior year – a goal he ultimately achieved. In 11 games, Kenter punted 47 times for 2281 yards (48.5 AVG) and immediately drew the attention of both college and NFL scouts. His impressive season, which also included 21 punts inside the 20 and a longest punt of 71 yards, was so good that he is currently ranked the #1 High School punter in America.
With such a successful first season in the US system under his belt, the next goal is to continue that success through his senior year in 2014 and hopefully land a role playing Division 1 college football next year. This of course would mean an extended separation from his family, however through the use of Skype, email, phone and social media, Kenter is never too far away from the love and support of his parents, Barry and Pam Randall.
In April this year, High School Football America host Jeff Fisher caught up with Kenter and his parents – Barry and Pam – and had a fascinating chat about his love for American Football and his hopes and ambitions.
Full audio:
The interview highlighted just how humble and level-headed Kenter is and that, combined with a good support network around him, is sure to hold him in good stead as his continues to chase his dreams.
On behalf of the TBL Daily team, I wish Bailey the very best of luck in his upcoming senior year – which starts in August – and we'll be sure to keep the updates of his progress coming through.
Images supplied with permission to use by Barry Randall, thanks to LCA photographer Gary Czenkus.