It's been an offseason full of frustration in Baltimore, as the Orioles have sat back and watched division powerhouses New York and Boston get stronger, while failing to address the shortcomings within its own roster – most notably the lack of quality starting pitching options.
However as Spring Training nears, there was cause for celebration this week as Adam Jones marked a decade with the organization – an organization which has benefited so immensely both on and off the field during his time in Baltimore.
10 years to the day I was traded over to Bmore. Crazy cause I was on my way to Vegas to turn allllll the way up. I still did but knew that my life would be changed forever!!!

— 10 (@SimplyAJ10) February 8, 2018
I've grinder my way to the position I'm in. The day Dave Trembley told me I would be the CF on OD in 2008 was the spark I needed. I took total advantage of the opportunity to live out my dream, and still doing it!!! Ppl do what you love if you can. Most don't get that chance.

— 10 (@SimplyAJ10) February 8, 2018
Since arriving via trade with Seattle in 2008, Jones has established himself as one of the franchise's most consistent performers, helping the Orioles finally exit the dark times of 14 consecutive losing seasons between 1998 and 2011, to become a genuine challenger within the American League between 2012 and 2016. Throughout his time in Baltimore he's enjoyed the thrill of three playoff campaigns, featured in five All-Star Games, won four Rawlings Gold Glove Awards and a Silver Slugger Award, and tallied 1,618 hits over 1,469 games, and while his record and achievements on field speaks for itself, it's his work off it that will leave an even longer lasting impression on the lives of the people within the working-class city.
Growing up as a youngster in San Diego, Jones spent time at the Jackie Robinson Family YMCA. Those years at the Y proved to be so influential in his personal development, that it motivated him to partner with the Y of Central Maryland in 2012, to help impact the lives of countless youngsters. Just a year later, he became the Honorary Chairman of the Y of Central Maryland's Send a Child to Camp campaign, helping raise funds to ensure disadvantaged youth were provided an opportunity to enjoy various summer camp experiences.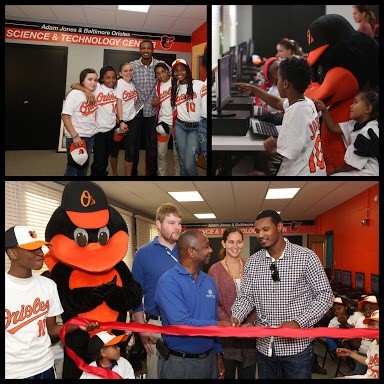 In addition to Jones' generous efforts with the Y, in recent years he has donated $75,000 to the Brooklyn O'Malley Boys and Girls Club – funding which helped ensure a new Technology and Learning Center could be built. The Boys and Girls Club of Metropolitan Baltimore has also benefitted from his generosity and willingness to give back, with in excess of $180,000 being raised through BMore Around Town's Purple Tailgate, an event of which he attends annually and supports with great gusto.
While Jones has never undertaken these generous activities for recognition or fanfare, in 2015 he received an award which he may forever be the most proud of, winning the Marvin Miller Man of the Year Award for contributions to his community which inspire others to higher levels of achievement. The honor was a much-deserved acknowledgement by the baseball community of his efforts over a significant period of time. Other honors received along the journey include nominations for the Roberto Clemente Award, winning the Frank Slocum Big B.A.T. Award (2012), and receiving the Babe Ruth Museum's Community Service Award (2014).
The impression Jones has left on the city of Baltimore is second-to-none, and he remains the face of the franchise and the team's unofficial captain. At the conclusion of the 2018 season though, he hits free agency, and Orioles fans are quite understandably nervous about his potential departure. Both on and off the field he is the team's undisputed leader, setting the high standards his team-mates are aspiring to. When the Orioles win a close one, he is usually first out there to congratulate the walk-off hero, always possessing a large grin on his face. Being part of a winning team clearly means a lot to him, and being part of a winning community probably means even more. It's been a truly memorable decade in Baltimore for Adam Jones and the city, and its fans, will be hoping that continues in years to come.