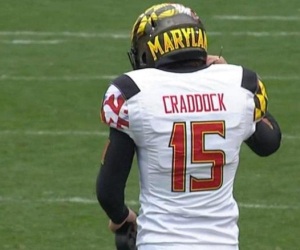 As the NFL continues to grow in popularity in Australia, more and more young Australians are heading over to the United States to try their luck in High School Football or College Football. This year we have been covering the progress of young Australian Bailey Kenter who is currently the #1 ranked punter in all of American High School Football – his story can be found here. Another young Australian achieving great things in the 'States is Brad Craddock from the University of Maryland Terrapins.
The UMD 'Terps', as they are commonly referred to amongst Maryland natives, were a founding partner of the Atlantic Coast Conference (ACC) in 1952 however this year left to join the Big Ten Conference. Competing in the East Division, the Terps have had a strong season thus far, owning a 7-4 overall record ahead of this weekend's final game against Rutgers (6-5 overall). Craddock, the punter/kicker from Adelaide, has been a large part of this success and has steadily risen in popularity amongst Maryland natives since making his debut in 2012.
Having had solid seasons in both his freshman (2012) and sophomore (2013) years, Craddock  has really stepped his game up a notch in his junior year – so much so that he is one of three finalists for the 23rd Lou Groza Award, an annual award given to the best kicker in College Football.
Craddock's season has seen him make all 17 field goal attempts thus far, as well as going a perfect 36-from-36 in extra point attempts. The humble Australian is the last remaining perfect field goal kicker in America and his current streak of 23 consecutive successful field goal attempts (dating back to last season) is the longest active streak in FBS. If he makes his next two attempts, he'll set a Big Ten record.
Even more impressive is that 10 of his 17 field goals this year have come from beyond the 40 yard mark, including a thrilling last-minute 43-yarder in front of more than 100,000 fans three weeks ago, which helped give Maryland its first ever win at Penn State. Another highlight of Craddock's breakout season was setting the school record with a 57-yarder against Ohio State in the first week of October.
Here's the two highlights –
Here's a summary of Craddock's college career since making his debut in 2012 –