Bundy Blossoming in Baltimore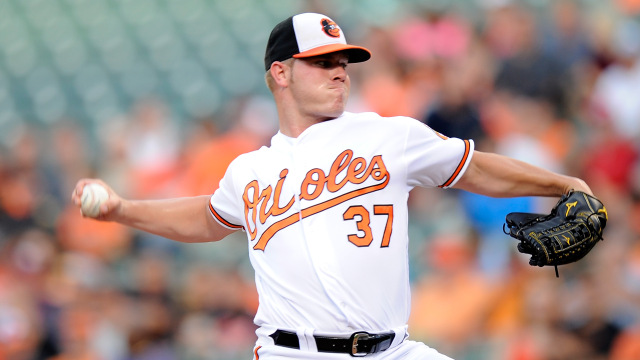 Almost five years after signing with the Orioles, the people of Baltimore can finally – with confidence – look forward to a future where Dylan Bundy becomes the pitcher everyone expected him to be.
Having battled his way back from injury, upon injury, the 4th overall pick of the 2011 draft has blossomed since joining the Orioles starting rotation in mid-July, and with his body holding up, it appears the best is yet to come.
After making his Major League debut in September 2012, where he tossed 1 2/3 scoreless innings during two relief outings, Bundy spent the next three seasons rehabbing and battling poor form in the Minor Leagues. With such a poor recent history of developing pitchers, it appeared as though he was the next young arm destined for a growing list of failed Orioles pitching prospects.
However, with each new season comes renewed hope, and heading into Spring Training 2016, the hope was he'd make it through unscathed and land himself a bullpen spot on the Orioles Opening Day roster. After tossing 12 1/3 innings in nine solid relief appearances, that goal was achieved, much to the relief of the Birdland faithful.
During the first half of the regular season, Bundy appeared in relief on 22 occasions, working to a respectable 3.08 ERA through 38 innings. While the runs were under control, he was still experiencing some concerns, with opponents hitting .305. On numerous occasions he escaped a jam in a big spot by inducing a timely ground ball double-play, and while that served a purpose at the time, there was still an overwhelming sense of caution each time he ventured to the mound.
That all changed one sunny early-July afternoon in Los Angeles though, when Bundy entered a 4-4 game in the 6th in relief of fellow young arm Kevin Gausman. Howie Kendrick welcomed him to the mound by immediately tagging him for a lead-off double, however Bundy fired back, striking out the next three hitters – Scott Van Slyke, A.J. Ellis and Yasiel Puig – all swinging. In a close game on the road, Bundy silenced the home crowd who were certain the Dodgers would take the lead and run away with the game. Bundy returned in the 7th, with the game still tied at four, and was tagged once again, this time by Chase Utley who singled to left, and then by Corey Seager who doubled to right. With runners at second and third with none out, the crowd was in full voice again as the Dodgers were poised to take the lead. However Bundy had other ideas. After striking out Justin Turner, he intentionally walked Adrian Gonzalez as he searched for another rally killing double-play. While he didn't produce that ground ball, he did the next best thing, striking out Trayce Thompson and Howie Kendrick to keep the game tied heading into the 8th. Bundy would go on and strike out Yasmani Grandal to start the 8th, before being replaced by Brad Brach having walked A.J. Ellis. The Orioles would ultimately win the game 6-4 in 14 innings, with Bundy's seven strikeouts proving to be a pivotal moment in the game.
The impressive outing, coupled with the continuing struggles of the Orioles starting rotation, lead to calls for Bundy being elevated into the rotation immediately after the All-Star Break. Despite the health concerns and obvious need to manage his workload carefully, Buck Showalter agreed, and Bundy was slated for his first Major League start on 17 July, on the road against the Tampa Bay Rays. While that proved to be a rough outing, allowing four runs in just 3 1/3 innings, the next three have been nothing short of brilliant.
Against the AL Central leading Cleveland Indians on 22 July, Bundy allowed just one unearned run through five innings as the Orioles went on to win 3-2. During the impressive outing, he struck out five, and tossed a career-high 87 pitches before handing the ball over to the bullpen. While the outing was impressive, his next outing was arguably better. Against a powerful Colorado Rockies lineup on 27 July, Bundy worked retired the first 16 hitters he faced, before walking Mark Reynolds with one out in the 6th. Unfortunately, he was then tagged by former Oriole Nick Hundley for a two-run homer, and David Dahl also sent him deep to make it a 3-0 ballgame. While Bundy would take the loss that night, the talking point remained his perfecto bid through 5 1/3. He struck out eight that night, as the signs of improvement were really starting to show.
With his confidence at an all-time high, and his body performing better than it ever had before, one sensed Bundy's breakout outing wasn't too far away and sure enough, that came on 2 August against the AL West leading Texas Rangers. In what was one of the most hyped series all season, Bundy shut down the recently bolstered Rangers lineup, taking a no-hit bid into the 6th yet again. Despite allowing a two-out single to Elvis Andrus, he escaped unscathed and ultimately worked through seven scoreless innings, allowing just the one hit and striking out seven. His command during the 88-pitch outing was stunning, dealing 60 strikes and only issuing the one walk.
While the numbers tell a pleasing story, watching the way Bundy is going about his pitching is even more impressive. If he's not inducing weakly hit ground balls, he's leaving hitters staring at off-speed pitches which perfectly catch the corners. If he isn't doing either of those, he's blowing hitters away with high heat. He's mixing up his pitches superbly, avoiding a pattern and trusting his stuff. The confident pitching we're seeing from the youngster reminds us why he has often been considered one of the most naturally gifted pitchers in baseball. For so long, the promise we had all heard about was merely that, promise. Now though, we're being treated to some of the best pitching seen in Baltimore for quite some time.
While the story of Dylan Bundy continues to put smiles on the faces of Baltimore folk, it unfortunately must come with a sense of caution. It's easy to forget, during this hype, that Bundy was only ever meant to pitch approximately 70 innings of relief this season. Then of course, as he moved into the rotation, that number became the pitch count placed on the 23-year-old. As it currently stands though, Bundy has averaged 88 pitches across his last three starts and with that, comes the obvious question – how much longer can he maintain that workload? There's absolutely no doubt that his stuff perfectly compliments Chris Tillman as the two best arms currently in the Orioles rotation, however in the midst of a pennant race, can the Orioles really afford to lose Bundy to yet another season-ending injury? While I'm certainly not suggesting the Orioles move him back to the bullpen, a few extra days off probably wouldn't hurt.
Welcome to the mindset of an overly-cautious Orioles fan, where it's hard to enjoy the highs, without worrying about the lows which are never too far away…