No food cries out, "God Bless America!", more than the burger – a favorite among Americans of all ages and sizes (especially the larger ones). 
While the creator and date will forever be debated, it's widely accepted that the burger first came into existence in American during the late 1800s, and in the time since, has developed into one of the world's most popular binge eats. With its rise in popularity, the traditional burger exploded into an incredible range of varieties and assortments, and this can be seen ever so clearly at ballparks around the country. After an extensive amount of research, accompanied by an overwhelming feeling of sickness in my stomach, here's my five favorites:
Baseball's Best Burger @ GCS Ballpark (Gateway Grizzlies, Independent Baseball)
Features: Thick meat patty, slathered with cheddar cheese and bacon, sandwiched between two Krispy Kreme original glazed doughnuts.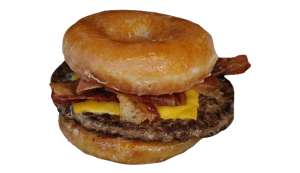 Beltre Buster Burger @ Ballpark at Arlington (Texas Rangers, MLB)
Features: One pound of beef and eight ounces of bacon.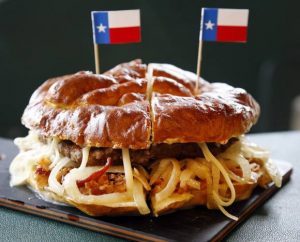 Triple Triple Burger @ Citizens Bank Park (Philadelphia Phillies, MLB)
Features: Nine patties, dripping in cheese, and totalling almost 2,000 calories.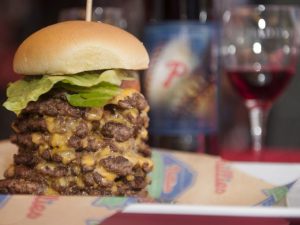 Brunch Burger @ PNC Park (Pittsburgh Pirates, MLB)
Features: Bacon cheesburger, topped with a fried egg, sandwiched between a split glazed doughnut.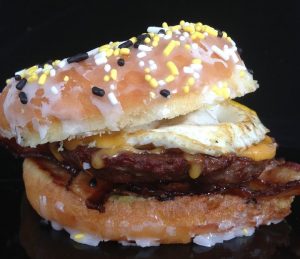 Big Mother Funnel Burger @ Fox Cities Stadium (Timber Rattlers, MiLB)
Features: Beef patty, bacon, etc, sandwiched between two funnel cakes topped with powdered sugar.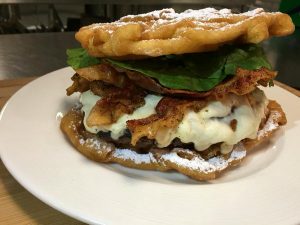 For some no doubt, these five monstrosities are hunger heaven, however for those of us who wish to see our 40th birthday, there are far better ways to enjoy a burger without the guilt or fear of an expanding waistline.
Guilt-Free Lamb Burger
What you'll need…
200g lamb backstrap

One bread roll

1/4 tomato

1/4 red onion

1/4 cup shredded mozzarella cheese (low fat)

40g mixed green leafs (i.e. lettuce, spinach)

Two tablespoons tomoato and chilli pickle relish

One avocado

One tablespoons extra virgin olive oil

One tablespoon lemon juice

One tablespoon water

1/4 teaspoon salt

1/4 teaspoon pepper
What to do…
To prepare the sauce, cut the avocado in half and remove the stone. Scoop out the flesh and mix in a medium sized bowl with extra virgin olive oil, lemon juice, water, salt, and pepper. Mix until a smooth and creamy texture is achieved.

Thinly slice tomato and red onion.

Cut the lamb backstrap in half and place it into a medium sized fry-pan, thinly lined with extra virgin olive oil. Cook the meat for approximately three minutes on each side, on high heat.

Slice a bread roll into half and spread the avocado sauce (prepared earlier) onto each inside. Add tomato, onion, mixed green leafs, and mozzarella cheese onto the bottom half of the roll. Place cooked backstrap on top, spread tomato and chilli pickle relish over the backstrap, then close with the top half of the roll. Enjoy!
---
Throughout the course of the winter, I'll be combining two of my favorite pastimes – baseball and food – to bring to you my favorite baseball-inspired dishes. If you'd like to see my take on your favorite baseball-inspired dish, reach out to me on Twitter (@DanClarkSports) or via email (daniel.clark@tbldaily.com).
Last Week: Guilt-Free Tacos