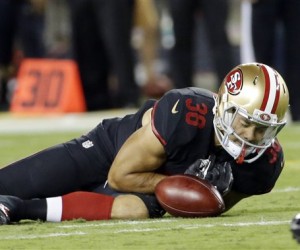 Australia – the large island in the middle of bumfucknowhere, with a small population of just ~24 million people. Famous around the world for kangaroos, didgeridoos, golden beaches, deadly snakes, Crocodile Dundee, Vegemite and more recently, Jarryd Hayne.
Yes, you've read that correctly… Jarryd Hayne.
Before I continue, I want to make it abundantly clear that I love what Hayne has done and hope he forges a successful career in the NFL in years to come. To leave the NRL – where he was an absolute superstar – and earn a spot on the San Francisco 49ers roster, takes a whole lot of passion, courage, determination, athleticism and skill. Nobody has done it before and quite possibly, nobody will do it again.
My issue is not with Hayne, nor with the 49ers. My issue is with mainstream Australian media.
If you've read any Australian media outlets in recent weeks, I'd forgive you for thinking Hayne is in line for the NFL MVP Award. Not only have they continually complained about Hayne's demotion to the practice squad two months ago, they have constantly trash-talked the 49ers organization, claiming Hayne was unfairly treated. This is despite Hayne's lackluster performance in six games, where he fumbled numerous plays, rushed for just 25 yards (8 carries) and had one 7-yard reception.
Folks, I'm here to tell you, Jarryd Hayne has not been unfairly treated by the 49ers.
Yes, numerous running backs have been promoted ahead of him or brought in from other organizations and there's no doubt most of them haven't forged great NFL careers yet themselves. However, these guys have played football their entire lives and would surely have a superior understanding of the game to what Hayne does. By no means is that a criticism of Hayne, it's just the reality of any athlete learning to play a new game. These things take time, especially in the NFL where understanding a team's playbook is an enormous task in itself.
The constant criticism of Hayne's treatment by the 49ers though has swayed the opinion of Australians who may be interested in the NFL – a League which is forever growing in popularity 'down under'. This ridiculously one-eyed, downright bias coverage is not helping to educate potential fans. In fact, if anything it's turning them away. I'd be rich if I earned a dollar every time I've heard an Australian say something along the lines of…
"I've lost interest in the NFL since Jarryd Hayne's poor treatment!"
To a long-time NFL fan, who understands the intricacies of the game, all I can do is shake my head and I know there are other passionate NFL fans who share this view.
Today, the love for Hayne by Australia's mainstream media reached a whole new level when 7mate (Australia's NFL broadcaster) changed its scheduled programming on the back of Hayne's recent promotion from the practice squad. The station had originally planned to televise the Patriots (12-2) at Jets (9-5) game, however it has now chosen to televise the 49ers (4-10) at Lions (5-9) game.
For those unaware – and that's probably all of the bandwagoners – this decision has essentially seen a game with huge playoff implications scrapped in favor of a game between two teams which have been out of playoff contention for quite some time.
For some of the true NFL enthusiasts, we are lucky enough to have NFL Game Pass still (if it can be afforded), however for the other Australians who have a growing interest in the League and want to further their knowledge and passion for the game, unfortunately they're set to miss out on what may be one of the best games all season.
* Bumfucknowhere is Australian slang for the middle of nowhere.