Laying Some Foundation: Taking a look at the highs and lows of the Orioles Farm System in 2015
Taking a look back at January of 2015, the Orioles farm system left a lot to be desired. After two years of necessary trade deadline moves, the farm was drained, filled with injury-prone pitchers, low-ceiling prospects and career AAAA players. The system was ranked at 28th in the country according to Baseball America and was ranked as such for good reason. Outside of Manny Machado and Kevin Gausman, the team had failed to reap a decent crop of new rising prospects to prepare the way for this year's upcoming free agency.
Now though, with nearly the entire season behind the 2015 Orioles, were does the farm system find itself?
Let's look at the top 30 prospects in the minors in January of 2015 in comparison to the top 30 currently in the middle of September 2015: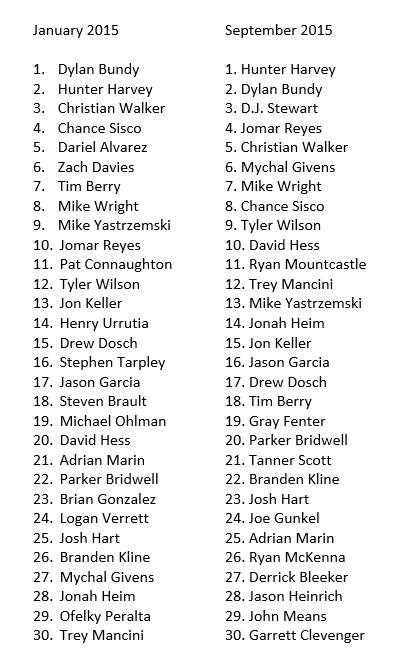 With the list compiled, many observations jump out at the reader which I would like to take the time to address. Stick with me as I take the time to break down the general feelings of the changes in the farm system since the new year.
First, the most disappointing:
I am going to start and speak lightly on the lost seasons for Dylan Bundy and Hunter Harvey. Both pitchers have suffered significant injuries the past few months (shoulder calcification, fractured fibula/strained flexor mass) and have found themselves swapping spots at the top of the Orioles top prospects 1 and 2.  Harvey, now the Orioles number one, can be projected to have a more successful career path based on remaining time in the minors before his remaining options are used up. Harvey will likely begin next year either in low-A Delmarva or high-A Frederick to continue his minor league career. Bundy finds himself in a predicament.
When healthy and in a rhythm, his fastball/changeup/curveball combo is deadly, insane and ace-worthy. Sadly, since being drafted in 2011, we have only on very rare occasions seen him at his best. This season, before it being derailed by shoulder stiffness, he began to show flashes of his former self reaching 97 on the radar gun, his curve finding more consistency and the resurgence of his rising changeup. The harshest reality behind the 22-year-old is he is out of minor league options. The Orioles will have no choice but to stuff the unseasoned rookie on the major league roster in the bullpen next year, find a way to place him on a prolonged DL assignment to give him extra time in the minors, or release him if no room on the roster is found.
Predictions:
Bundy – MLB ETA: 2016/ Role: RH Relief in Bullpen / Long term: possible back end of bullpen/middle of the rotation.
Harvey – MLB ETA: 2017/ Role: Starter /Long term: Top 1-2 potential in the rotation
My remaining disappointments (my opinion only) for the Orioles are Tim Berry, Christian Walker, Adrian Marin, Mike Yastrzemski, and D.J. Stewart
Tim Berry's big league career started last year and lasted one day, without even entering the game. Today he finds himself 11 spots lower than where he was in January.  You know you're down in the dumps when you Google someone and a real estate brokers name comes first in the search (no I'm not buying a house anytime soon). The 24-year-old had been seen the last two years as the heir apparent to Brian Matusz's spot in the bullpen, as the lefty-on-lefty specialist. During the off-season, Orioles management attempted to work with his mechanics to make his delivery more consistent. After hitting a career low ERA of 1.84 in 2013, it has ballooned to 7.32 in just 82.1 innings pitched, as he has surrendered 67 earned runs. Whether or not the blame is to be placed on changed mechanics unbalancing Berry during the season's beginning, he was never able to recover after returning to his old motion and was later relegated to the bullpen. His future is murky, at least with Bowie as a likely starting point for 2016
Christian Walker had every reason to improve upon his 2014 season, especially with Chris Davis potentially leaving for free agency at the end of 2015. Many on internet forums have argued that re-signing Davis is not a necessity with 1B prospects Walker, Trey Mancini and Jomar Reyes all a few years away.  I for one am skeptical though. Looking at his Triple-A numbers from both 2014 and 2015, it can only be said that Walker is a .260 bat, with average power that would translate to a .220 BA and 10 HR in the majors in 2016. He has shown that he is not the middle of the order bat that the Orioles hoped in 2015 he would show to them and could only provide an ample boost to the bottom third of a MLB lineup. Defensively, he is sound at 1B with a .993 fielding percentage and has only made 13 errors at Norfolk since 2104. At best, Walker is a Davis replacement only in the circumstance that the Orioles re-sign neither Davis nor Steve Pearce and if they are less comfortable starting the defense-second Clevenger at first.
Adrian Marin still remains to this author as an enigma, highly valued by management when drafted but ultimately has failed in every regard to prove himself to be the professional player hyped-up to be. He has neither hit well (.235 BA) in his two years at High-A Frederick or fielded shortstop well (.970 Fld%). His trajectory will be based highly on his next season. Can he turn things around at Frederick?
Mike Yaz as he is often referred to found himself subject to a quick rise through the minors in 2014, only to stagnate at Bowie in 2015. His BA is very similar to his time at Bowie last year (.250 in 2015 to .246 in 2015) but with a 45 point drop in his OPS. He is a defensively capable outfielder producing 10 assists and a .959 fielding percentage in 125 games, while only committing one error. Another year at Bowie may be necessary in order to best determine his role with the franchise.
Reviewing D.J. Stewart's first professional campaign may be a stretch to call disappointing, as he neither had a spring training nor took anytime at the Gulf Coast league in Sarasota. His .218/.288/.345/.633 line is poor, but not concerning… Yet. He hit six homers in 62 professional games, however struck out 52 times. His rise through the system should continue for the next few years, hopefully with a full off-season to improve his performance.
Predictions:
Berry – MLB ETA: 2017? / Role: LOOGY / Long Term: If the splitter/slider returns to form, he could be a deadly 7th inning candidate
Walker – MLB ETA: 2016 / Role: Platoon 1B/DH / Long Term: full time 1st base/DH at MLB-AAA level
Marin – MLB ETA: 2018? / Role: Bench Utility INF / Long Term: bench depth unless his bat wakes up
Yastrzemski – MLB ETA: 2017 / Role: Platoon LF-CF / Long Term: bench depth
Stewart – MLB ETA: 2017 / Role: Starting LF / Long Term: If he can get his bat going like that in college, he can be a 5-6th in the order bat for the future Orioles.  No more than a LFer or a DH.
Now for the Surprises for the 2015 season:
My top surprises list is lengthy as I have seen lots of good things from the many minor leaguers this season. My list includes Chance Sisco, Jomar Reyes, Trey Mancini, David Hess, and Mychal Givens.
Sisco, since being drafted in 2013, has shown that his value lies in high offensive abilities. Despite slowing down since arriving at Double-A Bowie, Sisco has shown his value through the last two years as a slap hitter. He can anchor the 2nd spot in a lineup, showing an uncanny ability to get on base via walks, singles or doubles. With only 12 homers in three years in the minors, he will not provide the power potential of a Matt Wieters in the middle of an order. He is still relatively young (approximately 4.5 years younger than his fellow players in the Eastern league) and at 20, 6' 2", 193 lbs, still has more muscle to add to his frame. Norfolk may be another full season at Bowie away from the catcher (whose defensive numbers continue to improve).
Jomar Reyes may be the Orioles answer at 1B (for 2019) waiting in the minors. Though his defensive numbers at 3B are not stellar, an eventual transition to 1B may be in his future, sooner rather than later. He is ONLY 18 and should be considered to start at 3B in High-A Frederick next season after hitting .278/.344/.440/.774 at Low-A Delmarva. The 6' 3", 220 lbs. Dominican has a plus bat with incredible bat speed. He has lots of potential and with being so young needs to be handled with care in his development.
Trey Mancini, now in his third year of professional baseball, has shown the Orioles that he should be the main internal competition to Christian Walker for the so to be vacant 1B position in Baltimore. Through 84 games in Bowie this season, after hitting .314/.341/.527/.868 in 52 games with Frederick, now possess an unreal .359/.395/.568/.981 line. His 21 home runs leads the Orioles affiliates this season and he has had 191 total bases. On top of all of that, his defensive numbers are similar to that of Davis' at Baltimore with a .996 fielding percentage. It is hard not to like what we are seeing out of the 23oyear-old. If the Orioles stand pat this off-season at 1B and let Davis and Pearce walk, they may just take the gamble of Mancini at 1B to start the season should Walker not produce.
David Hess, fresh off of the 2014 draft, has enjoyed a steady rise through the minors this season. His strength has proven to be his fastball, resulting in a high strikeout rate of 7.7 Ks per 9 innings this season between Frederick and Bowie. He has struck out 122 this season and worked to a 3.64 ERA. Next year should allow him to establish himself at Bowie and possibly a trip to Norfolk.
Last, but certainly not least, Mychal Givens has proven his mettle as a lockdown reliever, first at AA-Bowie and later in the majors with Baltimore. In 20 innings pitched in Charm City. the 25-year-old has struck out 22 and allowed five earned runs. His WHIP, a dazzling 1.00, leaves a lot to the imagination to his future in the Orioles bullpen for the next three to five years.
Predictions:
Sisco – MLB ETA: late 2017 / Role: Backup Catcher / Long Term:  heir apparent to Caleb Joseph, lower third of the order.
Reyes – MLB ETA: late 2018 / Role: 1st base/DH / Long Term: Future 3 or 4 bat in a MLB lineup.
Mancini – MLB ETA: mid 2016 / Role: 1st base platoon / Long Term: Future 2-3 bat in MLB lineup, everyday 1st baseman.
Hess – MLB ETA: mid 2016 / Role: Long Relief in bullpen / Long  Term: 7th inning reliever, 4-5 starter potential
Givens – MLB ETA: current / Role: Setup man, 8th inning / Long Term: All-Star Closer, Setup man
A few names not in the top thirty to watch out for:
Terry Doyle, Chris Lee, and Quincy Latimore.
Doyle, a minor league signee this past winter, has shown excellent control and potential as a spot starter. While in the Baltimore organization, he has improved his game control ability and the results have been promotion worthy. His 1.84 EAR at AA-Bowie was the best for a starting pitcher in the organization.
Chris Lee, a young 23-year-old left-hander acquired from the Astros this past June, has performed well, pitching to a 3.07 ERA between Frederick and Bowie. He has a 1.37 WHIP while on the Orioles farm system. It should be interesting to see if he cracks Baseball America's Top 3 in the O's system.
Quincy Latimore, signed over the winter as a minor league free agent has proven himself to be valuable minor league depth at outfield, while playing for Bowie.  He hit a career high 20 home runs and drove in 64 runs this season – he has also been stellar in the postseason thus far.
Too conclude this review of the Orioles minor league system, I think it's worthwhile trying to predict some awards:
Terry Doyle will win the Jim Palmer Award for best minor league pitcher
Trey Mancini will win the Brooks Robinson Award for best minor league player
Most Improved (not an actually award) goes to Chance Sisco
Let's raise a toast to the success of our minor leaguers, coaches and scouts. I hope to see many of them at Camden Yards soon, ready to represent the Oriole way.  Want to discuss more? tweet to me @huntrdavis