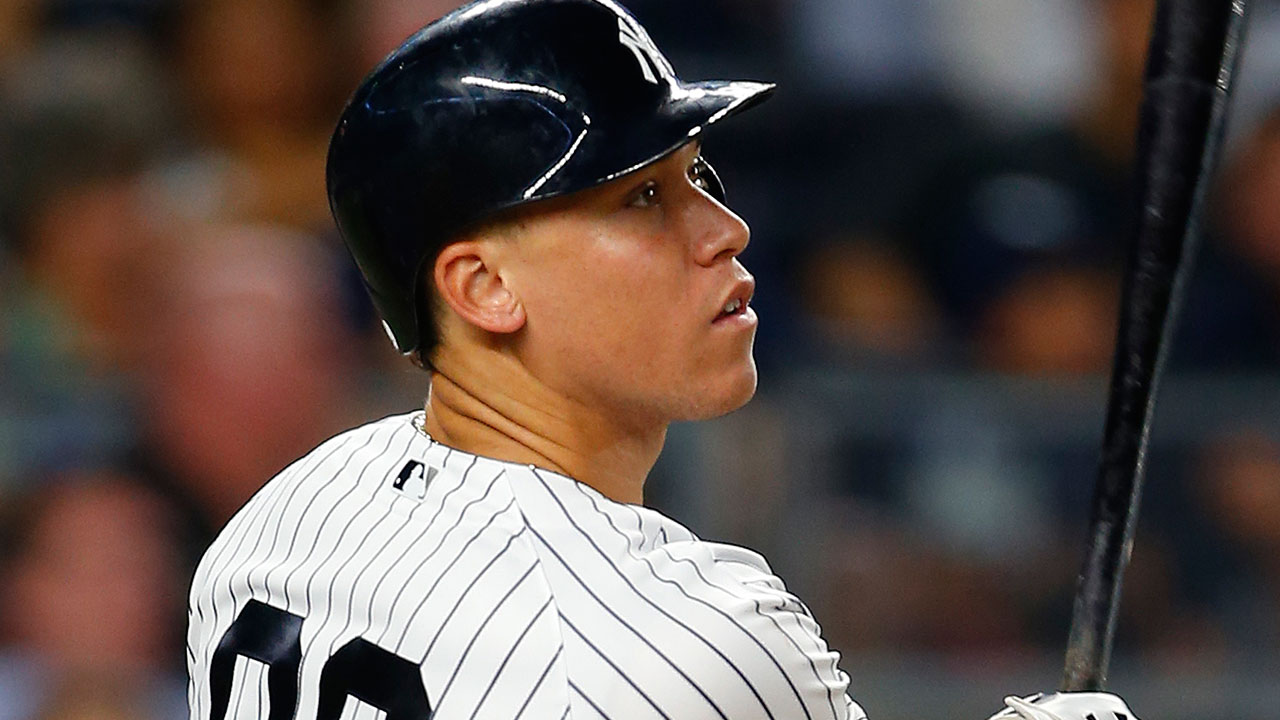 Regardless of the New York Yankees fortunes throughout the remainder of the 2017 MLB season, there's no debating that the season is quickly becoming the season of 25-year-old Aaron Judge.
Tonight, in front of a jovial and typically festive Miami crowd, Judge added another achievement to his blossoming resume, winning the 2017 Home Run Derby. For good measure, it was the first time in history a rookie has won it too.
The 6-foot-7, 282 pound giant slugged 47 bombs in the Derby, which travelled a combined total of 3.9 miles in distance. His longest drive of the night went a mammoth 513 feet – one of four in total travelling 500 feet or greater. The power on display from the young Yankee was truly phenomenal.
Being crowned the Derby champion tonight caps off an incredible first half of the season for the softly spoken, humble, Californian native, who was adopted and incredibly well raised by teachers Patty and Wayne Judge. He's also very well grounded and has a mature outlook and appreciation of journey he's embarked upon. Many will not know that he keeps a note on his phone which reads ".179", continually serving as a reminder to himself of his poor batting average with the Yankees in 2016. He looks at it daily as a source of motivation – the motivation appears to be working too, with his list of achievements this year forever growing and now including:
American League Rookie of the Month, April 2017

American League Rookie of the Month, May 2017

American League Rookie of the Month, June 2017

American League Player of the Month, June 2017

All-Star, 2017

Home Run Derby Champion, 2017
By season's end, this list is likely to include some far bigger honors, and most certainly a Rookie of the Year Award.
Judge's first half has seen him slash .329/.448/.691 through 84 games and 301 at bats. He leads the major leagues in home runs (30) and OPS (1.139), and is second in runs scored (75) behind only George Springer (76). He also has 66 RBI, just four behind Nolan Arenado, Nelson Cruz, and Marcell Ozuna who each lead the majors with 70. 
In addition to the power frequently on display, he is also quick, having legged out three triples and stolen six bases from eight attempts. Despite his massive physique, he is extremely athletic, something which is often on display while patrolling right field.
Judge's approach at the plate is uncomplicated and his demeanor is calm. He's patient, powerful, and possesses a great perspective on the game for someone as inexperienced as he is. The fanfare he has created in New York is unrivalled by any currently on the Yankees roster, and many are comparing this hype to a young Derek Jeter – talk about expectations!
While vastly different players, if Judge can continue this success and achieve anything close to what Jeter did in The Bronx, the Yankees are set for yet another strong era.