For reasons other than just what he's achieved on the field, Adam Jones has always been – and remains – one of the Orioles most popular players.
In addition to the 1,555 hits and 241 home runs he's tallied wearing an Orioles jersey, Jones has forever been one of the ball club's most entertaining characters – on the field, in the dugout, at charity events, and most definitely on social media.
Over the years, countless Orioles fans have engaged with him on Facebook, Instagram, and most commonly Twitter. His handle – @SimplyAJ10 – often delves into discussions with fans about the team, about food, or about anything else crossing the 31-year-olds mind. It's not uncommon to find him lurking deep in the night, and he certainly isn't afraid to share his opinion. He brings a sense of realism to the table – he is, after all, only human.
After a slow start to the 2017 season, a number of bloggers within #Birdland – albeit relatively unknown ones – thought Jones was finished. They were prepared to write-off the team's unofficial captain, despite all he had achieved over a decade. The tweets were premature, ill-informed, and quite frankly, unnecessary…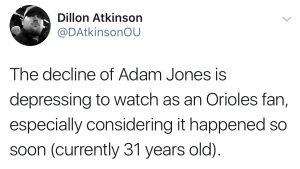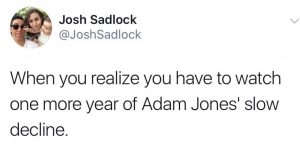 In the weeks since, Jones has proven there's still plenty of life in him yet, and in doing so, has silenced his critics. This past week in particular he's been sensational, playing a key role in a brief Orioles revival.
In the month of July, Jones owns a .322/.368/.586 slash line, has hit five doubles, six home runs, and knocked in 16. Often criticized for striking out at balls in the dirt, he's struck out just 15 times. In the past eight days, these numbers are even more impressive – hitting .474 (18-for-38) with three doubles and four home runs. He's knocked in 11 and struck out just four times. On the season he's now slashing .279/.319/.467, with all three statistical indicators being slightly higher than his career mark.
Jones is back and only a fool would write him off so quickly again in future.