Hard work pays off. We see it in every facet of life. The more effort you put in, the greater the reward.
The 2016-17 Melbourne Aces have been an example of this all season, working hard, overcoming history, and achieving some great success while building a 20-6 record. After yet another hard-fought win Friday night, 5-3 over the Brisbane Bandits, star signing Jeremy Guthrie commented on the impressive work ethic within the team and how that's leading to the success.
While this is undoubtedly the case, this approach and the kudos it brings can potentially be undone by one simple lapse. For the Aces, that may have happened in the early hours of Saturday morning when some players were out late, celebrating Friday night's win.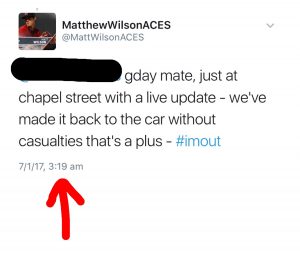 Numerous sports columnists around the globe believe athletes need to forgo such celebrations at all times. The theory put forward to support this view is a simple one; with significant financial reward comes responsibility and sacrifices. While I agree with these sentiments to some extent, I do believe there's a time and place for celebrating. After all, these athletes are humans, and like each and every one of us they need to release emotion from time to time.
The Aces had a good win on Friday night, however I do question the need to celebrate so late ahead of another game on Saturday – especially one played in 99 degree heat. Preparation is key for all levels and types of sport. Good preparation https://www.acheterviagrafr24.com/ leads to good results. Bad preparation leads to bad results. It's not rocket science.
It's unknown if alcohol was consumed after Friday night's win, however, regardless, heading out until the early hours of the morning before a game in 99 degree heat is, in my opinion, bad preparation. Losing 19-4 is a bad result. Wilson gave up six earned runs in just 0.2 innings of work on Saturday. This is an extremely bad result.
The good form of the Aces through the first half of the season has helped see them build a nice lead atop of the ABL standings, and all things going well, they'll host the ABL Championship Series next month as they search for their first ABL title. On paper, the roster is superior to that of any other within the League, however that itself doesn't guarantee success. The team needs to continue it's hard work both on and off the field, take nothing for granted, https://www.viagrasansordonnancefr.com/ and ensure their preparation is of the highest quality. Do this, and that elusive title will be secured. Don't, and it won't.