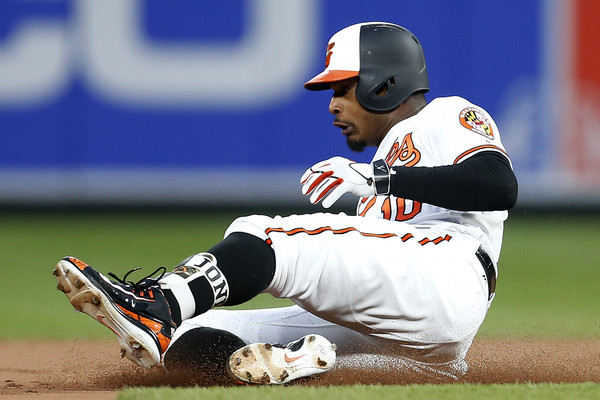 BALTIMORE – The first edition of Highlights Of An Historically Poor Season explores just how much this team has needed its loyal captain, Adam Jones.
Despite everything falling down around him, Adam Jones once again proved his class both on field and off it, and left us all wondering where this ball club would be without him.
With 10 games remaining the 33-year-old, five-time All-Star has hit .284 with 15 home runs and 58 RBI, stabilizing a line up which has changed frequently and succeeded rarely. His power numbers are slightly down, however his consistency has been as good as ever during a season with enough distractions to rattle the focus of the most hardened players. In the outfield, the metrics highlight how he has struggled to meet his previous high standards in center and, unselfishly, he too realized it was time for the next era to take over – that being Cedric Mullins. Jones' support of Mullins, often displayed very publicly online, is well known, and they way in which this significant passing of the baton was handled was full of encouragement and class. While a shift to a corner outfield position was inevitable, how smooth the transition would be remained unknown. Should we have ever doubted him?
Off field, as the trade deadline neared, the combination of the Orioles' poor record, Jones' consistent performances, and his pending free agency, resulted in his name being discussed among numerous contending teams, most notably the Philadelphia Phillies. However, as per MLB's rules, any player with more than 10 years of big league experience and more than five seasons with their current team has the ability to veto any trade, and that's exactly what Jones did. It came as a surprise to many, and when queried on his decision, Jones told MASN's Roch Kubatko…
"When players walked out years ago and walked the picket lines and did all that stuff, they did all that for reasons like right now. I earned this and it's my decision. I don't have to explain it to nobody. It's my decision. Thank you."
He added…
"There's the thing. I'm not going around telling other people and dictating other people's lives. Why do they do that with us? No one's going to tell me what to do. I earned every single bit of it. People before me fought vigorously to get rights like this."
And…
"Well here's the thing about society, everyone thinks that they know what's best of the next person. Now, if someone wants to pay all my bills, trust me, they can tell me what to do. But until then, shut the hell up!"
Strong words from the team's unofficial captain and incredibly classy in the way in which he acknowledged the sacrifices made by player of yesteryear.
He added further insight earlier this week when speaking with MASN's Sara Perlman, noting he wasn't interested in role with the Phillies which would see him platooning in right field.
"That was the situation there and it's understandable. That's how their roster was constructed and that's National League ball – double-switch and all that kind of stuff. It wasn't the right move for me."
Essentially, heading into free agency, Jones wanted to keep his stock high. He's a guy who has always wanted 600 at bats a season and he wants to remain that way for a little while longer. As he noted, if he was 36 or 37, then perhaps his decision would be different, however at 33 and performing well as an everyday player still, his decision makes a whole lot of sense.
In a cruel and ironic twist of fate, as the season continues to limp towards its close, Jones' playing time in Baltimore reduced significantly regardless. The exact reasons and who actually made that decision have been highly speculated, and still remain somewhat unknown, however Jones has remained tight lipped and classy – something he has always done throughout his tenure in Baltimore. Playing or sitting, Jones' voice is the loudest in the dugout regardless, supporting his teammates passionately and forever sharing a laugh. It's these unmeasurable elements you'll never find on a stats sheet that make him all the more valuable.
Sadly, it's looking more and more unlikely that Jones re-signs with the Orioles this winter, however if he doesn't, he will leave much-loved and incredibly well respected both and off the field.