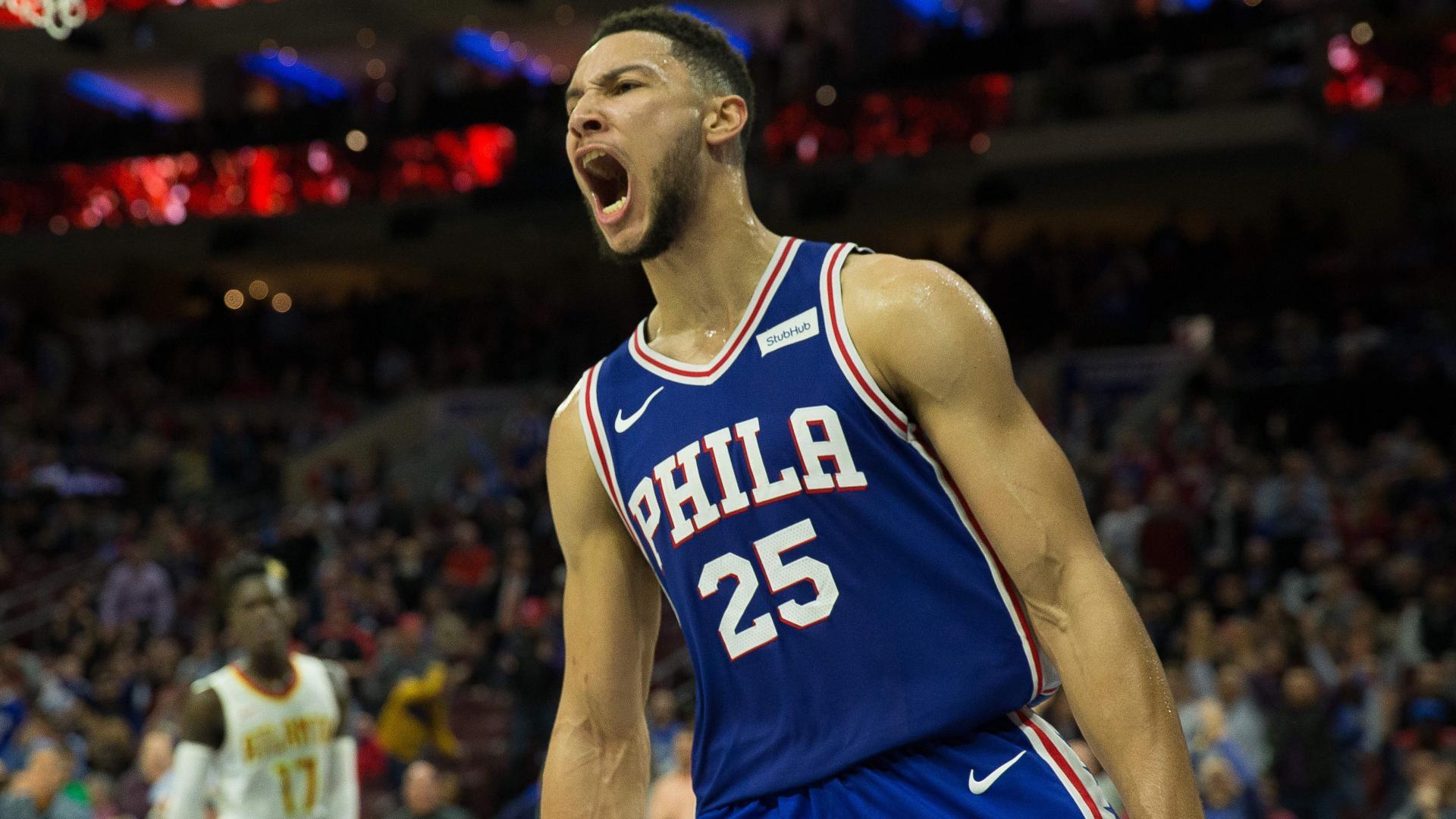 The 2017-18 NBA All-Star Weekend has almost arrived and the Philadelphia 76ers will enter the break with a 30-25 record following a thrilling come-from-behind 104-102 win over the Miami Heat (30-28) Wednesday night. Despite trailing by 23 points at halftime, the Sixers outscored the Heat 65-40 in the second half with Australian rookie sensation Ben Simmons starring again, notching another triple-double.
The win finished off an impressive streak during what many thought would be a challenging stretch of four games in six days. However after also accounting for the New Orleans Pelicans (30-26), the Los Angeles Clippers (29-26), and the New York Knicks (23-36), one of the NBA's youngest and most exciting teams will enjoy the week-long break before continuing their playoff push on Thursday 22 February against the Chicago Bulls (20-37).
Simmons' form in recent weeks has continued to impress and his 18 point, 12 rebound, 10 assist performance against Miami boosted his season averages to 16.4 points, 7.3 rebounds, and 7.8 assists per game. His success and remarkable consistency have provided a massive boost to the Sixers faithful and he remains the overwhelming favorite to collect the NBA Rookie of the Year Award, with his closest challenge coming from Utah Jazz shooting guard Donovan Mitchell. Despite his strong returns though, the 21-year-old appears destined to miss out on All-Star selection, even despite the recent withdrawals of John Wall, Kevin Love, and Kristaps Porzingis due to injury.
Speaking on his All-Star Game snub, Simmons recently told Keith Pompey of the Philadelphia Inquirer…
"I don't really know what an All-Star is anymore. I mean, if it was about win-lose, you'd pick Dragic obviously, and you'd pick Kemba, whose team is seven wins under us. It is what it is, but my stats don't lie."
Despite missing out on the prestigious honor midway through the season, he may still be vindicated at the end of the year if he's named to an All-NBA team. 
As Simmons' form and consistency remain true, Joel Embiid has also continued to impress and is putting together one hell of a break-out season. The big man is averaging 23.7 points and 11.1 rebounds per game, and is being strongly supported by J.J. Redick and Robert Covington. Dario Saric has also been a picture of consistency in recent times. On Wednesday night the Croatian put up 19 points and picked up eight rebounds, and has scored double-digits in each of his last 35 games.
The 76ers' 30-25 record is good enough for third in the Atlantic Division, with the Toronto Raptors (41-16) and Boston Celtics (40-19) leading the way, and all-importantly 7th in the Eastern Conference. Had the playoffs been starting tomorrow, they'd be making their first playoff appearance since the 2011-12 season where they lost to the Boston Celtics in the Conference Semifinals, 4-3. It would also be the first time Brett Brown has taken a team that far as Head Coach.