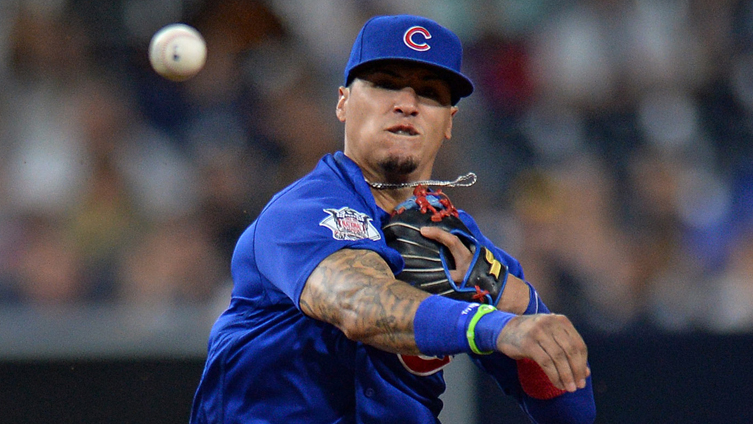 With Thanksgiving over and December just a few sleeps away, things are starting to heat up in MLB's silly season and over the holiday weekend, the Orioles were rumored to be linked to young Cubs infielder Javier Baez – and it's puzzling to say the least.
While the soon-to-be 25-year-old Puerto Rican is versatile, undoubtedly talented, and can strengthen the Orioles roster, it's hard to imagine the Orioles trading away anything of value for anything other than pitching or a corner outfielder this winter. Further, it's been noted by multiple sources that the Cubs are interested in Orioles closer Zach Britton, who quite frankly, I can't see the Orioles parting ways with.
Let's dissect it further and address some of the key questions posed to me on Twitter these past 48 hours.
As it currently stands, the Orioles infield come Opening Day 2018 will probably read Chris Davis at first, Jonathan Schoop at second, Manny Machado at third, and Tim Beckham at shortstop. Offensively, it's one of the most impressive infield quartets in all of baseball, and defensively, at least three of those names are in contention for Gold Glove Awards annually. The exception is Tim Beckham who despite some impressive offensive returns since arriving in Baltimore midway through last season, struggled at times defensively.
Could Baez replace Beckham at shortstop?
Unlikely. Baez is a super talent at both second base and third base however historically at shortstop, the figures tell a somewhat different story. Through 573 1/3 innings last season, Baez owned a .959 fielding percentage and a -4 Rtot (total fielding runs above average). Beckham meanwhile, despite his occasional struggles, still posted overall marks of .961 and +5 respectively with the Orioles through 440 1/3 innings – not amazing, but slightly better than Baez. Add to that Beckham's impressive returns offensively, I can't see them not starting with Beckham.
Could Beckham move to a DH role, freeing up Baez to play shortstop?
Unlikely. The Orioles have three first basemen on the roster in Chris Davis, Mark Trumbo, and Trey Mancini, and while Mancini proved himself to be serviceable in his switch to the outfield, Trumbo struggled in his limited appearances (-4 Rtot). Unless another team is willing to take a gamble on either Davis or Trumbo this offseason – which they won't  – the Orioles are stuck with them both and Trumbo will be DH'ing most nights while Davis occupies first.
Are the Orioles going to trade Machado, freeing up Baez to play third base?
Unlikely – not now anyway. Machado's future in Baltimore is the most hotly debated topic among Orioles fans – and rightly so. A free agent at the end of the 2018 season, it seems unlikely the Orioles would – or should – pay the anticipated $300M plus it would take to re-sign him. That type of money has never been dropped in Baltimore and let's face it, there's far bigger needs to address right now, that being on the mound. I've said for a while now that I think the Orioles will trade Machado prior to the deadline next season if they're not in first place (or close to it). If they're unlikely to re-sign him when he hits the open market, they may as well get something in return for him before he bids farewell. Trading him this winter though is not the right time – they're unlikely to get the returns they want, his value is not at buy generic viagra online its peak, and they're better off giving this current group 'one last crack' at a pennant in 2018 before reassessing come mid-season.
Is this just a rumor without much substance?
Probably. Like we've seen often in recent years, the Orioles are one of those teams who continually seem to be linked to a whole range of players – be it via trades of free agent signings – yet the deals never eventuate. I'm certain this is simply another one of those rumors which will fade away into the oblivion by next week. Although, it wouldn't be the first time I'm wrong…